Jenni Hermoso has slammed Spainish FA for leaving her out from the squad citing the reason to protect the 33-year-old from the intense media attention.
Spain will play Nations League games against Sweden on Friday and Switzerland on September 26.
Comunicado en relación a los últimos acontecimientos del día de hoy // Official Statement regarding today's latest events #SeAcabó pic.twitter.com/OXMmfyPGz5

— Jenn1 Hermos0 (@Jennihermoso) September 18, 2023
Jenni Hermoso, who said she did not consent to the kiss by former federation president Luis Rubiales during the World Cup awards ceremony last month, said in a statement early Tuesday that the federation's decision to call up nearly half of the 39 players who said they would not play for the national team as a protest was "irrefutable proof" that "nothing has changed."
According to Spanish sports law, athletes are required to answer the call of its national teams unless there are circumstances that impede them from playing, such as an injury. The players said Monday they would study the possible legal consequences of not reporting to the training camp, but said they believed the federation could not force them to join the team. They argued that the call-up was not made in accordance with current FIFA regulations, and some of the players, especially those abroad, would not be able to show up in time.
"The players are certain that this is yet another strategy of division and manipulation to intimidate and threaten us with legal repercussion and economic sanctions," the striker said in a statement posted on X.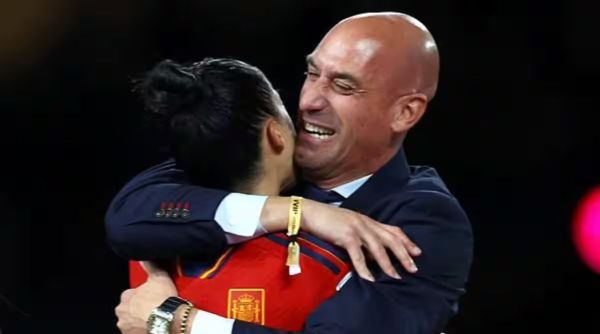 Rubiales has insisted the kiss was consensual. Hermoso has denied that. She also said she and her family were pressured by the federation to show her support for Rubiales in the immediate aftermath of the scandal caused by the kiss that tarnished her team's victory. (Reuters)
"It is yet more irrefutable proof that shows that even today, nothing has changed."
Montse Tome, who has replaced Jorge Vilda as coach of the national team, had said: "We stand with Jenni … we believe that the best way to protect her is like this, but we are counting on Jenni."
"A claim was made today stating that the environment within the federation would be safe for my colleagues to rejoin yet at the press conference it was announced that they were not calling me as a means to protect me," said Hermoso.
"Protect me from what? And from whom?"
On Monday, the federation released a statement in which it publicly reiterated to the players its commitment to structural changes.
"The people who now ask us to trust them are the same ones who disclosed the list of players who have asked NOT to be called up," Hermoso said.
"The players are certain that this is yet another strategy of division and manipulation to intimidate and threaten us with legal repercussions and economic sanctions."