Every time Krishna Kumari has entered her sparse kitchen in Gangwa, she's met with one request from her youngest daughter Antim – dahi mixed with red chilli powder and fried onions, namkeen rice and kadhi. This isn't a request that's out of place for Kumari since every time Panghal returns from a wrestling tournament in a faraway foreign land, her immediate solace is to bury herself in the comforts that only home can provide.
Even in the midst of this wrestling induced madness, Antim's near and dear manage to provide her with the calm that comes before her storms. The family lives on the outskirts of Hisar. They moved there from their village of Bhagana because she needed to be near the Baba Lal Das Kushti akhada – where she is currently training.
Her father Ram Niwas Panghal had to sell off some of his buffaloes, acres of his land and his tractor as well to buy the house they now live in. Three rooms and a small kitchen make up for the inside of the house, while the outside has a small courtyard along with a shed next to it where the family's buffalo and cow rest. Most of the structure is covered in grey cement with the insides of the home exposed to brick. The remaining bit of land left in their village of Bhagana is taken care of by Antim's uncle and her grandmother.
"Woh kam-se-kam 15 dangal lad chuki hai. Dangal mein ladaate they taaki ghar ka kharch bhi nikal jaaye. Agar jeetegi toh Rs 10-20000 haath aa jaate they. Uss time pe koi facility nahi thi, koi competition nahi they. Kahin se bhi paise nahi aa rahey they," said Antim's father Ram Nivas Panghal to the Indian Express. She's fought at least 15 dangals so house expenses could be borne with Rs 15,000-20000. There were no facilities or competitions back then, and no mone.
The family may not have wanted another girl (thus the name Antim) but has given up more than most would to see her reach this stage.
With less than ten days before her first senior World Championships began, training had been going full steam, but there were the occasional breaks. On August 31st, Antim celebrated her 19th birthday. Her request – a birthday party. The remnants of the day still remain in her room – there are streamers, there is a 'Happy birthday' sign hung and then there are three huge shockingly pink teddy bears – each a different kind and size.
Playfighting with her brother, bullying her elder sister and occasionally watching reels on her phone, Antim comes across as every other teenager. And yet it's been seven years since she first started wrestling and four years since she went for her first tournament outside India – the U-15 Asian Championship in Japan, where she won the silver medal. Since that time, Antim's wrestling pedigree continues to ask questions of the world as she now looks over ominously towards the podium.
***
It's Sunday morning so Antim Panghal's coach has given her some leeway. Instead of waking up for training at four in the morning as is her usual schedule, she's allowed another hour of rest. The short ride away from her home to her akhada is made on her bright red scooter – one she won after winning a dangal in Jhajjar along with Rs 21,000.
As she enters the Baba Lal Das Kushti Akhada in Gangwa, the playfulness of the Antim demeanour disappears. In the presence of her coach, who demands absolute discipline, the 19-year-old's face turns determined. A light training session follows where she practices her rolls and does multiple squats before pulling out her best impression of Kurt Russell in Soldier and climbs a knotted rope tied to the ceiling of the hall.
The intense part of the training though comes when Antim stands at the centre of the mat. One by one, a small stream of other wrestlers at the akhada start wrestling against her. Every round her opponent changes, and every round her coach asks the wrestlers to target a certain area. Each time Antim avoids the attack on her legs, springs behind the backs of her teammates and once the whistle is blown, leaps back into position waiting for whoever chooses to be next.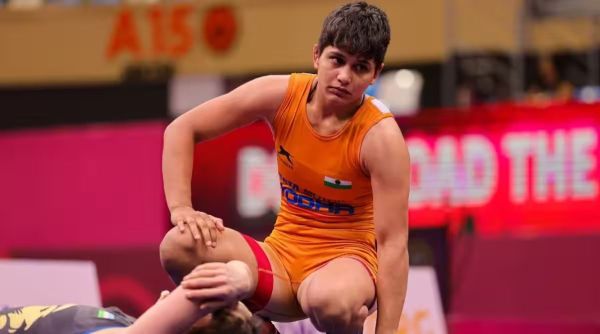 Antim Panghal, who challenged stalwart Vinesh Phogat in the Asian Games trials, is determined to prove a point in the continental showpiece . (FILE)
Even when she's taking a session lightly, there is an unmistakable air of technique that follows her trail. When in the mood for an attack, Antim can leap out of the gates, grab a tight hold on her opponent's foot and be midway through a takedown before the eye has had a chance to blink. She then follows the momentum of that speed with the ability to change her level quickly and slide to the back of her opponent. Going for a takedown and then converting that to a two-point play may be the bread and butter of a freestyle wrestler, but the acceleration that takes her from prowling to prancing to pinning is exhilarating to witness.
"Her wrestling has improved a lot in the last year," says Bhagat Singh, one of the coaches of the akhada. "The first U20 win gave her a lot of confidence but then the bout against Vinesh showed her what level she needs to get to. She started working on certain areas where she felt she could defend better and not let her opponent get points. She would look at a position and then say, 'Main yahaan se number nahi dungi'."
And these are what the coaches describe as 'light' training sessions. They've had to do so because of the torrents her body has taken over the past few months. And in particular it's the weight cuts that kill. Between trials and competition, Antim will go through 5 weight cuts in all in a frenzied two months.
While there are two separate teams for the Asiads and the Worlds, Antim is going to be the only Indian to be in both teams. "Affect toh hoga hi hoga. Yeh sirf akeli hai jo dono World Championship or Asian Games ke team mein hain. Iski majburi hai. Ghar waalon ne sabh kuch luta diya hai idhaar tak pohonchane mein. Majburi mein ladna padh raha hai do alag tournaments mein," says Singh. Since the family has staked it all on her career, she feels obliged to fight at both tournaments.
***
It's strange when one thinks about it but Antim's ascension to the senior level was heralded on the back of two losses – one against Vinesh Phogat at the 2022 Commonwealth Games trials where Phogat edged through on the back of a 3-3 result. The second loss was more recent – at Panghal's first-ever senior Asian Championships where she cruised to the final until she met Japan's Akari Fujinami – a wrestling phenom that has yet to lose in a bout since 2017.
Between trials and competition, Antim will go through 5 weight cuts in all in a frenzied two months. (File)
In her bout against Phogat, the speed with which Antim caught her for a takedown was indicative of just how good the best version of her could be.
But against Fujinami, that speed and strength – two tenets on which her game is built – were taken apart. Fujinami's ability to masterfully circle her opponent's best charging bull impression, and use the angle that her circling created to dull any momentum, absorb any show of strength, and then calmly feint a move to either of the legs until Antim finally bit the bait, prevailed.
"Mann mein baith gaya ki senior ka pehla medal aa gaya tha aur phir woh bout nahi ladi gayi mujhse," (In my mind, I had won my first senior medal and when the gold medal match happened, I just couldn't fight), said Antim when asked about that match.
Vinesh Phogat's injury earlier eventually opened the doors for Antim to take her spot for the Asiads. And now Antim, who raced through her field at the U20s this year fearing that Phogat could make a case against her, ("I needed to win gold because if I didn't, Vinesh didi could have asked how I could be allowed to go to the Asian Games") will have the opportunity to stake a far better claim to going to an Olympics than most junior Indian athletes ever get against a senior in their weight category. There will be talk of trials no matter what, but for now, Antim believes medalling at the Worlds gets her her first tryst with an Olympics.
"First toh aana hi aana hai." There is no option to coming first.