The Rugby World Cup kicked off on Friday in France, and is poised to be one of the most open World Cups. South Africa, New Zealand, Ireland and the hosts start as favourites, while England – who are in indifferent form – are placed in an easy pool. Fiji are dark horses. Here are some of the subplots on offer:
With France hosting next year's Olympic Games, the Rugby World Cup is a start of a sporting spectacle in the country, and organisers are readying to welcome 600,000 fans to France with a record 2.6 million tickets made available. Matches will take place across nine cities: Bordeaux, Lille, Lyon, Marseille, Nantes, Nice, Paris, Saint-Etienne and Toulouse, with the Stade de France hosting the opening games between France and the All Blacks, two quarterfinals, the two semifinals and the final, while the Stade de Marseille will stage the other knockout games.
World Rugby said the opening ceremony will be "showcasing the very best of French culture, while kick-starting rugby's 200th birthday celebrations" as it was in 1823 that William Webb Ellis is supposed to have invented the sport. Oscar-winning French actor Jean Dujardin has been roped in as director of the opening ceremony. As many as 33 high-profile guests will represent France's unique flavours in gastronomy, sports and arts, as per the organisers.
It starts here!@FranceRugby 🇫🇷 vs 🇳🇿 @AllBlacks#RWC2023 | #FRAvNZL pic.twitter.com/5QIg3HNwNL

— Rugby World Cup (@rugbyworldcup) September 8, 2023
Irish luck
Andy Farrell, father of England captain Owen Farrell, has coached underachievers Ireland to remarkable success – a Triple Crown (2022), a historic 2-1 series victory over the All Blacks in New Zealand (2022), Six Nations Grand Slam (2023), and a continuous world No.1 ranking for the last year, shepherding them to victories over South Africa, Australia, Argentina and Fiji. But he will need to beat wretched luck for the Irish, who have never gone past the quarters. The back-to-back wins against the All Blacks on New Zealand soil last summer would've given them immense confidence, and they will be bolstered by the return of talismanic fly-half Johnny Sexton, 38, who is back from injury and a three-match suspension. Ireland boast of the 2022 World Player of the Year in flanker Josh van der Flier. But they are stacked in the Group of Death, Pool B with the Springboks and a resurgent Scotland, with their mercurial talisman, Finn Russell.
Can Bokks be back?
Key star Handre Pollard, who kicked South Africa to 2019 World Cup glory, has missed starting the World Cup due to a troublesome calf injury, though there is speculation he will be airdropped back in. In his absence, the mantle falls on Eben Etzebeth, who is the engine of Springbok attacks in scrums, lineouts and mauls. Head coach Jacques Nienaber, who succeeded Rassie Erasmus, is yet to beat France or Ireland in charge, while losing three of five against Australia.
All set for another RWC battle with Scotland on Sunday 🏆

Watch the action live on SuperSport Rugby & Grandstand #StrongerTogether #Springboks #RWC2023 pic.twitter.com/ZcgLKDu7xo

— Springboks (@Springboks) September 8, 2023
All Blacks' fourth?
Can the All Blacks become the first team to win four World Cups? A lacklustre 2022 was followed by New Zealand opting to play just one test match in the run-up to the World Cup where they were drubbed 35-7 by the Bokks at Twickenham in London. "We got squeezed and exposed," New Zealand coach Ian Foster said, adding, "Maybe this will take a lot of heat off us. No one will rate us now."
But bookmakers are undeterred and see the ABs as slight favourites to go all the way in France. With Richie Mo'unga and Beauden Barrett gelling, they look ominous. Captain Sam Kane is an exceptional tackler. The names to look out for – Aaron Smith, Will Jordan, Mark Telea and Ethan de Groot.
Antoine Dupont, the world's best player
Having lost three World Cup finals, France as hosts will hope to turn it around this time, or impress and please the eye while trying. Expect the hosts to regale, even if they cannot fulfill the favourites turn. Coached by former France scrum-half and skipper Fabien Galthie, France clinched a first Grand Slam in 12 years and went on a record win streak. It coincides with the peak of captain Antoine Dupont, the magical scrum-half. French rugby's poster boy has his image beaming down in many cities, including outside the Louvre museum in Paris. France24 says his wax statue is at the Grévin Museum in Paris, his voice is used by the national train company, and when Volvic revived an iconic advert from the early 2000s, featuring Zinedine Zidane, it swapped the football legend for Dupont. A comic book titled I Will Be a Rugby Player narrates his journey from a rural childhood in Castelnau-Magnoac, a small village at the foot of the Pyrénées, to leading Les Bleus to a Six Nations Grand Slam last year. He inspires the team's line-breaking attacks, bolsters its defence, never shying away from ferocious tackles despite being modestly built at 5ft9. La Rochelle coach and former Ireland fly-half Ronan O'Gara, after losing to Dupont's Toulouse last year, was quoted as saying, "He's a little bit like Ronaldo, Mbappé and Messi. If you mix the three of them together, you get Antoine Dupont."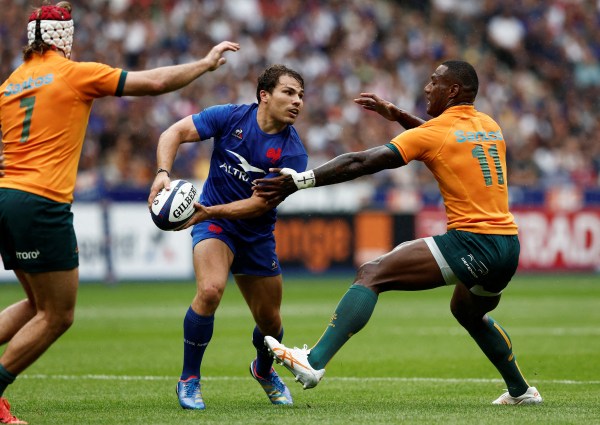 FILE PHOTO: Rugby Union – France v Australia – World Cup Warm Up – Stade de France, Saint-Denis, France – August 27, 2023 France's Antoine Dupont in action with Australia's Suliasi Vunivalu REUTERS/Benoit Tessier/File Photo
"Man who died twice"
While Georgia dream of reaching knockouts, they are led by coach Levan Maisashvili, the ultimate inspiration to beat the odds. He was given a one percent chance of survival during the Covid-19 pandemic, but Maisashvili is now fit, firing and ready to go for a second World Cup with the Lelos. Captained by centre Merab Sharikadze, who led them to a famous victory in Cardiff, Georgia run hard and are defensively sturdy. And they have the much-talked-of fullback Davit Niniashvili, who can whiz like a bullet on the counter.
Eddie's current Wallabies
Eddie Jones moved on from the England coaching job in December 2022 after being sacked, and jumped into the Australian one. In July, Jones compared the Wallabies to his first car, a Datsun 1200, where he'd fix one part and watch another come apart soon after. But recently, Jones claimed the team was now vrooming. "We're ready to go, mate – F1 – whatever car you like in F1, the fast one, we're just about ready to take off, mate," Jones said.
From a period of restructuring, Jones reckons they can now win the World Cup, which they last lifted in 1999, making the quarters in 2019. Australia goes to the Cup with the youngest team at the tournament, average age of 26.5, while Springboks have an average age of 30.4. Jones' lead-up has been marked by shock omissions (Cooper & Hooper) and selections, the latest being Ben Donaldson as fullback for his goalkicking. Donaldson has never worn the No.15 jersey before at Test level and only started once for the Wallabies with 22 minutes of Test rugby this year when he came off the bench.
Spying scandal
The Telegraph earlier reported that a leading team had approached World Rugby for clarification around potential sanctions being brought against a side should they be found spying on another team, kickstarting a spying scandal. All Blacks head coach Ian Foster denied knowing about this and asked, "Was anyone spying on us? I guess it's 'Welcome to the World Cup'. It's that simple. There's lots of pressure on, people react in different ways. It's an exciting time, everyone is looking for an edge. I'm not sure where that's coming from. I'm pretty confident we've been training alone, but who knows?"
In 2019, then England head coach Eddies Jones posted security around their Pennyhill Park training pitch before the Six Nations, and Clive Woodward too guarded secrecy of his training sessions during their successful 2003 World Cup campaign.
The props catching strays from All Blacks boss Ian Foster. #FRAvNZL

I expect a response from Front Row Union shortly…#RWC2023 pic.twitter.com/nuAZp8L2RK

— Jared Wright (@jaredwright17) September 8, 2023
Former head coach Warren Gatland wrote, "We use drones to film our own sessions, but it is hard to be sure that there are no other drones monitoring from long distance. The technology in cameras now is such that you could probably be a couple of miles away and able to discreetly film training away from security."
Safety measures
With one eye firmly on the health and safety of players, World Rugby tightens its rules fairly regularly. This Rugby World Cup will see the sternest restrictions on high tackles and contact to the head. These come amidst deeper scrutiny on player safety and a lawsuit brought up by former rugby players suffering from brain injuries similar to the one raging in the National Football League.
The red-hot Chile caper
Rodrigo Fernández is the main man for Chile, making their maiden entry into the Rugby World Cup, and scored a solo stunner last July to win the World Rugby try of 2022 during the first leg of a USA play-off. Picking up the ball just outside his 22 line, he zigzagged his way past seven defenders on his way to the tryline in pathetically muddy and flooded playing conditions. He beat 11 defenders in all. The fly-half is equally impressive at fullback, and brings his Sevens experience into play. He averaged 67 carry metres per game, 9.9 carries and 4.3 defenders beaten for Chile. This is the first World Cup to feature three teams from football-crazy South America in Chile, Uruguay and Argentina, while no North American team qualified this time.