One of the small thrills and joys of beating Viktor Axelsen in the quarterfinals Friday of a World Championship was HS Prannoy got to move his return flight plans. Soon after the biggest upset of his career, ousting the defending champion in front of his adoring home crowd at Copenhagen and nicking a chunky World's medal, Prannoy would be asked if he had to change his flight, booked apparently for Saturday earlier. "Oh yea, I have to change everything. I have to change the entire team's flight tomorrow! That's the fun thing about making semis and finals. You get to change your flight tickets," he would chortle.
But there were more profound changes that Prannoy was confronted with – changes forced on him by hurtful losses at the Majors. Changes that demanded a reset on his life: on what he ate, how he breathed, what thoughts he allowed to cross his mind. It wasn't until 2023 that Prannoy could shirk off the giant-killer tag to become a big tournament giant in his own right.
The challenges were varied; many physical, some mental. And holding him back from becoming the big tournament beast he has become this year. He began addressing them part by complex part five years ago, but it was after Covid where he personally suffered two bouts, that things started falling into place.
It was during the 2018 World Championships disappointment that Prannoy faced gut health issues, as he figured he suffered from gastroesophageal reflux disease (a digestive ailment in which stomach acid or bile irritates the food pipe lining). It would hamper his training, where it was important to go full throttle in simulations. Coaches at the Gopichand academy demand full commitment in training, but a range of issues wouldn't allow him to go the whole hog till his health problems were sorted out. He would start off finding solutions, with a long-time support system at GoSports Foundation.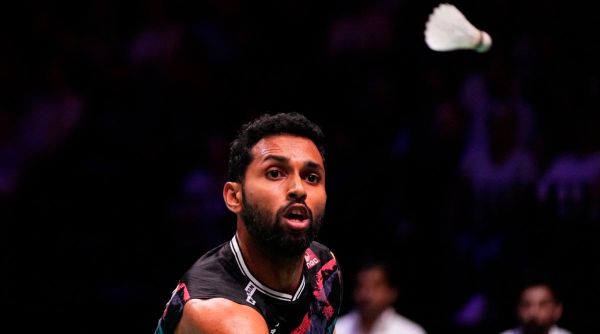 Prannoy H. S. of India during his quarter final single match against Viktor Axelsen of Denmark at the BWF World Championship in Royal Arena in Copenhagen, Denmark, Friday Aug. 25, 2023. (AP)
One of the foundation's earliest athletes since 2012, GoSports initially helped him with tournament travel expenses at the start of his career, but after he became a TOPS athlete, they stepped in with the sports science support. "He had multiple recurring injuries and health issues. After the Covid lockdown, he took them on all at once, but what's been important is him working with the same team for a long time, and persisting," says Ajanth Selvaraj, programme lead at GoSports, steering the Rahul Dravid athlete mentorship program that Prannoy is part of.
For nutrition, Team Prannoy roped in Potential Health Development. "They did multiple tests and research into food that was giving him allergies or not suiting his body. Then they drew out a nutrition plan where he needed to cut down on specific foods. He's been disciplined about intake and even timing of his meals for 4-5 years now. His sleep is monitored and he managed to shut out all distractions," Ajanth adds.
It amounted to a major sacrifice, because it wasn't as simple as outside junk food that he had to let go. What had been bothering him had been part of everyday local fare, that spiked his glucose. "He has stuck to what is good for him and doesn't eat what doesn't suit him or at odd times," he adds.
It wasn't just the gut. He got Covid more than once, which pulled him down and triggered breathing issues where he couldn't hold his breath for long, last the long rallies or longer matches. He might've transformed into a three-set beast now, but while his game always had the arsenal to force deciders, it took him time to master the third set dynamic of closing it out. There was the technique and tactics, but also the larger matter of building endurance post-Covid.
Before he got back on the national team radar again and the support staff was provided by BAI and TOPS, there was a time when he had to spend from his pocket to heed those needs. "He is working with a range of experts from Invictus Performance Lab (physio and strength & conditioning) and Before Behavioural Foresight (mental conditioning), all of which is facilitated by GoSports Foundation," Ajanth says. They would extend travel assistance to his support team at big events – this when he was falling out of Top 30 and quite down in the dumps.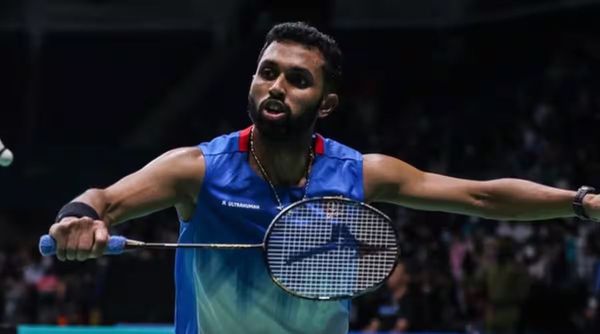 HS Prannoy in action. (FILE)
Open to seeking a psychologist's help, the mental trainers from Before Behavioural would also help him out with breathing techniques.
The change is evident in the big-points monster he has become. The composure he showed against a rampaging Loh Kean Yew in the pre-quarters and then once more against Axelsen, indicates the leaps he's come through in channelling his emotions. He roars and screams when nervous as much to prickle opponents and doesn't bottle it all in. But he would point to his head in celebration, as if to say the plan had come through.
"I think it's always good to win one more round," he would say after beating Axelsen. "Especially getting to a medal round. But it's not done yet. There are matches still from tomorrow but it was really fun to play Viktor in such a packed crowd. It was one hell of an atmosphere to play." And he showed one hell of a temperament to absorb the pressure and weather the storms.
Considerable change has come about in him, in how he responds to social media chatter and chooses what to put on it. A man of raw emotions, it's taken him effort to reroute it all into training and the game. He's smarter than before when he would vent out his emotions on social media, and invariably land in a mental funk, given the nastiness that's out there.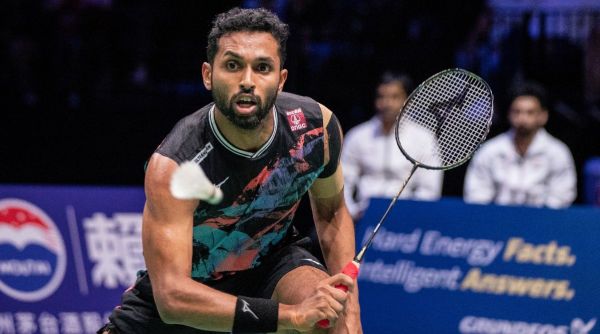 Prannoy H. S. of India during his quarter final single match against Viktor Axelsen of Denmark at the BWF World Championship in Royal Arena in Copenhagen, Denmark, Friday Aug. 25, 2023. (AP)
There were disappointments aplenty he needed to process. The support started coming in once he delivered consistent results. But at his lowest, he would be deeply hurt when he was ignored for the Arjuna award, or copped criticism about how he caused sensational upsets one day, and lost the next. The Backhand Beast needed a comeback of the ages, to finally tamp down on the quibblers. There were those on social media, right upto the day of the Axelsen match, who doubted his temperament, though that might never come up again after the biggest win of his career.
A Youth Olympics medallist in his teens and one who looks penciled in for Paris as of now, there was also the unspoken disappointment of never making the Olympics in a career where he had all the strokes and power but couldn't quite string a qualification period together. Just last year, he was hurt he hadn't made the Commonwealth Games squad for 2022 Birmingham, after he was gutted with losses in the 2018 edition. The change was he had learnt to bounce back from every loss – always improving his skillset and staying focussed on the goal.
The Australia Open loss to Weng Hong Yang from 20-16 up in the decider was the finest example of how to respond to defeat. He would not only return to the training courts and work on strokes, but never lose the self belief or get bogged down by the defeat. Losses didn't scar him anymore, they chiseled his resolve. For anyone watching, it was obvious that HS Prannoy was playing the most exciting badminton of the season in mens singles, win or loss. His matches where every rally was a thrilling story of its own, were eminently watchable and entertaining.
India's Prannoy H.S. competes in a match. (AP | PTI)
Alongwith Gurusaidutt and Pullela Gopichand, coaches he implicitly trusts, Prannoy has put together the crucial pieces of his game which are now yielding results.
"I think the Thomas Cup was a turning point. Not only did he play crucial matches, but him and Srikanth brought the team and juniors together as a unit geared towards one goal and took ownership," Ajanth says. All the attention was on Lakshya Sen, Srikanth and Satwik-Chirag ahead of the Thomas Cup, but Prannoy would change all that after the win. At the various GoSports conclaves, he's much sought after as a mentor by even non-badminton athletes and due to his outgoing nature remains accessible to upcoming athletes.
"It has been his perseverance when he's down and out. How he's really worked on himself, on his mind to come back," says GoSports' Deepthi Boppiah. "With his body type, he's had so many injuries, the gut issue. So we've worked very, very closely and very, very hard with him. We made sure we found the right partners, whether it's PHD for gut issues, or alternate stuff to find what the gut issue is. To getting doctors from the US to consult. Sitting with Gopi and their team and figuring out things. Seeing his entire team come together, his physio, trainer, S&C coach, nutritionist, coaches. Everything coming together, you have a full team to go all out," she says.
"Getting all these experts around him has been an exciting process. Matching the right personality type to your athlete is something which is a difficult process, because some work, some don't work. Some align to these philosophies, some don't," she says.
She adds that what makes him a true champion is his mind and ability to come back and really go all out. "He knows this is his year to go all out. In some sense the last two years have been just preparing for these big moments." Paris beckons.