Not too long ago, the talk in track and field circles was about a golden generation of javelin throwers emerging from Germany, all of them having breached the hallowed 90m mark, a distance considered very tough to cross.
There was Johannes Vetter, the world champion in 2017 and the man tipped to be the Olympic champion at Tokyo 2020. There was Thomas Rohler, the Rio Olympics gold medallist. And then, there was the 2018 Diamond League final winner Andreas Hofmann, who finished second in the European Championships that year.
Between them, the three throwers have 32 throws over 90 metres. Vetter can claim to have launched 20 throws over the fabled 90m mark, all of them coming between 2017 to 2021. Rohler has seven throws over 90m, all of which came between 2016 and 2018. Hofmann has five throws over the 90m mark, all of them in 2017 and 2018.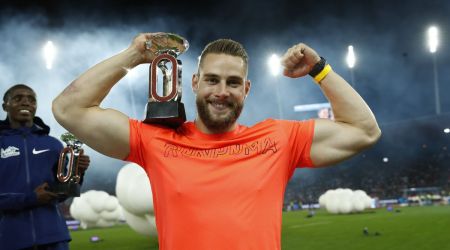 Johannes Vetter missed the World Championships because of a shoulder injury.
As the World Athletics Championships played out in Budapest, The Indian Express reached out to all three throwers to check what they have been up to over the last few years.
Their stories illustrate how heavy a toll a technical sport like javelin can exact on the body and how unforgiving it can be to even minor deviations from the correct technique.
As Vetter puts it: "As a javelin thrower, it's part of the job. You get injured really fast because you put so much power into those throws. And you train like hell. You can have a great body constitution, but one small wrong movement in the body when you're throwing the javelin and you'll get an injury. It's pretty hard."
Vetter missed the recently-concluded World Championships because of a shoulder injury.
"Hopefully, I can do some competitions this year in September next week. The shoulder is feeling quite good at the moment. Not that much pain. That makes me happy. Finally, after one and a half years I can build up the technique and go back to normal throwing. It's a lot of work! It's not that easy right now. But being pain-free makes me happy," the 30-year-old Vetter tells The Indian Express.
To understand what Vetter means by 'normal throwing' one only needs to go back to 2021, in the months leading up to the Tokyo Games. Vetter competed in 10 events in 2021 leading up to Tokyo 2020, winning each of them. In that year, he launched seven throws beyond the 90m mark.
Five Germans have breached the elusive 90m mark. Three of them are still competing at the highest level.
But since 2022, Vetter has competed at only a handful of events: two in 2022 and four this year, with his best throw of 2023 travelling 80.82m.
"The problems started after Tokyo at the winter training in December 2021. The doctors couldn't find out what the problem was with my shoulder. It was really hard for me cause nobody could really tell. We tried a lot of things. I changed my technique, tried new treatments. It was really horrible. But now I'm slowly starting to get better," says Vetter.
Away from the sport, Vetter continued working as a member of the Offenberg city parliament. He's also a member of the German army, so there were some commitments he tended to. He also used his profile in Germany to raise money for children fighting cancer near his hometown.
Always a great time catching up with my buddy @jojo_javelin. See you on the field soon, champion! 💪 pic.twitter.com/eTE0Jaf4km

— Neeraj Chopra (@Neeraj_chopra1) May 12, 2023
"The first goal is to start throwing without pain. Get healthy, get more confident while throwing. And the big goal is to be at Paris 2024," he says.
'Elite throwing leaves its marks'
Before Vetter, though, there was Rohler. At the Rio Olympics, Rohler won Germany its first Olympic gold in javelin since Munich 1972. Ordinarily, marquee events like the Olympics and World Championships rarely see 90m throws. But Rohler's gold-winning throw landed at 90.30m.
Five years later, however, he was missing from the lineup at the Tokyo Olympics, skipping it due to a back injury.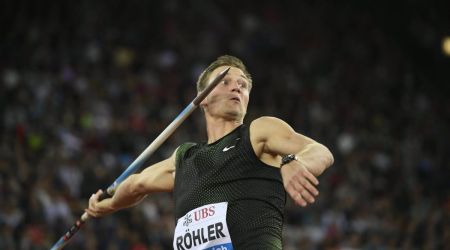 Rio Olympics gold medalist Thomas Rohler in action. (PHOTO: Zurich Diamond League Facebook)
"Ten years of elite throwing leaves its mark," Rohler says, talking about his back injury. "After 10 years it is just a matter of time that these things happen. I was lucky enough to have so many years without any issues."
Since the injury, he has been making steady progress towards his goal of being among the world's elite. He competed in just one event in 2021 and three events in 2022. But he's already competed in six events this year. This pales in comparison with the volume of events he was competing in before the injury: 19 in 2019, 17 each in 2018 and in 2017.
At almost all of the events he's competed at in 2023, Rohler's thrown just over 75m.
"With the serious back injury from 2021 in mind, we knew all steps would take time. I committed to the work that had to be done and I'm happy with where I am right now. 2022 was a year dedicated to building up a solid physical base to get back to training and throwing competitions in 2023. The year 2023 is going to be filled with extraordinary loads, amounts of throws and technical work to fill the gap and lack of throws from previous years. I am on the road to Paris 2024," says the 31-year-old.
Away from the sport, Rohler has spent his time trying to help the next generation of throwers with the nuances of the sport. Through his website, Rohler offers coaching and mentoring packages, ranging from offering advice on technique via voice notes to offering season-long mentoring for budding throwers.
"Besides my own goals in sport, I want to leave a sustainable footprint in the javelin throw. As a mentor and coach, I'm happy to share my experience from over 10 years of competing in elite track and field," he says.
COVID, vertebrae blockage and ACL injury halt Hofmann
Andreas Hofmann is one of the only five Germans — and 23 men overall — to have heaved the javelin over the 90m mark. In 2018, he competed in 14 events, finishing in the top 3 in every one of them. The next year saw him compete at 12 events, and end up in the top 3 in nine of them. Then the coronavirus pandemic and injury struck.
Hofmann says he particularly struggled with the coronavirus.
"In the first few weeks after the lockdown, I didn't know what to do with my training. I didn't do anything. Nothing for five weeks. I was struggling a bit with my physical and mental wellbeing. Coronavirus was a very hard phase for me. When I finally went back to the track to throw, I had issues with my left foot," he recollects.
That year, while competing at the Paavo Nurmi Games in Turku, he picked up an injury with his elbow. It was a ligament issue that required a complex surgery where a tendon from his leg was removed and inserted into his elbow.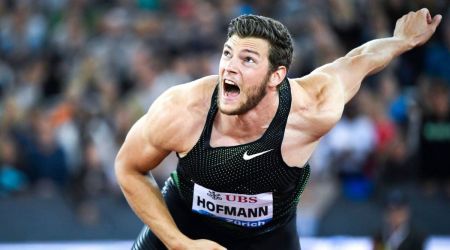 Andreas Hofmann has had his share of serious injuries over the last four years. (PHOTO: Zurich Diamond League Facebook)
It was the first of the two major surgeries Hofmann would undergo in the space of four years. He's also had two other injury setbacks. By the time his elbow healed, the Tokyo Olympics was almost within touching distance. He threw 78.26m at an event in Switzerland's Luzern, but it was not good enough to seal qualification for Tokyo.
"I was the fourth man from Germany in the qualification race. When I missed the cut, I mentally broke down," says Hofmann, who laughs as he says it before continuing: "It was the second time in a year that I had struggled with my mental state."
It was only in 2022 that Hofmann returned to "normal training" and found comfort in his pre-injury routine.
"I was straight again. In the first competition of 2022, I threw over 86 metres. In the second competition, I threw over 87 metres. I was like I'm back again! Then, I started to struggle again!" he says.
Ahead of the World Championships in Eugene last year, he experienced a vertebrae blockage in his lower back in a training camp. The issues seemed to heal, but right during the Worlds, he experienced another vertebrae blockage in his upper back.
"The whole muscles in that area were tight. I could barely move. When I threw the javelin, it barely went to 68 metres or something. The next few months, I did more rehab than training," he says.
At the start of the current season, he tore his ACL and his meniscus. That required another surgery. Another stint away from the sport.
"Since then I've been in rehab! I'm able to walk normally now with no limping! When you see me walking now, you'll think I have no struggles any more. But I feel a little pressure in the knee when I bend or straighten it," he says.
"I've done sport professionally for the last 15 years or so. The javelin is a technical event. In my opinion, it's about 80 per cent technique and 20 per cent about strength. If your technique isn't right, you can damage your body more easily than if you were sprinting with an incorrect technique," he adds.
As he currently rehabs, Hofmann has been studying for his Masters degree. He recently submitted a thesis that deals with how Bundesliga clubs can improve their brand presence and was done in association with his neighbourhood club TSG Hoffenheim. For the thesis, he even did an internship with the club.
He has also been using his spare time to post educational videos on the art of javelin throwing on his YouTube page. And while he speaks in German in the videos, he is quick to add: "But you can select subtitles in English. And Hindi for Indian audiences!"
Even as he recuperates from the latest injury, Paris 2024 is at the back of his mind.
"The struggles are over now. I'm feeling very good, my mental state is very good. The next goal for me is just to go jogging in mid-September. In November, I could go to normal training. Then hopefully I can make it to Paris," he says.