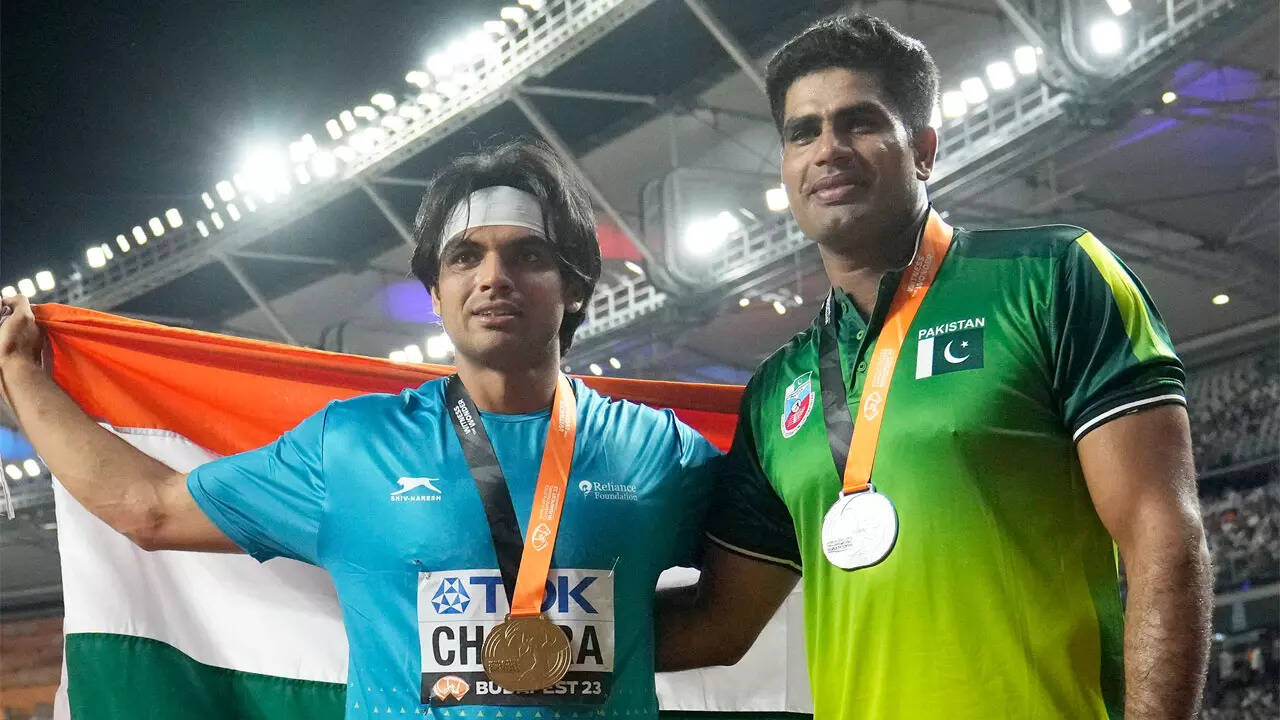 NEW DELHI: Pakistan's Arshad Nadeem, the World Championships silver medallist on Friday said does not view ace javelin thrower Neeraj Chopra as a rival and instead focuses on competing with himself.
Nadeem achieved this historic feat in Budapest last Sunday, becoming the first Pakistan athlete to win a medal at the World Athletics Championships. In the same event Neeraj, the Olympic champion, secured the gold.
Asked if Chopra was his main rival in the World Championships, Nadeem said, "No.I myself is the only competitor to Arshad Nadeem. I did not think I was competing to win against anybody."
Chopra won gold with a throw of 88.17m while reigning Commonwealth Games gold medallist Nadeem took the silver with his season's best throw of 87.82m.
Nadeem said he was happy at Chopra winning the gold.
"At the world level, two Asians finished first and second. Neeraj bhai won the gold medal and I am very happy. Sometimes he will win the gold, sometimes I will," Nadeem was quoted as saying by 'BBC'.
"I went to Guwahati in India for South-Asian Games in 2016 and won the bronze medal there. Neeraj got the gold medal that time. I also broke national record. As we played more competitions together, we became friends and it (friendship) became stronger."
Chopra's mother had spoken on similar lines for Nadeem after her son won the historic gold.
"This kind of thinking takes a human being forward. There is a lot of talk in social media that India has done this, Pakistan has done that. But, this kind of positive thinking makes human beings closer.
"I congratulate his (Chopra's) parents and his whole country."
After the event was over, a picture showing all the three medal winners together but Nadeem without the Pakistan flag went viral.
Asked about it, Nadeem said, "After the competition got over, I was sitting there, packing my things like spikes and putting them inside my bag. I thought I will keep all these things inside the bag and then hold the flag.
"The (Pakistan) flag was there but I was little late. While going there, the flag was a bit far. When I reached near him, I took a photo with him. After that I held the flag and took a round of the stadium."
(With inputs from PTI)