JAIPUR: It was a rare event in
Rajasthan
's
cricket
history when a player as dashing, charismatic and mercurial as Salim Durani signed up to play for them in 1956 and went on to play for the state for 22 years. It was Maharana Bhagwat Singh Mewar from Udaipur, who brought the allrounder to Rajasthan.
Though he grew in stature some years later, after representing India in 1960, the all-rounder from Afghanistan always had a distinct vibe about him that separated him from others. Those who have seen him from the close quarters in the domestic circuit tells that if on one side he was a hero-like figure, he was a menace on the other.
Former Rajasthan player Sharad Joshi said, "I was only 17 when I made my first-class debut and luckily Durani bhai was also around at that time. As I walked into the Chaugan Stadium, he called me and said 'don't put yourself under-pressure, else you won't be able to bowl. Think as if you are playing gully cricket. And if you face any problem, do come to me'. His words helped me and I took four wickets. He liked backing youngsters and I was privileged and honoured to share the dressing room with him."
Durani made it a point to sit with the new players to ensure they do not fear the big stage. Joshi recalled how on one occasion he and three other youngsters enjoyed the 'privilege' of being with Durani 'the star'. "There was a match in Birsinghpur near Gwalior and because of some confusion, we reached a day late. Durani bhai was standing at the guest house's gate and said that today's match is over. Should we go for the Piya Ka Ghar movie? You won't believe, we were 20 minutes late for the show and Durani went to the manager of the theatre and told him that we have to watch the movie, else Jaya Bachchan would be offended. To our amazement, the movie was started all over again to ensure Durani doesn't miss out on any scene." It is a well-known fact that Durani was friends with many in Bollywood. Another former state player Vinod Mathur too shared the same sentiment while talking about Durani's approach towards the youngsters in the team. "I made my debut in 1974 and played with Durani bhai for four years in Rajasthan. He always ensured new players were comfortable in their role. When I bowled, he used to move out of the slip cordon and guided me from the mid-on region. He always told us 'Salim field ke bahar kya karta hain uss pe dhayan matt dena, Salim field pe kya karta hain uss pe dhyan dena (do not focus on what Salim does off the field, focus on what Salim does inside the field)."
While for his contemporaries he became the gold standard in the way he went about his game and style, for his juniors he was like a big brother. Durani's capricious ways of leading the life was one major factor as to why he never took up coaching roles. Anant Vyas, who is the former CEO of the Rajasthan Cricket Association (RCA), shared, "In 1983-84 Kishan Rungta ji offered him a coaching job at RCA and proposed to pay 50,000, but he refused because he never stayed at one place and was a very moody kind of a person who lived life on his own terms."
When cricket shifted from Udaipur to Jaipur, the flamboyant allrounder stayed at Rungta's place, the former national selector who ran cricket in Rajasthan for more than 30 years.
One of the widely-circulated stories about him is of putting his kit to the fire a day before a Ranji Trophy game. "In the 1970s before a Ranji Trophy match he was upset about something and he burned his apparel. Bhagwat Singh Mewar made sure Durani ji had his match apparel and kit on time," Vyas added.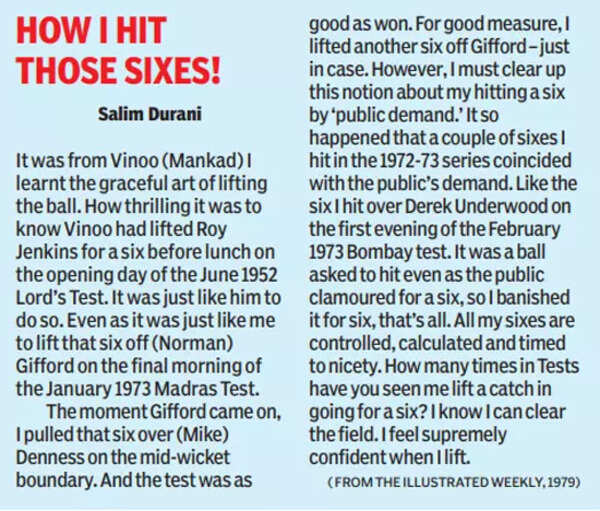 A man of many characters, Durani is revered in the state and there is no bigger testament of this than the Rajasthan government announcing in this year's budget to spend 105 crore to build Salim Durani Residential Sports School at each divisional headquarters.