BHOPAL: The wide smile on
Manu Bhaker
's face said it all. Before the 25m pistol final on Saturday here at the ISSF World Cup, and even before the rapid stage of qualification, Manu was trying her best to hide her nervousness. Her father was by her side for all this while, perhaps because he had spotted the jitters in her daughter and tried comforting with his presence.
It's been two years, since the Delhi World Cup in 2021, that Manu was on the podium of a senior international event. She had come close a few times and was close again now. Quite clearly, she didn't want to let it slip.
She started the ranking match nervously, but held her nerve to find 14 hits, the same as eventual gold medal winner Doreen Vennekamp of Germany, and leave compatriot Esha Singh behind to enter the medal match.
While the second ranking match was on, Manu laid back in her chair, closing her eyes and throwing her head back in some sort of meditation routine. She wanted it badly, and once China's Yaxuan Xiong was eliminated in the medal match, a podium place for Manu was confirmed.
It turned out to be bronze for Manu, before Ziyue Du of China lost a close battle to Vennekamp to settle for silver.
The popular Doreen Veenekamp of 🇩🇪 wins 🥇 in the women's 25m Pistol. Du Ziyue (left) of 🇨🇳 wins 🥈 & @realmanubhaker… https://t.co/7kPEY39CBE

— NRAI (@OfficialNRAI) 1679741390000
After returning from the medal ceremony, a relieved Manu Bhaker talked to Timesofindia.com, among other reporters, to put her sense of relief into words.
Talk us through your state of mind and preparation en route to winning this bronze medal…
Entire day, the second half, I was very nervous. I was trying to do whatever I had planned. I was able to do, say, 70% of that. The match was good, so was the qualification. There's always scope to do better in the final. Today in some seires I was good, some series could have been better, technically. I think the whole day I kept fighting to do better and better. As you saw, in some series there were 3 hits, 5 in another, 2 in the next, then 5 again. Like this, I was putting in a lot of effort. I got the medal, so it was worth it.
Were there more nerves involved in qualifying for the final or was the pressure more in the medal match?
Definitely, it (nervousness) was more in the final. There were a lot of people cheering, and I wanted to give them something at least. I was happy that there were so many people to support us. It's good for shooting that so many people are turning up.
Before the rapid stage of qualification, you were seen sitting in the lawns doing some juggling with tennis balls. Is that part of preparation?
Juggling – it's just timepass, to keep my head clear so that no other thoughts occupy my head. It is a fun way to improve concentration. I was sitting in the sun for Vitamin D, nothing as a ritual (laughs).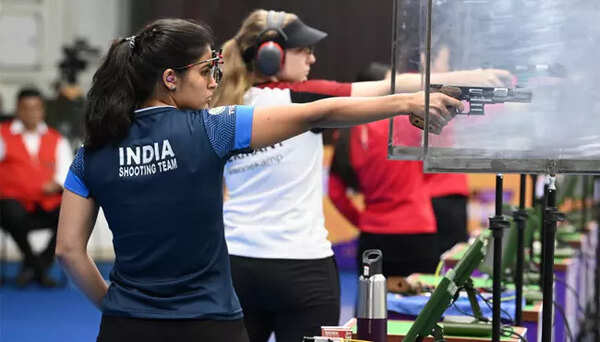 TOI Photo
Have you introduced any change in your technique after the disappointment of the Tokyo Olympics?
There isn't a major change, honestly. I would say I have done whatever the coaches tell us to and performed accordingly in matches. The way the national camp went, it was good. Coaches are supportive, so I am working with all of them. They are always there to support and guide me whenever there's any need. Munkh (pistol coach Munkhbayar Dorjsuren) ma'am, I was working with her, then Ronak (Pandit) sir, Samaresh (Jung) sir. All of them are very, very good coaches, experienced.
What's the role of the high performance director Dr. Pierre Beauchamp?
He supervises everything and if any athlete needs certain guidance with any specific thing, he is always there to help us psychologically or strategically. Plus, he also monitors every athlete.
Have you analysed anything about yourself after winning this medal?
I was in many World Cups during the last 2-3 years. I would say I am really happy how I am improving in the 25m sports pistol. I definitely need to work more in the 10m (air pistol). I was fourth in the Korea World Cup, I missed the final in Egypt by 10x. I hope I'll keep improving.
What went wrong in the 10m event here?
Only one series was very, very bad (89). Apart from that, after the bad series, I was able to shoot a series of 99, which is good. There's not a lot wrong with 10m, just some minute things that we'll work on in the next camp with our coaches. I have taken note of that.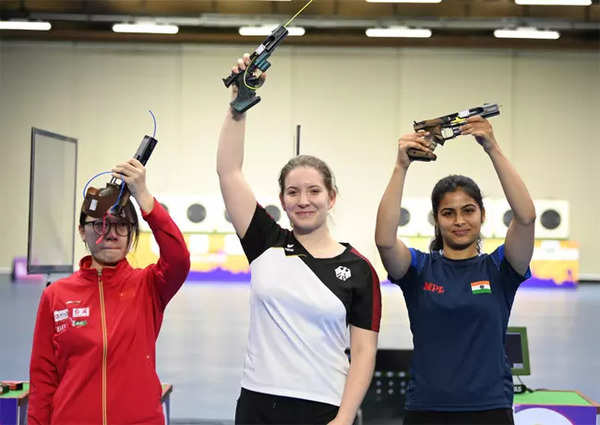 TOI Photo
What have been the inputs of foreign coach Munkhbayar?
Plans are made by the coaches, Munkh ma'am, and I am following that. She told me to do certain things, and I was able to do those 75% of the time, not 100%. It will definitely improve with time. Munkh ma'am is very experienced. She has played in so many Olympics, I think 5 or 6. That definitely adds up to something. We need guidance.
What are your takeaways from the Bhopal WC?
The major difference (between the Olympics and this edition of the WC) is that I was not very experienced at that time (Tokyo Olympics). I was a newbie – well, not exactly a newbie (smiles). I won the quota and was 19 when I played the Olympics. This cycle is shorter and I think from all the competitions I have played, there have been ups and downs. I have faced difficulties like weapon malfunction on the biggest stage and how to deal with that. I hope all this will add up to something really great.