To give India their fourth gold medal, Lovlina Borgohain defeated Australia's Caitlin Parker in the 75kg weight category final at the 2023 Women's World Boxing Championships.
After Lovlina edged the first round 3-2, and lost the second round 1-4, it was a tense and dramatic finish to the bout which ended in India's favour after a contentious third round went in favour of Lovlina 3-2, and both the observer and evaluator awarded their points from the bout review to the Indian for her to win 5-2.
"This bout was a big test," she told the media after the bout. "I didn't succeed fully, only 90%, in the strategy we had planned. The plan was to be on the offensive in the first two rounds and stay defensive on the third. Our coaches told me to stay on the counter-attack, and I'm glad it worked."
Lovlina on the Podium 😍

BFI President Mr @AjaySingh_SG presented the World Championships belt to the newly crowned World Champion @LovlinaBorgohai@debojo_m#itshertime #WorldChampionships #WWCHDelhi @Media_SAI @anandmahindra @Mahindra_Auto @MahindraRise @NehaAnandBrahma pic.twitter.com/WTmf3YnMdT

— Boxing Federation (@BFI_official) March 26, 2023
The landmark triumph comes amid a tumultuous period for Lovlina ever since she won the bronze medal at the Tokyo Olympics in 2021. Her 69kg category was scrapped in the Olympics, meaning she would need a significant step up in weight to make it 75kg, by no means an easy ask for any boxer. In the backdrop of that, Lovlina had claimed that last year, her Worlds and Commonwealth Games preparations had been derailed after the repeated removal of her coaches.
Her form would be up and down throughout 2022, until the end of the year, when she made a big statement regarding her adjustment to the new weight category, winning gold at the Asian Championships. Lovlina has ridden the momentum since, adjusting to the new weight mainly due to her tall frame, which gives her greater reach.
That height advantage gives her the edge in defence, allowing her to stay strong on the back foot and play the long-range game, which she managed very well all through her run to the gold medal. The first round began in that fashion, with Lovlina feeling out her opponent, landing a few punches, and then retreating. The Indian would maintain her distance from Parker, not letting her into the striking zone to land any clean punches, and finding the right opportunity to go for a few jabs herself. Mere defence, however, is not enough if not combined with clever attacking moves. The second round resembled that problem.
Once Parker got a read on her game, she started charging more. The round may have been cagey with Lovlina on the backfoot, but Parker landed enough clean punches to pile on the pressure – especially by staying low and going for body blows, to which Lovlina would often respond with grappling and clinching.
The Gold medal is a testament to their skills and determination. Thank you so much! @AjaySingh_SG https://t.co/1fSe1gAEkN

— Boxing Federation (@BFI_official) March 26, 2023
Hand speed
Lovlina grew up in Baromukhia village of the Golaghat district of Assam. At the encouragement of her family, she would take up many sports, including a string of different mixed martial arts, even winning gold in the Muay Thai nationals in 2010. Those arts would, ultimately, play a role in Lovlina's early physical development, and explain the quick reflexes that translated into very fast hand speed that would become a big strength of her game.
Moving up a weight category, against heavier, stronger boxers, Lovlina has been able to combine her hand speed with greater reach to leave her opponents flat-footed. It's the strategy she used to turn the tide in the third round.
Despite keeping her distance, she used her speed to make quick dodges and avoid contact, and then, at times, landing a strong low left hand to daze her opponent with a body punch or a straight jab to the temple. The boxing was better, and cleaner, but the result never seemed like a foregone conclusion. Towards the end, fatigue also seemed to have seeped in.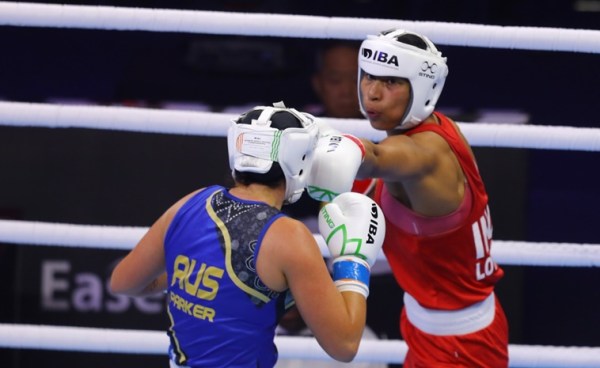 Lovlina Borgohain in action (Express photo by Abhinav Saha)
Adjusting to a new weight category – especially when the jump is as high as 5kg – can be a significant psychological challenge. For Lovlina, though, mental strife has hardly come in the way of her boxing success. A few months after earning her place at the Olympics for the very first time, lockdowns would strike after the COVID-19 pandemic. Her training would halt, and then later, she would learn of her mother's kidney failure, taking an 11-day break from a national camp to go home and be with her family.
A World Championship gold represents a significant step forward, especially considering the weight change. But even her most ardent supporter will not be able to deny that fortune was on her side when her name was announced as the winner, as the Australian camp threw their hands in the air in disappointment. The weakened field, with top boxing nations like Ireland and the US boycotting this event, also went in her favour in Delhi.
She will need to build on this result to repeat her feat in Paris. The Asian Games later this year, then, will prove to be the big test ahead of Paris 2024.