After 42 days since the start of the tour, when most of the talk had been about pitches that were either rank turners, flat, or seamer-friendly, the MA Chidambaram Stadium rolled out a track that had something for everyone.
Wickets for seamers: Check. Wickets for spinners: check. Runs for batsmen: check. In essence, it was a pitch that once used to make ODIs an absorbing contest to watch for everyone. And at the end of a contest with several ebbs and flows, it was Australia who walked away with the honours beating India by 21 runs and taking the series 2-1 to deny Rohit & Co a wholesome finish to the home season.
From the moment Mitchell Marsh and Travis Head got Australia off to a brisk start to the time when Hardik Pandya was dismissed in the 44th over, it was hard to second-guess which team would come out on top. When Australia looked like taking the game away from India with their batting, Pandya stepped up with the ball accounting for Head, Steve Smith and Marsh in his first three overs. And when Kuldeep Yadav, making full use of the conditions on offer, broke Australia's back by removing David Warner, Marnus Labuschagne and Alex Carey to leave them 203/7 by the 39th over, their lower order ensured they stayed in the contest by stretching the total to 269 in 49 overs.
It was not a huge total for India to chase, nor was it going to be a cakewalk on a pitch that was beginning to get slower. The black soil surface played true to its character all afternoon and evening. Unlike the last two ODIs, the top-order batsmen of both teams all got off to starts with Rohit Sharma and Shubman Gill putting 65 runs for the first wicket before the former fell to Sean Abbott.
From there on, every time India's batting line-up built a partnership, leg-spinner Adam Zampa and left-arm spinner Ashton Agar – the latter sent home during the Test series for not being good enough to bowl on turners – snapped their momentum. Gill, KL Rahul, Virat Kohli, Suryakumar Yadav (third successive first-ball duck), Pandya, and Ravindra Jadeja – all fell to spinners before the formalities were completed in the final over.
One that got away
This was a match India failed to hold on to, despite having it in their hands. Having done all the hard work in the second Powerplay with the ball, where they accounted for seven wickets giving away only 148 runs in 30 overs, and all the specialist Australian batsman dismissed, they let the last three wickets add 66 runs.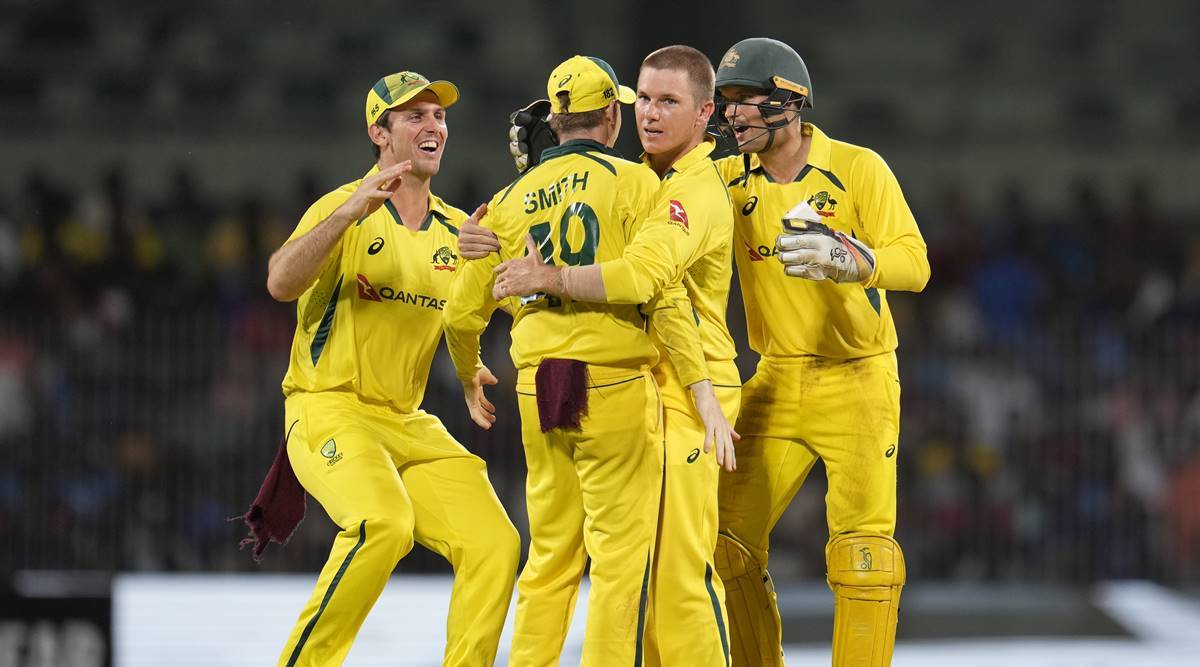 Australia's Adam Zampa, second right, hugs captain Steven Smith to celebrate after the dismissal of India's Hardik Pandya during the third and last one day international cricket match between India and Australia in Chennai, India, Wednesday, March 22, 2023. (AP Photo/Aijaz Rahi)
After Alex Carey was dismissed in the 39th over, instead of bringing back Mohammed Shami or Mohammed Siraj and going for the kill, skipper Rohit went with Kuldeep and Pandya and even brought back Axar.
From there on, it was over to the batting line-up to take India home. Even though Rohit and Gill got out after making an impressive start, the hosts looked in total control when Kohli and Rahul were together. The former, especially, was building towards another typically constructed innings in a chase, scoring most of his runs in singles and twos, cutting down all the big shots. Even Rahul looked assured, happy enough just working the ball into the gaps and picking two fours and a six, following Kohli's lead.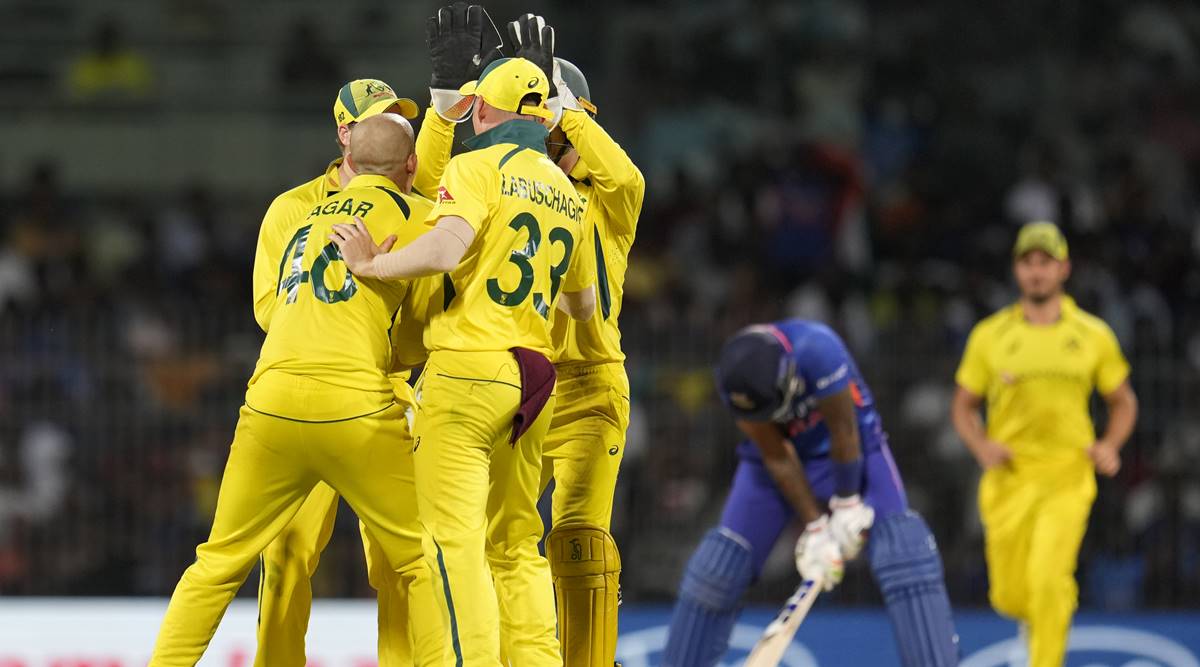 Australia's Ashton Agar, left, celebrates with teammates the dismissal of India's Suryakumar Yadav, second right, during the third and last one day international cricket match between India and Australia in Chennai, India, Wednesday, March 22, 2023. (AP Photo/Aijaz Rahi)
Even when the two were quietly doing the job, Australia didn't blink. Thanks to Zampa and Agar, they not only came back into the contest, but also strangled India in the middle overs. It started with Rahul, who tried to lift the leg-spinner over long-on, but the slowness of the pitch meant the ball hit the toe-end of the bat and carried only till the deep fielder. Then, India promoted Axar to No. 5 to bring the left-right combination into play, but a mix-up with Kohli ended his brief stay. And when Kohli and Pandya tried to bring India back on track, the former chipped Agar straight to the long-off fielder as he departed for 54. And off the next ball, Agar got one to go straight and Suryakumar, instead of coming on the front foot, stayed rooted to the crease and saw the off-stump pegged back for his third successive first-ball duck in the series.