There are few, if any, boxers at the 2023 Women's World Championships in Delhi as dominant as Nitu Ghanghas. The Haryana-based pugilist is yet to finish a bout to completion on her way to the 48kg semifinals of the event, confirming the first of four Indian medals on Wednesday after the referee stopped the contest in the middle of the second round of her quarterfinal against Japan's Mada Wadoka.
Confidence has flown through the Commonwealth Games champion's fighting style throughout this event, as she has looked to mount the pressure early and daze her opponent by landing a few early clean jabs. This time around, against an opponent evidently quicker on feet, she seemed a bit cautious at the start of the encounter, the first round of which played out like a cat-and-mouse chase.
Wadoka would spend much of the initial round avoiding contact as opposed to initiating it, using clever blocks and body punches to keep Ghanghas at an arm's distance and immediately take the sting out of any of the Indian's attacking moves.
The Japanese took a couple of left hooks to the temple, but did well to ensure Ghanghas landed only a handful of clean punches. The Indian won the first round 5-0, but the contest seemed more like a dogfight than the aggressive blowouts that Ghanghas had played out over the last week.
The second round kicked off in similar fashion, with Wadoka staying strong on her backfoot and defense, wearing out her opponent before she could take advantage. But midway though the round Ghanghas found her feet, engaging in a powerful one-two sequence by landing a right hand square in her opponent's face, and following it up with a big left hook.
Moments later Ghanghas would strike again, charging down her opponent and landing two huge left hands to the face before the referee had seen enough. As the win, and medal, were confirmed, it almost felt as if the Indian was disappointed not to be playing out a full bout ahead of the semifinals.
Nikhat, Lovlina advance
Reigning world champion Nikhat Zareen also confirmed a medal for India at the championships, defeating Chutamat Raksat of Thailand in the quarterfinal in a split decision. The result was favourable, but Zareen did not have as dominant a display as Ghanghas, winning 3-2 that went up to 5-2 after a unanimous bout review in a tighter, cagier contest.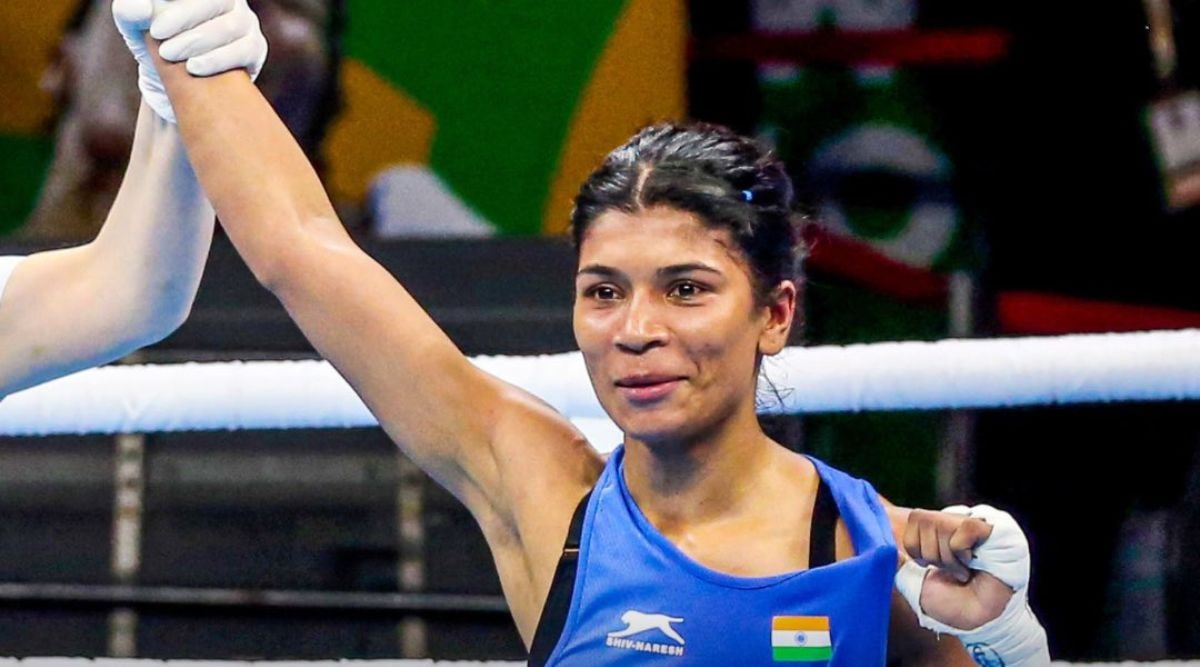 India's Nikhat Zareen. (Image: BFI)
Zareen had looked tired and ragged after a brutal schedule had left her fighting three bouts before the quarterfinals, but looked in higher spirits on Wednesday, lighter on her feet when exchanging blows. She moved quickly, with more focused dodges and blocks, making it count by landing some big punches.
The first two rounds were both close ones, and Zareen prevailed 3-2 in both. The fatigue seemed to show in the final round when Raksat had much of the upper hand and won 1-4, and after a long wait for the decision due to the bout review and announcements in the other ring, Zareen looked genuinely relieved to get to the medal matches.
Later she would reveal that the final round let off was part of her strategy. "My strategy today was to win in the first 2 rounds and then play around in the last round. I won the first 2 rounds but in a 3-2 split decision, so, in the last round, I aimed to play from long range. There was a lot of clinching so my body got a little tired," she said.
Later in the day, Tokyo Olympics bronze medallist Lovlina Borgohain defeated last year's bronze medallist, Mozambique's Rady Gramane, in a unanimous 5-0 decision. Like her last bout, Lovlina used her height advantage to cleverly manage the bout with smart defence, but looked more confident in attack, using her stronger right hand to inflict damage.
Both Lovlina and Zareen are currently fighting in newer weight categories – 75kg and 50kg respectively – ahead of the 2024 Paris Olympics. A medal at the championships would be a significant result for both.
In the 81kg category, Saweety Boora defeated Viktoriya Kebikava to confirm India's fourth medal at the event in a unanimous 5-0 decision. As the top seed, Saweety got direct entry to the quarterfinals and only needed to win one bout to win a medal.
---
India go four for eight
India hit a direct middle ground in terms of medal prospects on Wednesday, with four boxers losing their quarterfinal bouts. The biggest surprise of the day was reigning bronze medallist Manisha Moun's 1-4 defeat to France's Amina Zidani.
Elsewhere, CWG bronze medallist Jaismine Lamboria was convincingly defeated by Colombia's in a 0-5 unanimous decision, while Nupur was defeated by Kazakhstan's Lazzat Kungeibayeva in the 81+kg category in a tight 3-4 split decision that went to a bout review.