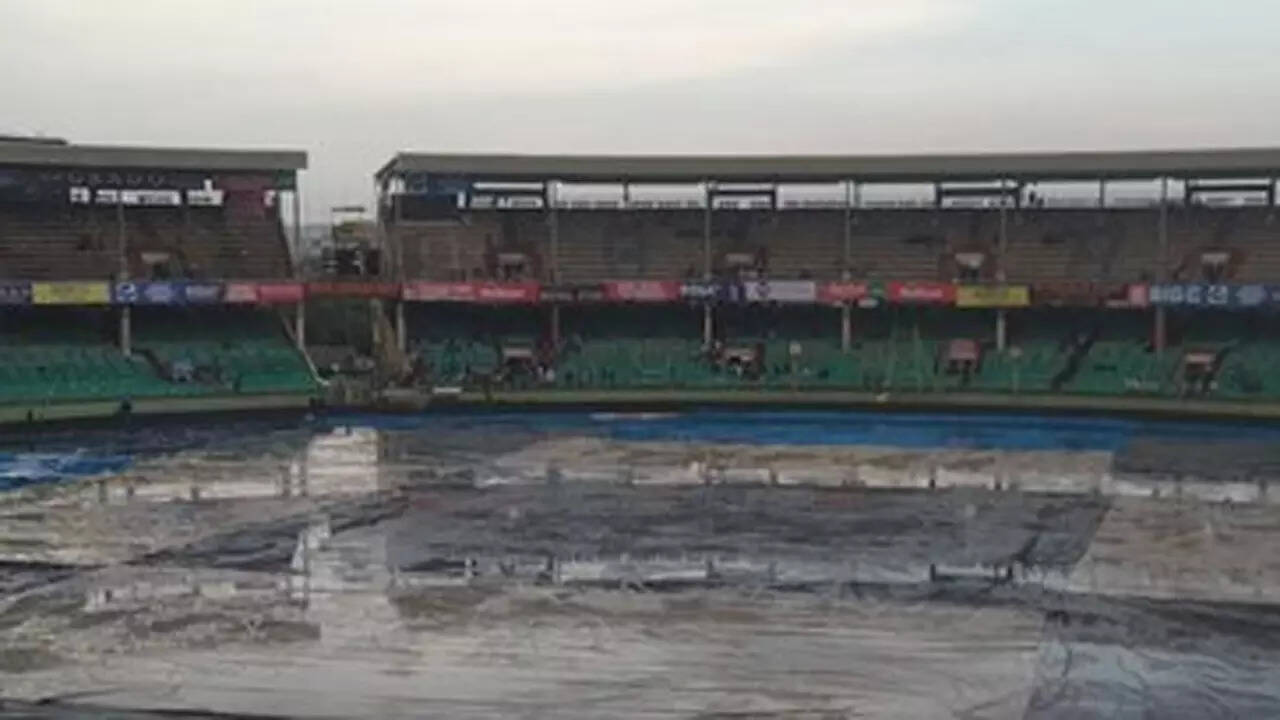 VISAKHAPATNAM: 'Rain, rain go away. Come again another day', is the fervent prayer of the fans of the City of Destiny. The city is hosting an ODI match after a long gap of three years and the fans don't want the unseasonal rain to play spoilsport. According to the ACA officials, all the tickets for the game have been sold out and that adds to the woes of the officials.
The IMD has predicted rains for the weekend and the Met officials said that most of the coastal districts of Andhra Pradesh would experience widespread rain or thunderstorms in the next 24 hours. During the thunder showers, the south-easterly wind speed would also be high.
The temperature in the port city on Saturday morning was 30 degrees Celsius with a clear sky but it had become cloudy by the evening. Humidity in the air was 89% and the wind speed was 14 kmph.
As per the prediction of the Meteorology department, Coastal AP, comprising nine districts, and Rayalaseema's four districts would witness heavy rain at isolated places and thunderstorms accompanied by lightning and gusty winds of 30kmph to 40 kmph.
After a relatively bright and sunny morning, things turned darker in the afternoon. There was a sharp shower for a few minutes at the stadium and the ground staff were seen scurrying about to cover the ground. Thankfully, it lasted only for a few minutes and the sun came out soon.
However, by evening the sky had grown darker and there is an 80 percent chance of precipitation in the night. The chances of rain on Sunday are in the range of 31-51 per cent and the weather is likely to remain cloudy. Therefore, the fans and stadium officials are keeping their fingers crossed.
"The IMD has predicted rain for tomorrow and that is a worrying aspect. It was expected to rain yesterday too but it didn't and that is actually bad as the chances of rain hitting us tonight or tomorrow is very high," said a Visakhapatnam District Cricket Association (VDCA) member.
The officials are hoping that rain, if it arrives, should hit at night and stop by morning. "We have an excellent drain system and the whole ground can be covered. Hence, the wicket getting damaged is not such a big issue. The outfield too can be dried up in quick time. We will just need 2-3 hours to get the ground back in shape," said an official.
The ACA is hoping that they will get to have a short game at least. "The least that we can have is a 20-20 game. So, we are keeping our fingers crossed," said an official.
Apart from the ground staff, the ACA has around 30 other people to help with the covers etc.