Amelia Kerr had a good look at this left-arm spinner she hadn't heard of in her six-year international career, as the Mumbai Indians sweated it out ahead of the Women's Premier League.
Kerr, who famously took five for 17 with her leg-spin after cracking 232 not out off 145 balls as a 17-year-old in an ODI for New Zealand against Ireland back in 2018, said to coach Charlotte Edwards and captain Harmanpreet Kaur: "She is very good. She is going to do well."
Saika Ishaque is doing well indeed. In her first four games, she took 12 wickets to stake an early claim for the WPL's purple cap.
Saika's performance may not have surprised Kerr and the MI camp. But, for the rest of the world, she has been a revelation. Largely an unknown quantity even in India until recently, she has, so far, been the find of the WPL.
Last November, this correspondent watched her bowl in the T20 Challenger Trophy at Raipur. It was the last chance for fringe players to attract the attention of the prospective franchises of the prospective women's league (the WPL hadn't been announced yet).
Saika had turned 27 the previous month, so time was running out. She got to play only two matches. In the first, she took two for eight from four overs. One of those victims was the experienced Indian batter Jemimah Rodrigues, whom she clean-bowled.
Making an impression
She looked impressive: she was accurate, confident, bowled in the right areas and had more pace than most female spinners did. She was smiling broadly when she posed for the photograph after the match at the Shaheed Veer Narayan Singh Stadium.
That smile is still on her face, half-way into the WPL. She is enjoying her success, which has not come on a platter for her.
Opportunity knocked on her door at the auction.
"After my performance at the Challenger Trophy, where I was playing against some of India's best, and doing well generally on the domestic circuit, I was hopeful about the auction," Saika told The Hindu. "But I was delighted that Mumbai Indians picked me; I have been a fan of its IPL team and of Suryakumar Yadav."
MI coach Edwards, one of the game's most iconic players with over 10,000 international runs for England, was convinced that Saika was ready for the big league. She pencilled her in the eleven for the WPL's inaugural match — Mumbai Indians vs. Gujarat Giants.
"I had watched some videos of Saika, liked her pace and felt she could be a real threat," says Edwards. "Jhulan Goswami [MI mentor and bowling coach] knows her from playing in Bengal and she was pretty confident that she could do the job."
Exceeding expectations
Saika has exceeded expectations. "She has bowled in most phases — the PowerPlay, the middle overs and the death," says Edwards. "She has got some of the best players in the world out."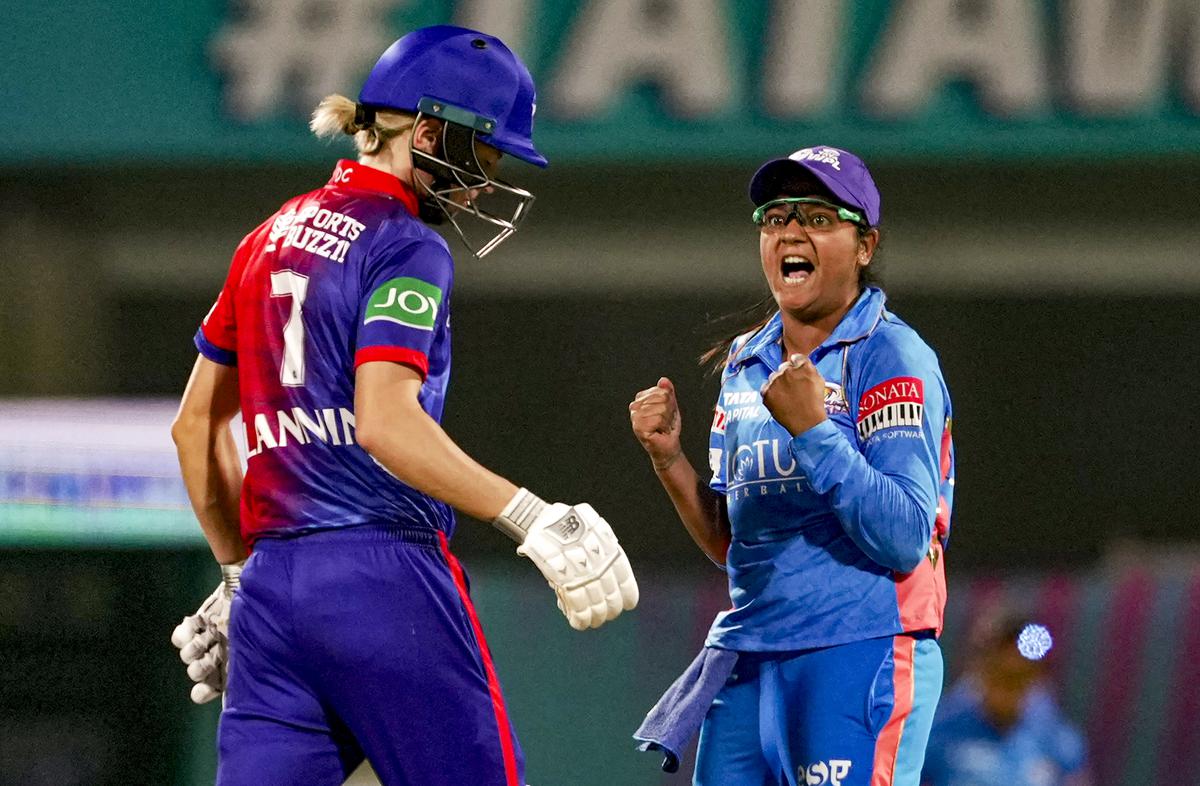 Indeed. Saika's victims include Meg Lanning, Tahlia McGrath, Alyssa Healy, Sophie Devine, Shafali Verma and Jemimah. Most of her wickets have been bowled or lbw — something she is happy about.
The way she cleaned up both Shafali and Jemimah in the same match was impressive. After keeping Shafali quiet for a couple of balls, she flighted one and yorked the right-hander.
The off-stump of Jemimah, who was trying to cut, was rattled by a quicker one.
Watching Saika doing that at Navi Mumbai's D.Y. Patil Stadium was, from Kolkata, the man who played a key role in her development as a bowler. Shibsagar Singh, a former Bengal left-arm spinner, had no association with women's cricket until he got a call from Saika two years ago.
"Talking to her, I realised that she was feeling very low; she had been out of the Bengal team for three years," says Shibsagar. "Three years is a long time for any profession. So I could understand her plight and I told her that I had also gone through a similar phase as a cricketer. She told me she was not able to do what she wanted to with the ball. She was not getting the ball to spin and the ball was not landing properly."
The following day, they started work. "I could see that she was talented and told her that she would play for India one day, but a lot had to be done," says Shibsagar. "I worked on her action and on increasing her speed, made her practise bowling different lengths. When she came to me, she was a bit confused about her bowling, and she was trying to do too many things. I also made her train with my male wards."
Coming full circle
For Saika, that could have felt like her cricket life coming full circle. She had begun playing with boys. And they all thought she was a boy. "I had short hair and looked quite like a boy," she says with a chuckle. "I was about nine then. When they found out that I was a girl, I felt embarrassed. They stopped talking to me."
Saika started playing cricket because her father wanted her to. "He used to take me along to watch Mohammedan Sporting's football matches," she recalls. "One of his friends — I think his name was Babloo — took me to that boys' academy and later to another, where Jhulan trained."
Saika lost her father several years ago. "He would have been happy to see me play the WPL," she says. "I am living my father's dream."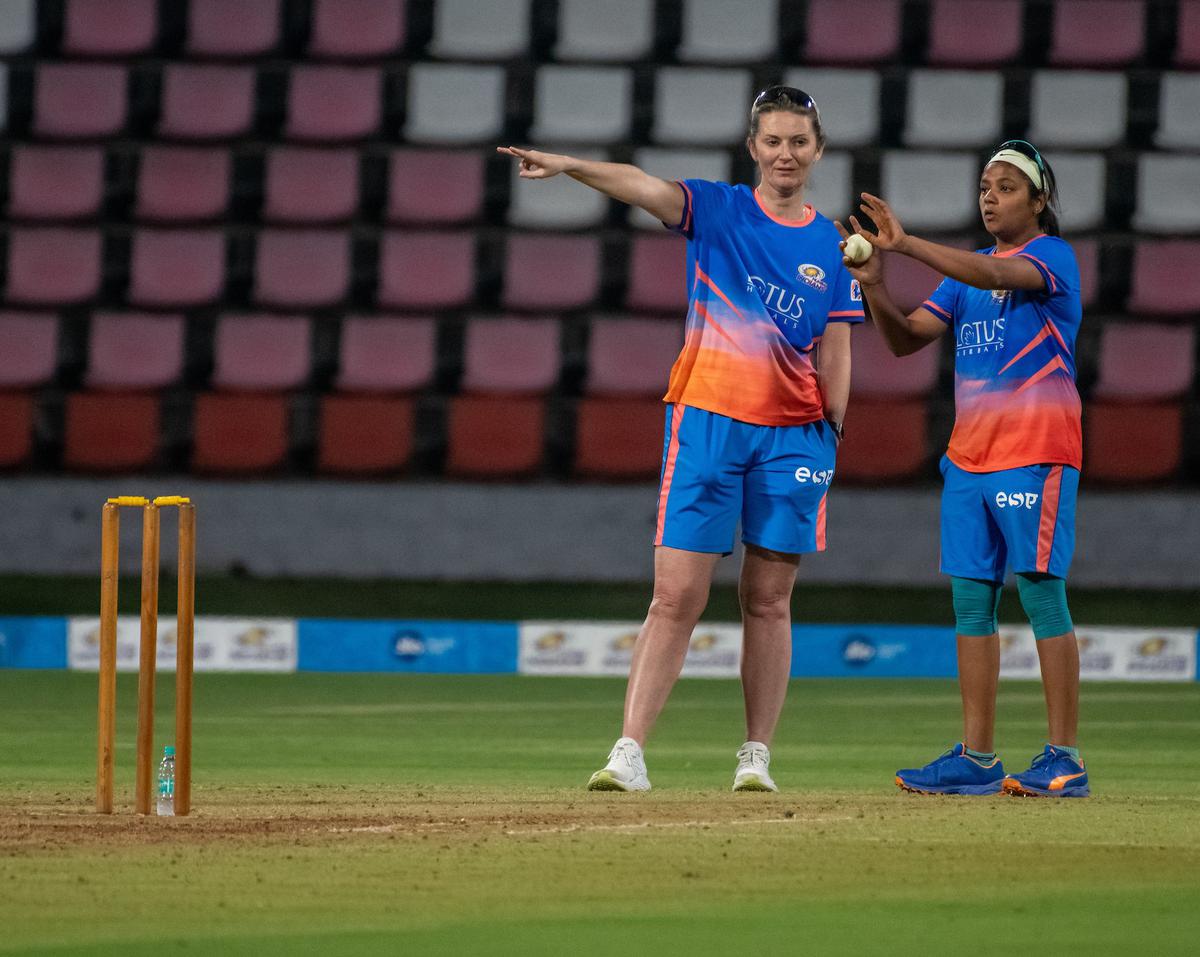 Her WPL debut, she says, was a nerve-racking affair. "I was nervous because I was going to play in front of a big crowd and the match was being telecast live," she says. "I was also nervous because I knew my family and my friends would all be watching."
The nerves didn't seem to affect her bowling though, as she came on in the fifth over of the GG innings. She took a wicket with her fourth ball, bowling Annabel Sutherland.
"Then I took a wicket in my second over and then in the third," says Saika. "I took a wicket in every over. In the next match, against Royal Challengers Bangalore, I was bowling against two of the world's best batters [Smriti Mandhana and Devine] in the PowerPlay."
She removed Devine to give MI the breakthrough. She went on to take three wickets each in her next two games, showcasing what a benefit the WPL could prove to be for Indian women's cricket.
There is still quite a bit of cricket to be played in the WPL. "Then I want to play for India," she says.
It doesn't sound like a distant dream.