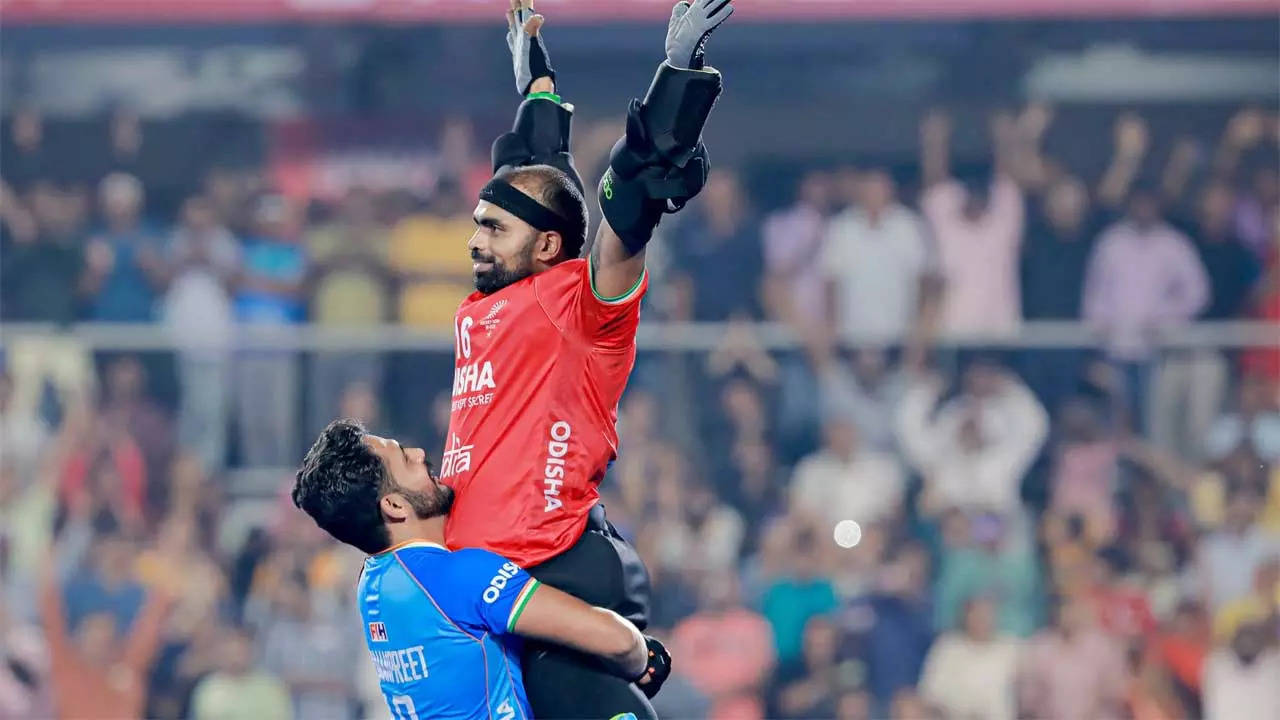 NEW DELHI: Indian men's hockey team is on a roll as they beat Australia for the second time in three days to emerge winners in the penalty shootout in the second leg match of the FIH Pro League at the Birsa Munda Stadium in Rourkela on Wednesday.
The win consolidated India's top spot in the Pro League standings which they had achieved on Monday.
Both the teams were locked 2-2 during regulation time. Veteran goalkeeper PR Sreejesh starred under the bar during the shootout which India won 4-3 to notch up their fourth win on the trot.
Vivek Sagar Prasad (2nd) and Sukhjeet Singh (47th) scored for India in the regulation time, while Nathan Ephraums (37th and 52nd) struck twice for Australia.
In the shootout, captain Harmanpreet Singh, Sukhjeet and Dilpreet Singh scored as India ended their home campaign in style.
Did you miss out on an absolute thriller of a game? Here are some snapshots for you 📸#HockeyIndia #IndiaKaGame… https://t.co/0mdoJ9iZIF

— Hockey India (@TheHockeyIndia) 1678897327000
India had won both the double-legged matches against world champions Germany 3-2 and 6-3 while they had beaten world number four Australia 5-4 in the first leg match on Sunday.
India got off to a rollicking start, earning a penalty corner in the second minute. Captain Harmanpreet's powerful drag-flick was padded away by Australian keeper Johan Durst. But the rebound was picked up brilliantly by Vivek Sagar Prasad who took a successful shot on goal from the top of the circle.
Vivek was playing his 100th match for India.
Harmanpreet Singh is the player of the match for leading team India to victory.🇮🇳 IND 2-2 AUS 🇦🇺(SO 4-3)… https://t.co/hdHdvLTSXC

— Hockey India (@TheHockeyIndia) 1678897243000
Pushing Australia on the back foot, India created a couple of more PCs in the following minutes of the first quarter but could not make much of the opportunity.
After a goalless second quarter, Australia finally made a breakthrough in the 37th minute when Nathan Ephraums converted a penalty stroke.
It took India another ten minutes to regain the lead when Sukhjeet converted a field goal in the 47th minute.
An unintended foul by an Indian defender in the 52nd minute, however, gave away a crucial penalty corner to Australia which was converted with a clever execution. Anand Gupte faking a drag-flick, the stopper passed the ball to Tim Howard who put the ball in between to the posts.
With scores levelled at 2-2 at the end of regulation time, both teams went into a tense shootout.
Experienced goalkeeper Sreejesh once again proved just why he is a class apart as he not only made some fine saves but also took a crucial referral that saved the day for India and even won the extra point for his team.
India will resume their FIH Pro League matches in May when they travel to Europe to take on Belgium, Great Britain, Netherlands and Argentina.
(With inputs from PTI)