When the line-up for the WTT World Table Tennis (WTT) Star Contender Goa was announced and the legendary Chinese Ma Long, a two-time Olympic champion and arguably the greatest table tennis player ever, headlined it, fans went berserk, rushing to book tickets for the event.
Then just days before the event, it was announced that Long and other top Chinese, including women's Olympic champion Chen Meng, had pulled out due to Covid-19 and injuries. The Chinese had decided to rest their main team ahead of the Singapore Smash – the top-tier WTT tournament — next week and sent their 'second string side' instead.
Only men's World No. 1 Fan Zhendong was seen as the premier Chinese player and when he shockingly lost in the Rd of 32 to World No. 193 Cho Daeseong of Korea, the Chinese dominance was threatened and Japan's Tomokazu Harimoto became the favourite.
But China showed why they dominate the world of table tennis, as they managed to clinch the men's and women's singles here on Sunday.
What was striking about the wins was that both the winners weren't on the initial list of players to come to India for the tournament. It was only after Long and Meng pulled out, that they were told they had to travel to India.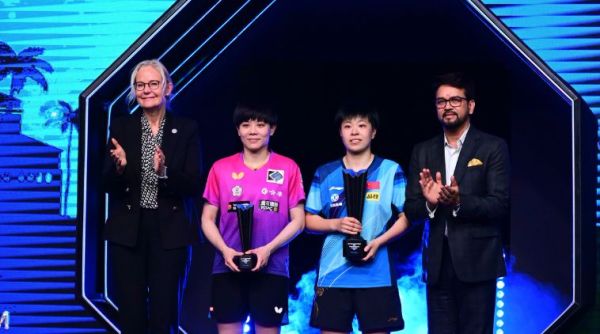 Ms. Petra Sorling, President, International Table Tennis Federation (ITTF); Cheng I-Ching (Runner-up in Women's single); Wang Yidi (Winner in women's single) and Shri. Anurag Thakur, Hon. Union Minister for Information and Broadcasting and Youth Affairs and Sports
In the women's singles, China's Wang Yidi swept aside Cheng I-Ching 4-0 (11-6, 11-6, 11-8, 11-4) but the highlight of the day was the men's singles final played between the two Chinese paddlers — teenage wonderkid Lin Shidong and 26-year-old Liang Jingkun. The experienced Jingkun prevailed 4-2 (11-6, 9-11, 10-12, 12-10, 12-10, 11-9) in a match that completely lived up to its top billing.
After winning the first game, Jingkun lost the next two and was in dire straits at 1-7 in the fourth. But he fought back, and saved three game points at 7-10 before winning 10-12. Fighting back was something he had to do in the next game too, being down 10-8. In the sixth, however, it was the opposite. Leading 8-2, the World No. 7 allowed Shidong to draw level, before holding his nerve to close out the match.
Though Shidong lost, he treated table tennis lovers who travelled from all over India, mainly Mumbai, Pune, Bengaluru and Delhi, to some riveting action at the first WTT tournament held on Indian shores.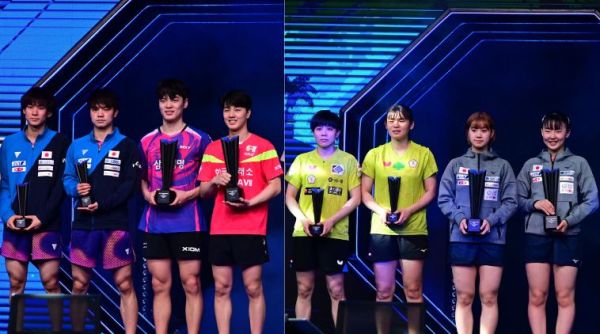 Cheng I-Ching & Li Yu-Jhun (Runner-ups in Women's Doubles) and Miyu Nagasaki & Miwa Harimoto (Winners in Women's Doubles) on the right and Shunsuke Togamai & Yukiya Uda (Runner-ups in Men's Doubles) and Cho Seungmin & An Jaehyun (Winners in Men's Doubles) on the left. (WTT)
One of the main paddlers of the Chinese national team, Shidong has a lot of hopes riding on him. With his lightning-fast forehand loop and counter-topspin strokes, he's seen as Long's successor and that's some humongous shoes to fill in. Jingkun even admitted after the final that he treats Shidong as "a main player in the Chinese team in the years to come".
Paris Games contender
Jingkun himself has been in phenomenal form and is seen as a medal contender for the 2024 Paris Olympics. He had been in magnificent form all week leading up to the final, picking up impressive wins over the World's Top 30 players Wong Chun Ting and Lin Gaoyuan. His 3-1 semifinal win over Harimoto was a thrilling topspin contest.
China dominate the world ranking when it comes to table tennis. The top-three men and top-four women all come from the country. By far, they've been the most successful nation when it comes to TT at the Olympics winning a whopping 60 medals including 36 gold.
When asked what they do differently that makes them such a dominant force, Jingkun just laughed. "There's no secret ingredient. We just train very hard as a team. We train together and constantly motivate each other to become better," he said.
Then there's also the mentality of never giving up, something that Jingkun showed quite prominently in the title clash.
"My mindset was positive. Although he (Shidong) played really well, since I was mentally strong, I could scrape through to a win. Even if you are down, the mindset is to make a comeback. You just have to stay positive," Jingkun said.
It may be his first Star Contender title, having won four WTT Series trophies earlier, but Jingkun has no time to celebrate. "I just want to go home and rest before the Singapore event next week," he said.
He wasn't seen as a favourite for the Smash, but with this win, there's no ruling him out.