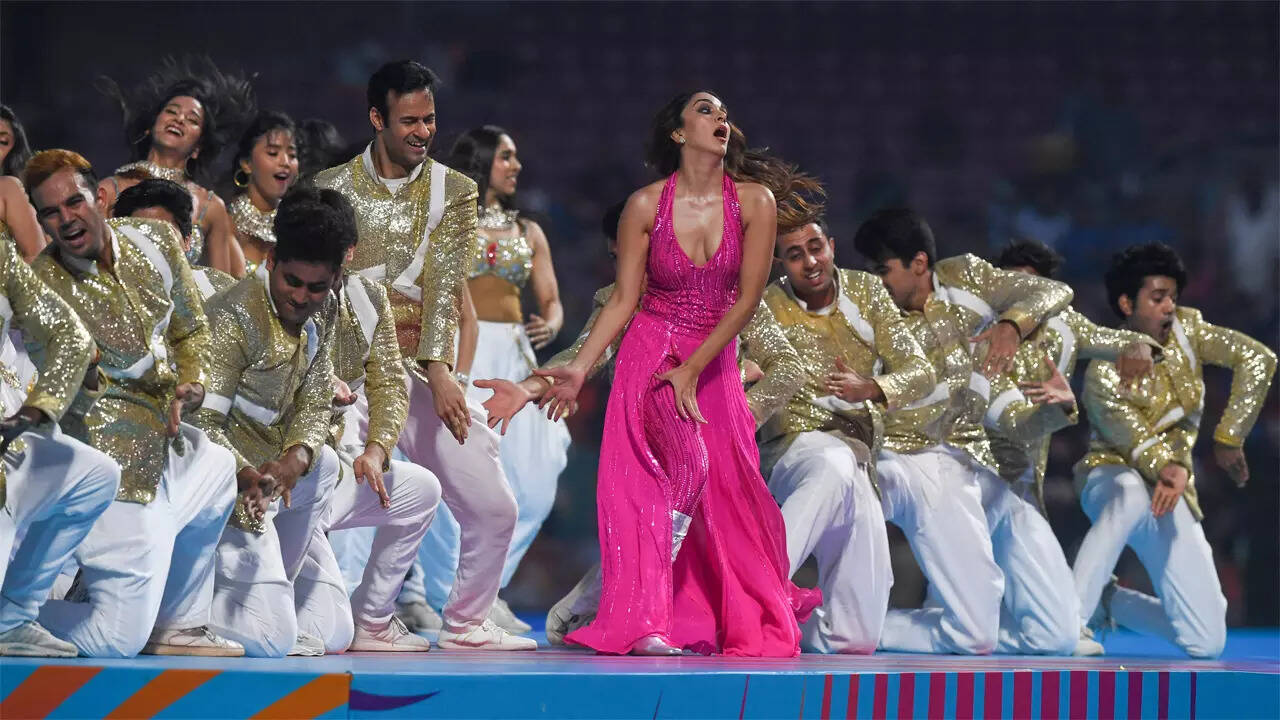 NEW DELHI: A star-studded opening ceremony kicked off the inaugural Women's Premier League to mark the game-changing moment for women's sport in India.
Stars Kiara Advani and
Kriti Sanon
enthralled the audiences with their mesmerizing performances on the famous Bollywood number at the DY Patil Sports Academy in Mumbai.
The #TATAWPL kicks off in style! 🙌Kiara Advani's entertaining performance gets the crowd going! 👌👌 https://t.co/cKfuGOCpEC

— Women's Premier League (WPL) (@wplt20) 1677936804000
Indian-born Canadian singer AP Dhillon added the charm to the glittering ceremony as his electrifying performance on the stage left the crowds crazy.
Once the dancing and singing were done, BCCI president Roger Binny, secretary Jay Shah, and a host of other board officials were called up on the stage.
An energetic performance ahead of an energetic #TATAWPL! Kriti Sanon lights up the DY Patil Stadium in Navi Mumba… https://t.co/vpnPU1e28j

— Women's Premier League (WPL) (@wplt20) 1677937716000
The office-bearers were followed by the captains of the five franchises — Meg Lanning, Beth Mooney, Smriti Mandhana, Alyssa Healy and Harmanpreet Kaur. That was followed by the unveiling of the first-ever WPL trophy.
The WPL has generated hundreds of millions of dollars even before the first ball was bowled and found a boisterous support base in the cricket-mad nation.
Teenage fan Anshu Singh told AFP from the stands that she was excited at the prospect of a successful women's tournament to match the lucrative Indian Premier League in the years ahead.
1/8
Star-studded opening ceremony kicks off inaugural WPL
"We are very grateful to see women playing cricket at a very big level," she added.
Excited fans wearing Mumbai Indians and Gujarat Giants jerseys lined up outside the stadium and chanted team slogans hours before the match began.
The WPL has earned India's cricket board a shade under $700 million in franchise and media rights, making it the second-most valuable domestic women's sport competition globally after US professional basketball.
𝘼𝙋 𝘿𝙝𝙞𝙡𝙡𝙤𝙣 𝙞𝙣 𝙩𝙝𝙚 𝙝𝙤𝙪𝙨𝙚!How about THAT for an electrifying performance 🤩#TATAWPL | @apdhillxn https://t.co/CuYbqWEo0a

— Women's Premier League (WPL) (@wplt20) 1677937900000
Some players will earn more for the three-week tournament than they normally would in an entire year and Mumbai Indians captain Harmanpreet Kaur said the league would benefit both cricketers and the sport.
"The young girls who have not got enough chances, for them it is a great platform where they can express themselves," she told reporters on Friday.
The moment we were all waiting for! 🤩𝗣𝗿𝗲𝘀𝗲𝗻𝘁𝗶𝗻𝗴 𝘁𝗵𝗲 #𝗧𝗔𝗧𝗔𝗪𝗣𝗟 𝗧𝗿𝗼𝗽𝗵𝘆👌👌 https://t.co/sqPBJjWw7A

— Women's Premier League (WPL) (@wplt20) 1677938235000
"I think going forward, for Indian cricket this tournament will help us to create a good team."
James Savage of the Deloitte Sports Business Group told AFP this week that the WPL was an unprecedented investment that reflected the "huge growth potential" of women's cricket.
(With AFP Inputs)