NEW DELHI:
Nathan Lyon ran riot with his eight-wicket haul
in the second innings of the third Test to give India a taste of their own medicine on a turning Indore wicket.
Lyon's 8/64 helped Australia bundle out India for 163 in the second essay that left only
76 to chase for the visitors
for their first win in the ongoing Border-Gavaskar Trophy.
The off-spinner spilled the beans on his success in Test cricket which is quite different from the other spinners. Most spinners don't mind if they are taken to cleaners in search of wickets but Lyon's success lies if batters are defending him for a long time.
The 35-year-old, who is playing his 118th Test and has taken a staggering 479 wickets, spoke about his mindset while bowling.
"It doesn't matter what wicket I'm playing on. If I can get somebody to defend, I'm pretty happy. That's the nuts and bolts of my secret, to try and get guys defending me for long periods. That means I'm putting the balls in the right areas.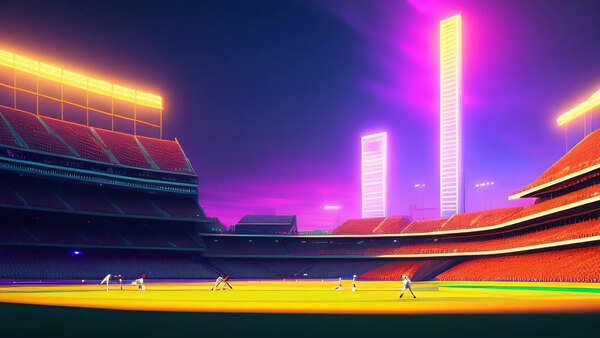 "Saying that, I don't mind if guys try and hit me. I have been hit for the most no. of sixes in Test history so I'm not afraid to be hit for a six (smiles). It's a great challenge but I don't mind it either way but more challenging to get the guys defending," said Lyon who relies on over-spin to trouble the batters.
What was remarkable about his performance that he took all his wickets from round the wicket, which is seen as a negative tactic by some.
"I know a lot of people see it as a negative. I see it as total opposite. I think it's very attacking, you are bringing all modes of dismissal. Times have changed when you were able to bowl over the stumps and still get guys in line.
"Yes, that may be the case every now and then but when you bowl that line, the good batters around the world they get outside the line straightaway. But when you come around the wicket with big spin, it brings in all modes of dismissal," he explained.
1/11
3rd Test, Day 2: Lyon mauls India as Australia close in on victory
On his effort on Thursday, Lyon sounded pleased but said he wouldn't have done much different in Nagpur when he took only one wicket before taking seven in Delhi.
"To be honest, I was pretty happy with the way I bowled in Nagpur. I understand the quality of cricketers we are coming up against. I know the challenges against these guys, but I was pretty happy with the way I bowled in Nagpur.
"I was pretty pumped with Toddy Murphy (another offie) taking seven-for. Nothing has changed for me. It's about trusting my stock ball and doing the basics right. It's what I tell after every game."
Pujara is an unbelievable cricketer
Lyon always speaks highly of Pujara who tends to perform at his best against Australia. It was no different in the second innings as he batted in complete contract to the rest of the batters who struggled. He scored 59 off 142 balls before being undone by a special Steve Smith catch in the leg-slip before stumps.
"I won't describe him as flashy or anything like that. But he's an unbelievable cricketer. I've got a lot of respect for the way he goes about it. Nothing fazes him, whether it's bouncing at the Gabba or spinning in Indore. He seems to find a way and a method.
"Aa lot of boys and girls can go the way he goes about batting and learn from it. He doesn't have reverse sweeps and shots like that, but one thing he does have is an unbelievable defence. In my eyes, Test cricket is built around defence. We saw his class on a pretty challenging wicket once again," he said.
Lyon has excelled all around the world but expectations are higher when he plays on rank turners in India.
How does he deal with that?
"It's been an interesting one. Start of my career, I think I felt the weight of trying to win games on the last couple of innings.
"It was actually my dad who sat me down (in 2012) and said 'look, if you do your role, somedays you will have success and somedays you will have… you are able to identity that and when it's your time, grab it and run it with both hands.
"My dad who really simplified it for me, I guess," added Lyon.
(With PTI Inputs)