Not for nothing is he called GOAT by teammates. Over 100 Tests and more than 450 scalps, Nathan Lyon is still buzzing.
His off-spin has flight, deception, turn and consistency. He imparts serious revs, spins the ball in the air, and his deliveries have dip and drift. You reach out for the ball and it's not there. That's Lyon holding the ball on a string!
Intense focus
His focus intense over long spells, the 35-year-old Lyon took flight on day two of the third Border-Gavaskar Trophy Test at the Holkar Stadium here on Thursday. His headline-grabbing eight for 64 has put Australia on the verge of victory.
Ahead in the first innings by 88, Australia dismissed India for 163 in the second innings. Australia's target to make the series 2-1 on Friday is 76.
It was Lyon's day. The classical off-spinner, pivoting beautifully, and bowling with rhythm and skill, to derail the Indians was helped by some excellent attacking captaincy by Steve Smith.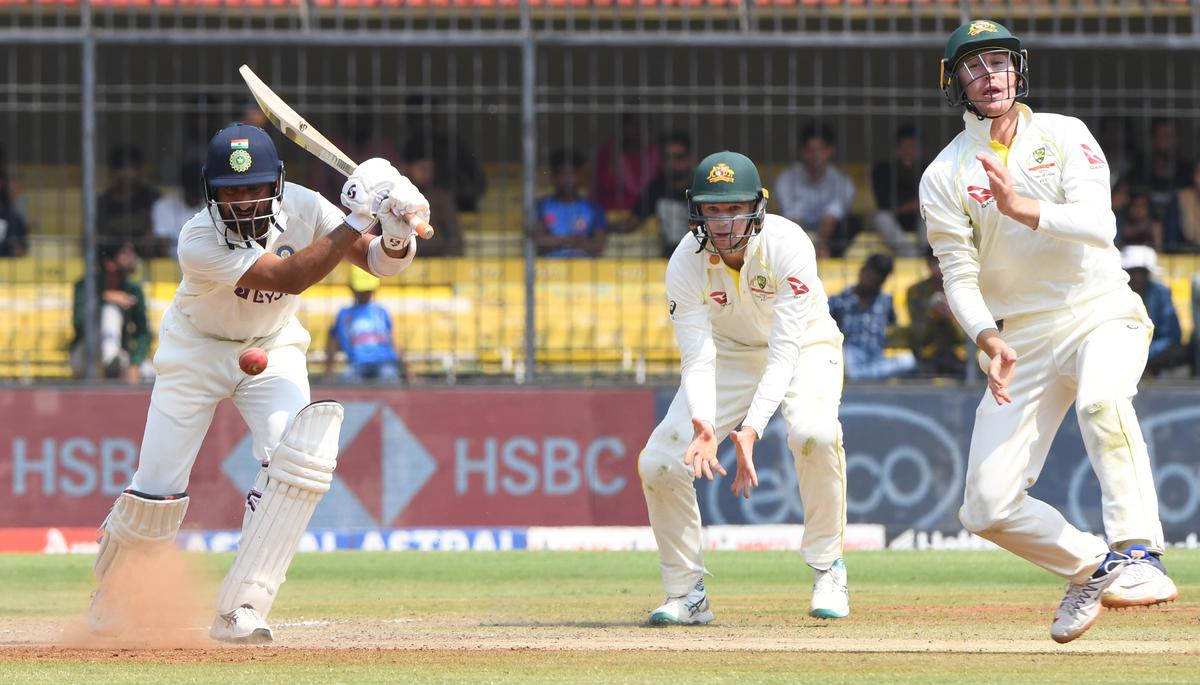 Old soldier Cheteshwar Pujara, with steel in his bones, impressed for India on a dusty surface where the ball turned, jumped or kept low. While his defence was solid and played with soft hands, Pujara drove, flicked, cut and pulled with assurance.
He even jumped down and lifted Lyon for a six over wide long-on. It was the Pujara punch. He shortened his back-lift and his distribution of weight and footwork was ideal.
Eventually, he fell to a sensational reflex catch by Smith at leg slip as Pujara (59) flicked a Lyon delivery spinning from middle to leg.
Dramatic day
The dramatic day had several phases. Tactics changed in a cat and mouse race. The Indians attacked after Tea. Shreyas Iyer, twice, pulled Matthew Kuhnemann for sixes. Smith turned to Mitchell Starc. Shreyas (26 off 27) flicked the left-arm quick but Usman Khawaja plucked an astonishing catch at mid-wicket.
Among the subsequent batters, only R. Ashwin, who has the gift of timing, managed to make an impression. Others found Lyon, who got his deliveries to spin, straighten or drift away, too much to handle.
Earlier, Shubman Gill's charge-and-heave at Lyon was midsummer madness. Lyon got rid of Rohit Sharma, playing across, even as the delivery held its line. Kuhnemann sent back Virat Kohli with a delivery that skidded through. Ravindra Jadeja played down the wrong line to a Lyon delivery that drifted in.
In the morning, Handscomb, who has fluent footwork against spin, and Cameron Green, held firm.
Meltdown
Australia was comfortably placed at 186 for four when the spin-pace combination of Ashwin, troubling batters from round-the-wicket angle, and the red-hot Umesh Yadav tangoed with deadly effect as the visitors lost their last six wickets for 11 runs to be bowled out for 197 in an all too familiar meltdown.
Ashwin spun one from middle to leg to remove Handscomb (19) and then got a delivery to fatally drift into the left-handed Alex Carey.
Umesh, bowling with speed and reverse swing, took out Green (21) and knocked out Starc's off-stump for his 100th Test wicket in India.
Then, Lyon assumed centre-stage.