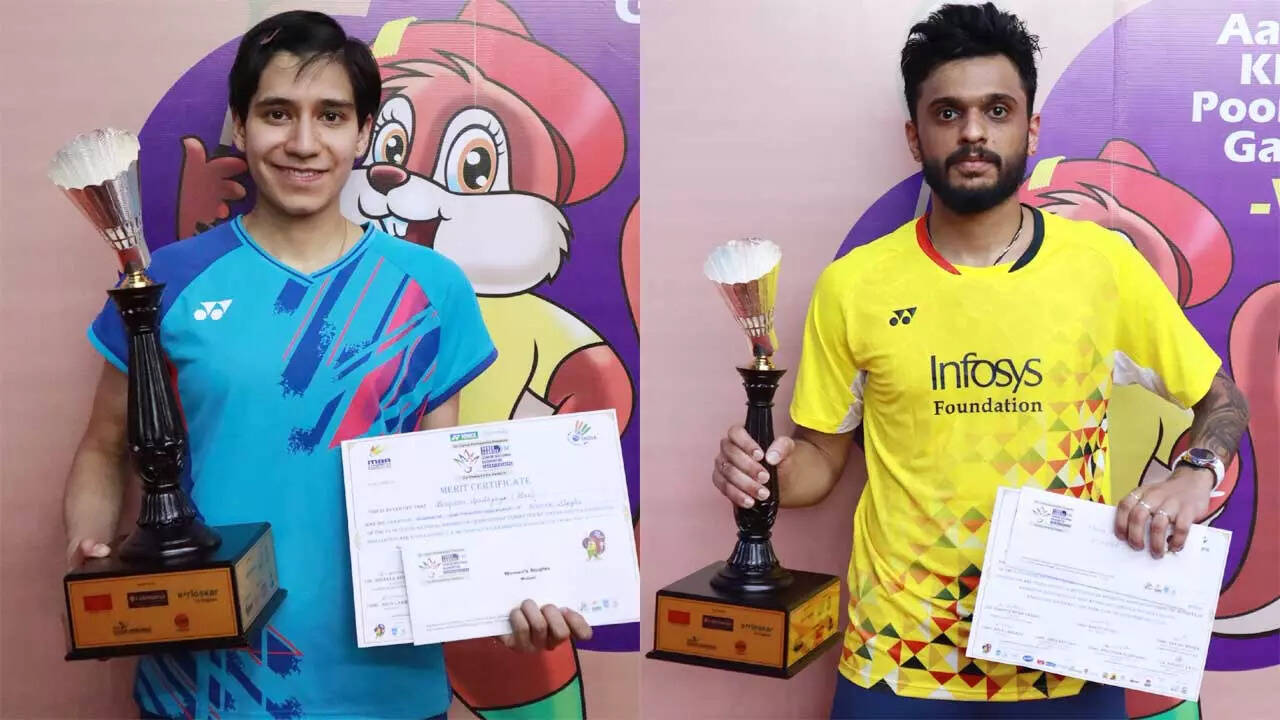 NEW DELHI: Anupama Upadhyaya and Mithun Manjunath posted contrasting victories in their respective finals to clinch the women's and men's singles titles in the 84th senior national badminton championship at the Balewadi stadium in Pune on Tuesday.
Former world junior no. 1 Anupama fought hard to get the better of Aakarshi Kashyap 20-22, 21-17, 24-22 in an hour and 18 minutes in the women's singles final before Mithun dominated the men's singles title clash against Priyanshu Rajawat for an easy 21-16, 21-11 victory in just 38 minutes.
Top seed Gayatri Gopichand and Treesa Jolly were crowned the new women's doubles champions while T Hemanagendra Babu and Kanika Kanwal clinched the mixed doubles crown.
Men's doubles combination of S Kushal Raj and S Prakash Raj wrapped up the proceedings to clinch the men's doubles title.
CHAMPIONS – Yonex Sunrise 84th Senior National Badminton Championship 2022-23 📸🤩@himantabiswa | @sanjay091968 |… https://t.co/ijm03oto8p

— BAI Media (@BAI_Media) 1677592113000
The women's singles final was a topsy-turvy affair with both players fighting for every point.
The experienced Aakarshi fought back from 11-15 in the opening game by winning seven of the next eight points and pocketed the game on second game point.
But the reversal only made Anupama more determined to go on the offensive as she began with a 3-0 lead in the second, extended it to 9-1 and then maintained the advantage to force the decider.
The 18-year-old from Haryana looked like running away with the title and prize purse of Rs 3.25 lakh when she opened up a 17-10 lead in the decider. But Aakarshi wasn't willing to give up.
The world No. 42 engaged her opponent in long rallies and drew level at. 17-17 to set up an exciting finish and even earned a match point that Anupama saved with the shuttle tumbling over after hitting the net chord.
To her credit, Anupama held her nerves under pressure, was aggressive when it mattered and pounced on the mistake her opponent made to register her first ever win over Aakarshi to clinch the biggest title of her fledging career.
If the fans were expecting another humdinger in the men's final, Mithun's superior defence and game strategy of not allowing Rajawat to get under the shuttle often meant that the Railways shuttler was always in control.
Both Mithun and Rajawat were a big cagey in the initial exchanges and the latter led 10-9 before the eventual champion clinched five straight points to take the lead and race to bag the game.
The second game turned into a lop-sided affair once Rajawat failed to find the winners and Mithun began getting more creative at the net.
Results (all finals):
Women's singles: Anupama Upadhyaya bt Aakarshi Kashyap 20-22, 21-17, 24-22
Women's doubles: Gayatri Gopichand/Treesa Jolly bt Kavya Gupta/Deepshikha Singh 21-10, 21-9
Men's singles: Mithun Manjunath bt Priyanshu Rajawat 21-16, 21-11
Men's doubles: S Kushal Raj/S Prakash Raj bt Akshan Shetty/Deep Rambiya 8-21, 21-19, 21-8
Mixed doubles: T Hemanagendra Babu/Kanika Kanwal bt Siddarth Elango/Khushi Gupta 21-17, 21-16