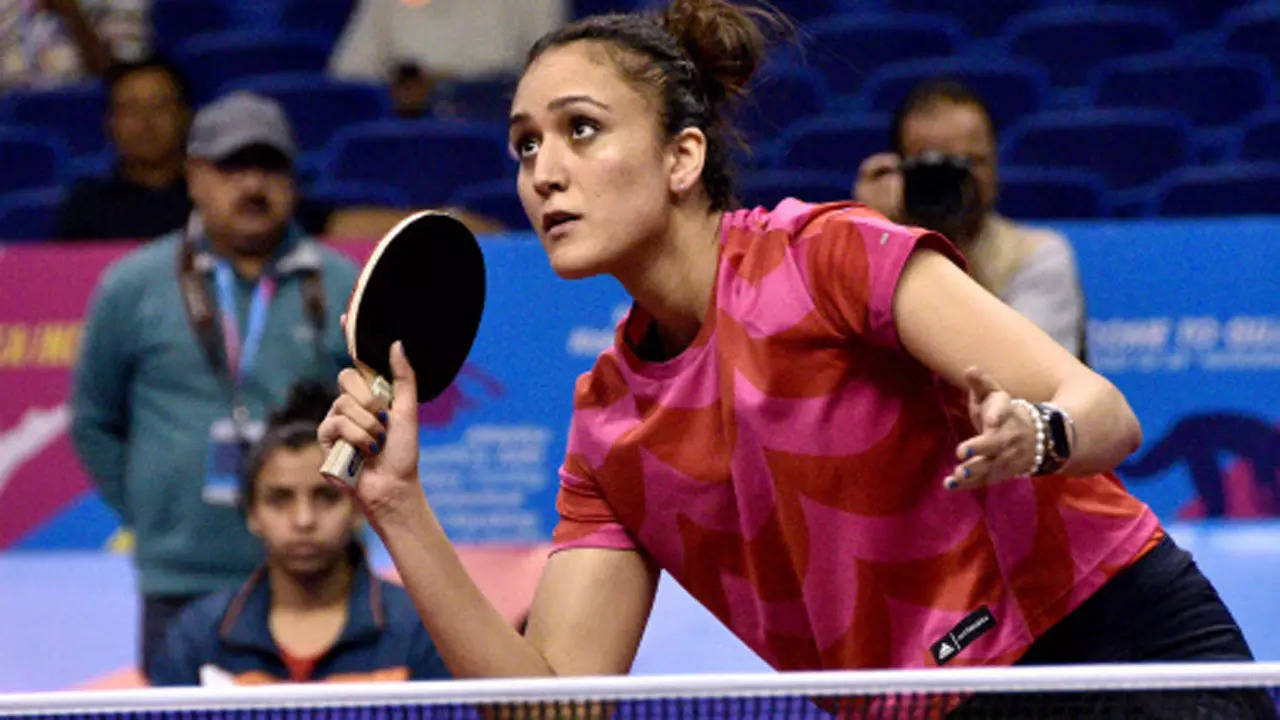 NEW DELHI: India's star paddler Manika Batra is fully focussed on her target and minced no words in stating that her aim is 2024
Olympics
slated to be held in Paris.
Manika Batra will spearhead the Indian challenge in the women's singles with Sreeja Akula and Suhana Saini at the WTT Star Contender Goa 2023, starting today.
"Our goal is to win a medal over there. I have to take one step at a time because my main aim is the Olympics. Our focus is the tournaments ahead as we need to improve our rankings as well," said Manika Batra on Backstage with Boria show.
Manika wants to win a medal in the Olympics in the mixed doubles category pairing with Gnanasekaran Sathiyan. Manika-Sathiyan, who are currently ranked 5th in the world in the mixed doubles category, are India's best bet in Table Tennis in the Paris Olympics.
"If we keep on working like this, we are sure to do well in Paris 2024. Our bonding is really nice. We understand each other during the match and off it as well. That's the most important aspect in a doubles game. All I can say is we will strive hard to win that medal in the Olympics," added Manika.
The 20-year-old has seen many highs and lows in her sporting journey so far and is also involved in a controversy but she has taken it in her stride.
"Of course I was upset that I couldn't win a medal for India at the Commonwealth Games. I started talking to myself and said it was okay to lose sometimes. It has happened to most players and they have bounced back after that," said Manika.
"At that time my family was there to support me and it helped me immensely. I told myself that I have to keep on going, keep working harder. Table Tennis is my love and will always be. The support I got from my family and well-wishers kept pushing me."
Talking about mental health and how she has dealt with Manika said, "It does affect you when you are dealing with so many things, so much criticism. You just have to let them go. I know it is easier to say than do it. If you just keep talking and know who you are and keep analysing that and believing yourself it does help a lot in your life. Criticism will come in every player's life and that will also motivate us to fight back and keep on going. They should just know who they are from inside, Apne kya achieve kiya hain."
Manika Batra's bronze medal at the ITTF-ATTU Asian Cup tournament in November last year in Bangkok have raised expectations for her winning a medal at the Olympics which is going to take place in Paris in 2024. The star Indian paddler is not taking too much pressure and wants to keep her focus.
(With inputs from ANI)