Dear readers,
In the last 20 days, former India pacer Venkatesh Prasad has put out 18 tweets to express his displeasure and argue about KL Rahul's inclusion in the Test team. This includes a long thread of seven posts to throw a lasso around former Test cricketer and YouTuber Aakash Chopra, who had questioned the timing of his criticism. This KL chatter has allegations of favouritism, accusations of agenda-peddling, Chopra's offer of a live debate and Prasad's 'don't wish to engage with you' refusal.
No Aakash, nothing is lost in translation. In your 12 minute video you have called me as an agenda peddler because it didn't suit your narrative.

It is crystal clear. And I have made my points very clear in this Twitter thread. Don't wish to engage with you further on this 🙏🏼 https://t.co/GhlfWI0kHA

— Venkatesh Prasad (@venkateshprasad) February 21, 2023
Purely going by the book, Prasad can't be faulted for his serial tweeting. Having represented India with distinction, he has earned the right to judge cricketers. Moreover, Twitter has a limit on characters and not a cap on tweets directed at an individual. But Prasad's questioning did raise eyebrows for his relentlessness. Never in the short history of cricket's digital discourse has a former cricketer been so persistent in his demand to drop an active top player.
Welcome to Indian cricket's highly-volatile, ever-changing new media landscape. It's a stiflingly crowded world with oceans of opinions, mountains with slippery slopes, and inhabited by restless souls with an insatiable urge to be liked, followed and subscribed. The language is mostly argumentative, conversations peppery and the grammar lacks tonal subtlety. This is a raging democracy that gives equal gravitas to the voice of an anonymous rabid troll or a hardened blue-tick veteran. It's a terrain that transforms people. And in pursuit to be popular, the new media is also trying to set new rules of engagement.
On the first morning of the India-Australia Test, in Delhi's late winter golden-hued sunlight, Kotla was the venue for a congress of this smart phone-carrying tribe. Indian cricket's decision-makers and the army that judged them were not far from each other. Before the toss, scores of television pundits, mostly ex-cricketers, stood on the turf facing cameras, speculating about the playing XIs. Across the fence, in the media box and the stands too, there were arguments about KL's credentials as a Test cricketer.
There are no readily-available mobile data consumption records at the time of the toss but as soon as Rohit Sharma announced from the central square that KL was in, social media traffic around Delhi 6's busy ITO junction would have spiked. Instant sermonising was no longer the right of those with a broadcaster's microphone in hand or the live blog-updating reporters. The non-accredited self-publishing internet users were also telling the world about their take on the playing eleven.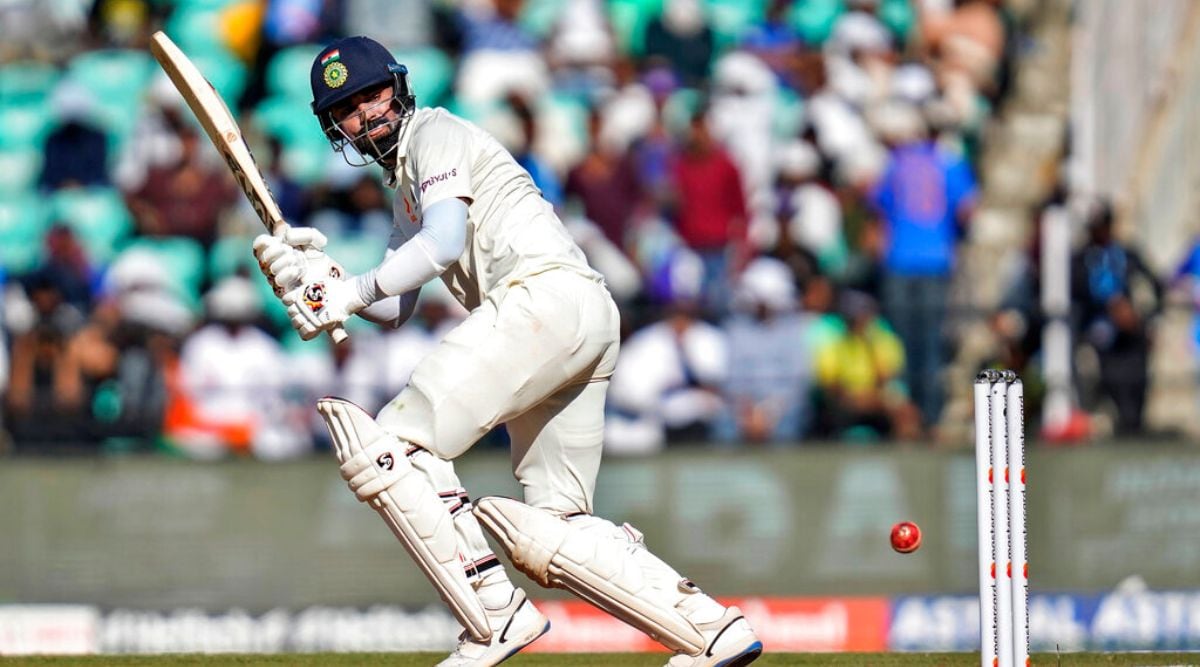 India's KL Rahul plays a shot during the first day of the first cricket test match between India and Australia in Nagpur, India, Thursday, Feb. 9, 2023. (AP Photo/Rafiq Maqbool)
Thousands of frenzied fingers of cricket's first responders were typing KL Rahul on their phones, some would even mention Rahul Dravid, Rohit, Shubman Gill and even Anna in their posts. If by some miracle Kotla had gone silent for a brief moment, the sound of fingers tapping smartphones would have the deafening clutter of a stadium full of typewriters.
Vying for attention
Regardless of your batting average or wicket count, it's a challenge to be heard in the social media din of takedowns and shout-outs. This pressure to draw attention, stay relevant, to say something wise quickly and correctly all through the day can take a toll. Expectedly, most cricketers outsource their voice to their teams or to social media spin doctors allegedly equipped to read the pulse of the nation. It's the first step to raise your profile and even be a product-peddling, message-amplifying, well-paid influencer. In many cases, it has opened the doors for a thriving political career.
Former cricketers take pains, or are told to, carefully craft their social media image. While many remain plain vanilla birthday-wishers, there are others who position themselves cleverly. At present, there is a batsman with contrarian views, a bombastically-hipster all-rounder, one rapidly-rising rabble-rousing bigoted spinner, and a meme-sharing plain funny opener. Never imagined, this is how they would want the world to see them in their second avatar. Just like one didn't expect Prasad, a bowler famous for his frequent changes of pace, to be an untiring critic of an out-of-form cricketer.
A strict but sensitive coach, back in the day, he loved to talk about the intricacies of pace bowling and insisted on avoiding specific comments about individual bowlers. Even his famous send-off to Aamir Sohail in the 1996 World Cup was nuanced. Pointing to the dressing room, mouthing a quick mandatory invective, he didn't stop for an eye-to-eye long ugly exchange. He had enough reasons to make it unpleasant but kept running towards his mates to celebrate the crucial wicket. His famous scowl or sledge didn't have the Virat Kohli voltage.
As a junior India coach, he was strict with the boys but also deeply sensitive towards the teenagers coping with the ups and downs of the very demanding profession they dreamt of pursuing. An incident from the 2006 U-19 World Cup in Sri Lanka, where he was in charge of a very talented team that had Rohit and Cheteshwar Pujara, underlines his empathy for those not in form.
At the start of the ICC event, Prasad had put a condition for all post-match media interactions. He said that along with the day's top-performer, he would send another player, someone who hadn't done all that well on the day, for media duties. The idea, he said, was to give equal exposure to everyone in the team and also not make those struggling with form feel unwanted or abandoned.
Game of opinions
With time, people and their opinions change. Closer scrutiny shows that Prasad's tweets aren't all angry rants. He does make a few valid points. He talks about the need for players struggling in Tests to have a county stint. The World Cupper follows it with a pertinent question: But will it be possible to skip the IPL? He talks about the team management's double standards – the length of the rope to KL is not the same as the one given to Kuldeep Yadav.
Prasad's Twitter exchange with Chopra is an interesting insight into most former cricketers' understanding of their post-retirement careers in media – be it old or new. On his YouTube show, Chopra calls Prasad's serial posts a "Twitter tirade" and sees this as evidence of agenda-peddling. This raises a couple of counter-questions. Like criticism, shouldn't unending praise too be seen with suspicion? Can't there be a hidden motive in talking up a few and ignoring the rest? Do broadcasters too have an agenda when they break into Virat Kohli specials, even on days when Axar Patel has emerged as a world-class all-rounder?
There is a Chopra tweet that needs special attention. It's in reaction to Prasad's tweet about KL Rahul's first innings failure at Kotla.
"Venky Bhai, Test match chal raha hai. How about, at least, waiting for both the innings to get over? All of us are in the same team i.e. Team India. Not asking you to hold back your thoughts but timing could be a little better. After all, our game is all about the 'timing'" – tweeted Chopra.
Venky Bhai, Test match chal raha hai. How about, at least, waiting for both the innings to get over. All of us are in the same team i.e. Team India. Not asking you to hold back your thoughts but timing could be a little better. After all, our game is all about the 'timing' 🙏 https://t.co/HvxtRQxQDn

— Aakash Chopra (@cricketaakash) February 19, 2023
A couple of takeaways from the tweet: Like the 'first ball is trial' street-cricket rule, first innings failures too should be pardonable by law. And since Chopra says that 'all of us are in the same team, i.e. Team India', the next time an Indian captain walks out for a toss with the team sheet, for the sake of transparency, he should have an extra page with names of every former cricketer in the commentary box and also those on Twitter.
Sandeep Dwivedi, National Sports Editor, The Indian Express
Send feedback to sandydwivedi@gmail.com