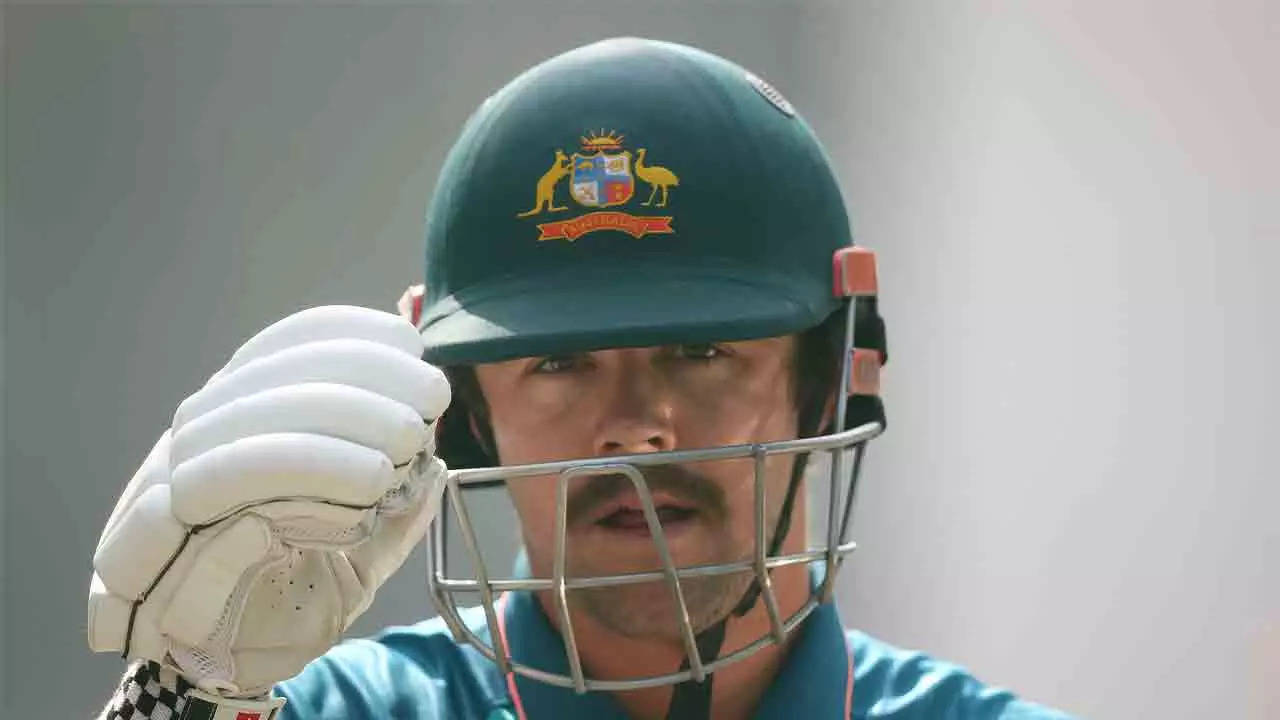 NEW DELHI: Backing himself to play shots, Travis Head said he will continue with his aggressive approach against the Indian spinners in the third Test beginning in Indore on March 1.
Head was not in the Australia XI in the first Test in Nagpur, but with
David Warner
back home due to an elbow fracture, Head will open alongside Usman Khawaja in Indore.
"It was something that I didn't expect coming here," Head said in a media interaction here on not making the playing XI in Nagpur.
"The conversations were robust. Everyone has different opinions. I respect the coaching staff and selectors and I have a really strong relationship with them. I think that's what made the conversations the way they went, because there's respect that goes both ways and we were able to voice our opinions.
"And I woke up the next morning and I'm still on tour playing for Australia, I still get to do what I love to do. I'd love to be competing and playing but there's another way I can support the guys the best I could and prepare the best way I could for another opportunity. I still feel like I'm in a great space. It's just one week that didn't go my way."
Members of the Australian team stayed back in the capital following the loss at the Kotla on day three of the second Test on Sunday.
Head, opening for the first time in his Test career, gave a good account himself in the second innings and put the Indian spinners under pressure on Day 2.
However, his wicket on day three morning led to a dramatic Australia collapse as they lost nine wickets for 52 runs.
1/11
Will Australia really miss Pat Cummins in Indore?
Head said gained a lot of confidence out of his 43 in the second innings at the Kotla.
"They're extremely skilful bowlers, but I was really pleased with the way I was going forward and back and watching length and a few of the things I'd worked on. It was a small sample piece but over here small sample pieces can be a little bit of gold."
With Australia 0-2 down in the four-match series, bouncing back will be a massive challenge and Head acknowledged that.
"I think the communication and the relationships that we've built is why this team has been so strong and why this team has stayed together for a period of time. We're always gonna have moments that aren't the greatest or isn't the best we want it. Those things happen. We accept them but we've also got to find a way to get better at it, to try and limit them as much as we possibly can because no one wants them.
"But it's a challenge for us over the next couple of weeks, when we find ourselves in moments, how can we draw it back. When it's a full stadium and there's noise going and wickets falling, how we can draw that back."
Skipper Pat Cummins has gone back home to be with his ill mother and will be missing the third Test. Head said it was more important for Cummins to be in Australia given the circumstances.
"We're a close group, so a lot of the guys have reached out to him," he said.
"He's got a lot of close friends here. The limited conversations that we've all had probably with him, it's always a hard moment.
"We fully expect him to be at home. Life's a bigger thing than cricket. It's more important for him to be at home than be here. We truck on and find ways as a team to support him and to get on with the job," he added.
(With PTI inputs)