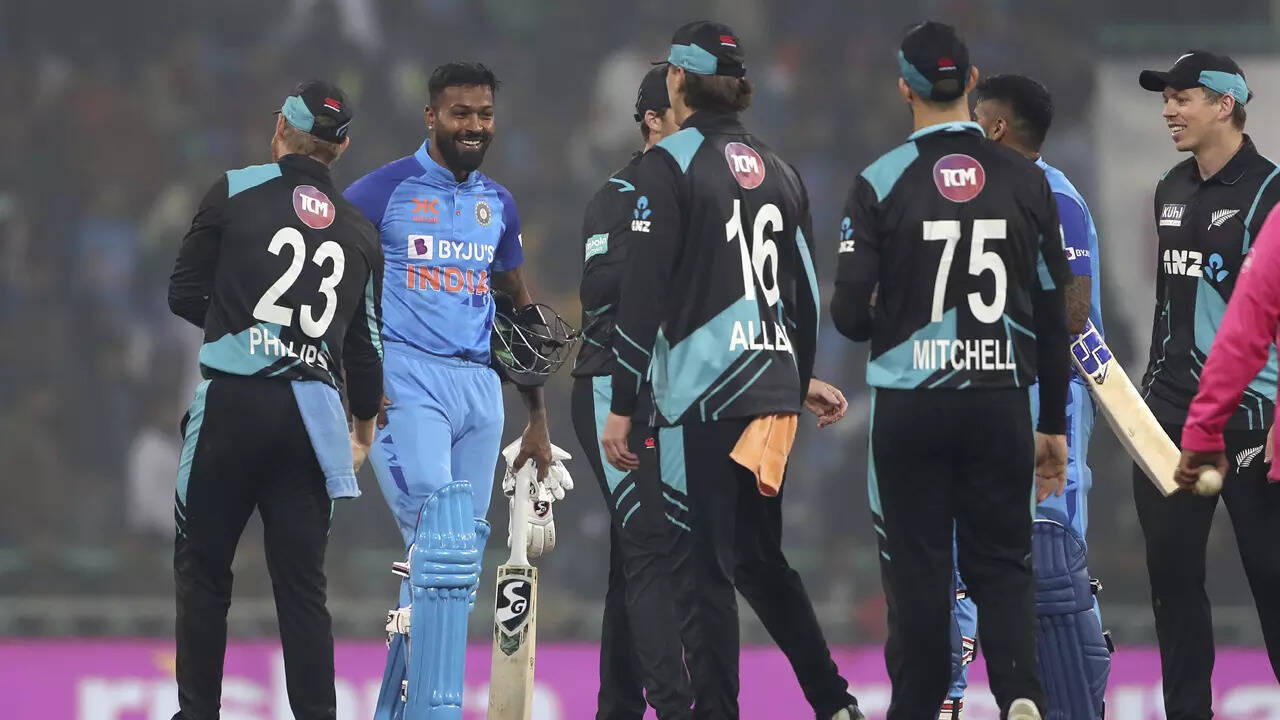 MUMBAI: The tough, viciously turning pitch at the Bharat Ratna Shri Atal Bihari Vajpayee Ekana Stadium for the second T20I between India and New Zealand on January 29, which was dubbed as a "shocker" by India's T20I captain Hardik Pandya, has escaped sanctions or any demerit point by the International Cricket Council, with former India fast bowler
Javagal Srinath
, who was the ICC match referee for that game, rating the pitch as "average."
The match saw New Zealand manage to score just 99 for 8 in 20 overs, while India managed to reach the target with just a ball to spare. In a rare occasion in T20 cricket, not a single six was hit during the match, which witnessed 30 out of 40 overs of spin on a track where the ball turned square. "To be honest, this was a shocker of a wicket," Hardik told Star Sports at the post-match presentation.
As per the new list of pitch and outfield ratings of men's and women's internationals during the period between 1 January 2022 to 23 February 2023 put up on the ICC website, the Lucknow pitch has received an average rating. Similarly, the turning wicket for the first T20I of that series between India and New Zealand, at Ranchi on January 27, has received an "average' rating. New Zealand made 176 for 6, while India replied with 155 for 6 to lose the match by 21 runs, but the wicket provided generous help to the spinners.
In a decision which is sure to spark some debate, the spin-friendly pitches for the first two Tests between India and Australia for the Border Gavaskar Trophy at Nagpur and Delhi have been given an "average" rating by ICC match referee Andrew Pycroft. India beat Australia inside three days in both the Tests, bundling them out for 91 and 113, including 9 for 52 in the first session on Day 3, in the second innings of the second Test, in each of the games. While Australia, struggling badly against India's spinners, scored 177, 91, 263 & 113 in the first two Tests of this series, India totalled 400 in the first Test at Nagpur, where it won by an innings & 132 runs, and 262 & 113-4 in the second Test at Delhi, where it won by 6 wickets.
As per the ICC Pitch and Outfield Monitoring process, which has taken effect from January 4, 2018, a pitch is rated as "average" if it "lacks carry, and/or bounce and/or occasional seam movement, but is consistent in carry and bounce. A degree of turn, but with average bounce for the spinner. Falling significantly short of "very good" with respect to carry, bounce and turn."
In this period, the flat pitch at Rawalpindi for the first Test between England and Pakistan in December has received a "below average" rating by Pycroft. Similarly, the bouncy pitch at the Gabba in Brisbane for the first Test between Australia and South Africa in December was rated as "below average" by ICC match referee, former West Indies captain
Richie Richardson
. Australia won the game by six wickets in two days after South Africa managed 152 & 99 in their two innings, while Australia made 218 on an extremely fast and bouncy pitch.
Indore Test likely on red soil pitch
The surface for the third Test of the Border Gavaskar Trophy between India and Australia, which will kick off on March 1 in Indore, would be essentially made of red soil. "There are four pitches in Indore-two of red soil and two of black soil. All indications are that the Test will be played on the red soil pitch. The Indian team is more comfortable with the red soil pitches, as besides offering turn, it affords good bounce, which makes batsmen comfortable," a source told TOI.