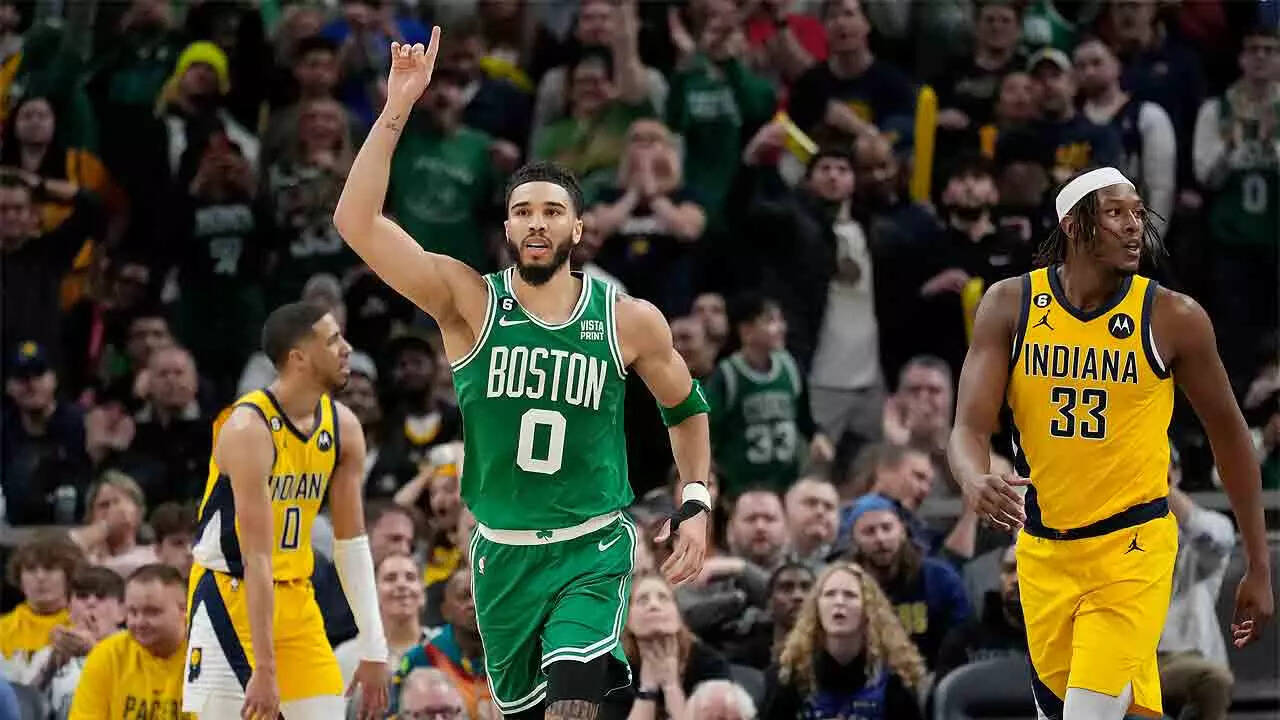 NEW DELHI: Celtics escaped with a 142-138 overtime triumph over Indiana and the Nuggets edged the Cavaliers in Cleveland on Thursday.
Coming off a record-setting 55-point performance in the All-Star Game, Boston star Jayson Tatum scored 31 points, including the Celtics' last four in overtime.
Denver, meanwhile, held off the tenacious Cavaliers 115-109, while the Philadelphia 76ers erased a 17-point deficit to beat the Memphis Grizzlies 110-105.
Tatum got off to a slow start as NBA action resumed in the wake of the All-Star break, but finished with a double-double that included 12 rebounds.
Jaylen Brown added 30 points for the Celtics, who improved their league-leading record to 43-17, but are just one game ahead of the surging Milwaukee Bucks atop the East.
A loss to 12th-placed Indiana looked all too possible after the Pacers, led by 40 points and 10 rebounds from Myles Turner, erased a 10-point halftime deficit, leading by as many as four in the third quarter.
It was tied at 125-125 with 1:41 left in regulation. Both Tatum and Brown coughed up turnovers from there but Indiana's Tyrese Haliburton missed a jump shot in the waning seconds as they went to overtime.
It was knotted at 138-138 with 56.2 seconds left in the extra session, but Tatum drained two free throws and sealed the win with a tip-in with 10.4 seconds remaining.
Brown said the victory bodes well for the Celtics' stretch run to the playoffs.
"The more we are tested in those moments, I think it helps for the long run. We were able to weather the storm, figure out a way to win the game."
In Cleveland, Michael Porter Jr., fed by Kentavious Caldwell-Pope, drained the Nuggets' 17th three-pointer of the night with 2:15 remaining to help Denver escape.
Porter and Caldwell-Pope combined for 10 three-pointers while Denver's two-time NBA Most Valuable Player Nikola Jokic delivered his league-leading 22nd triple-double of the season with 24 points, 18 rebounds and 13 assists.
Jamal Murray returned from a six-game injury absence to score 16 points for the Nuggets, who won their fourth straight.
The Cavs made them work for it, dominating inside in a game that featured 24 lead changes.
Cleveland were up by five when Reggie Jackson, making his Nuggets debut, drained a three-pointer from well beyond the halfcourt line to pull Denver within 91-89 heading into the final period.
Evan Mobley scored 31 points and Donovan Mitchell and Darius Garland added 22 each for Cleveland, but Mobley didn't score in the fourth period and the Cavs didn't score again after Garland's basket pulled them within two with 2:38 to play.
In Philadelphia, Tobias Harris drained a three-pointer with 39.1 seconds remaining to put the 76ers up for the first time since the opening minutes, 106-105.
The Sixers, fueled by 31 points from James Harden and 27 points and 19 rebounds from Joel Embiid, pulled away from there.
The Grizzlies had set the tone early, out-scoring the Sixers 37-22 in the first quarter thanks largely to Desmond Bane's 19 points.
Philadelphia trailed by 11 midway through the fourth, but Bane went cold, finishing with 25 points while Jaren Jackson Jr. added 18 and Ja Morant 15 for the Grizzlies.
Philadelphia closed the game with a 10-1 scoring run that included a thundering dunk from Embiid — who also blocked six shots.
(With AFP inputs)