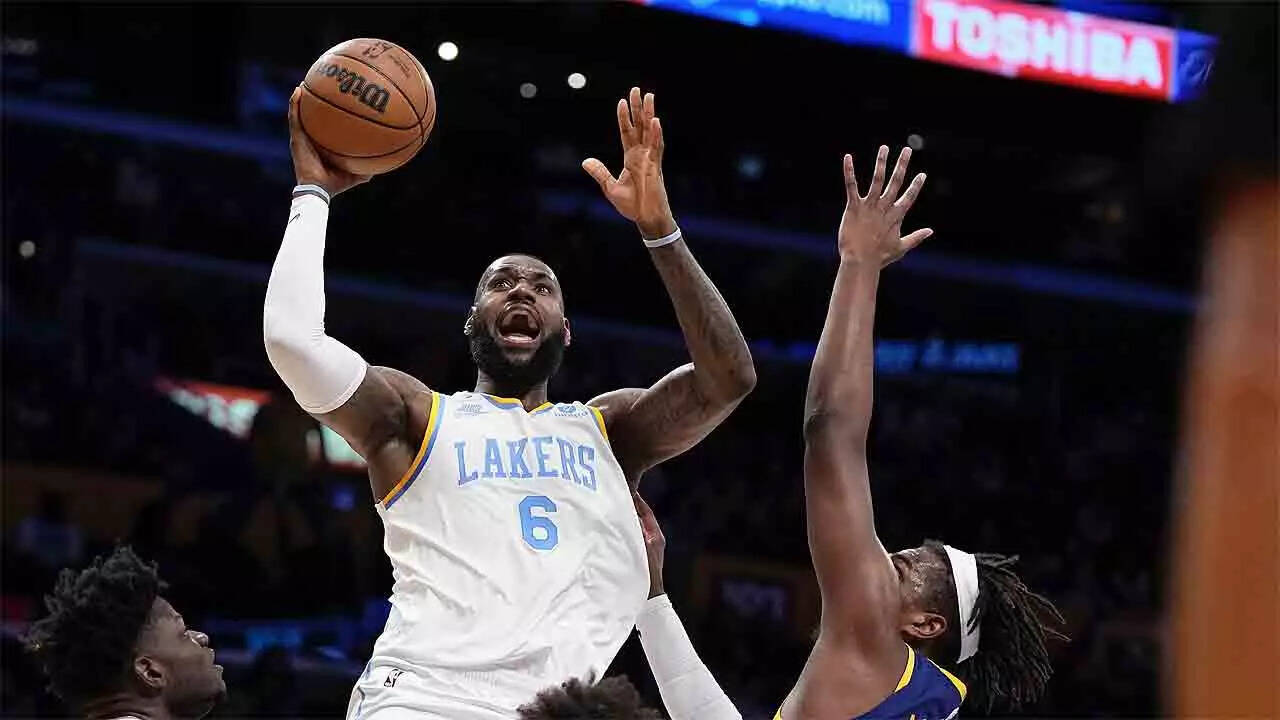 NEW DELHI: The Los Angeles Lakers launched their final push for a playoff berth with a 124-111 victory over the reigning champions Golden State Warriors.
LeBron James
scored just 13 points and Anthony Davis added 12 for the Lakers, who were led by Malik Beasley's 25 and had a combined 68 from their bench in the comfortable win over a Warriors team missing
Stephen Curry
and Andrew Wiggins.
While James and Davis were able to get some welcome rest in the fourth quarter, there was bad news for the Lakers early as recent arrival D'Angelo Russell exited in the first quarter with a sprained ankle.
Elsewhere, Utah's Lauri Markkanen scored 43 points — including three free-throws with 4.6 seconds left to seal the Jazz's 120-119 overtime victory over Oklahoma City.
Austin Reaves added 17 points as the new-look Lakers beat the visiting Warriors in the first game back from the All-Star break for both teams.
After his lowest-scoring first half of the season, James finished with 13 points on 5-of-20 shooting for the Lakers, who won for the third time in their last four games (with two of those victories against the Warriors). Anthony Davis scored 12 points with 12 rebounds for Los Angeles.
James, who scored five points in the first half, saw his streak of scoring at least 20 points end at 37 games. He added nine rebounds and eight assists.
Klay Thompson scored 22 points and Ty Jerome added 20 for the Warriors, who were without Stephen Curry (leg) and Andrew Wiggins (personal). Golden State lost for the fourth time in its last five games and remained stuck on seven road victories, the lowest among postseason-eligible teams.
Kevon Looney had 10 points and 15 rebounds for the Warriors, while Draymond Green had 11 rebounds. Jordan Poole had 16 points for Golden State.
The Warriors led early before the Lakers moved in front 4 1/2 minutes into the game and never trailed again. Los Angeles was up 31-23 after one quarter and 59-56 at halftime. Lakers guard D'Angelo Russell was ruled out for the game in the first half after he sprained his right ankle.
The Lakers pushed their lead to as many as 17 points late in the third quarter and went into the final period with a 95-80 advantage before putting the game away from there.
The Lakers added a number of new faces in advance of this month's trade deadline as Russell Westbrook departed. Rui Hachimura (14 points) was playing in his 12th game with Los Angeles. Beasley, Jarred Vanderbilt (four points) and Russell (two points) were in their third game, while Mo Bamba (10 points, 13 rebounds) was in his second.
(With agencies inputs)