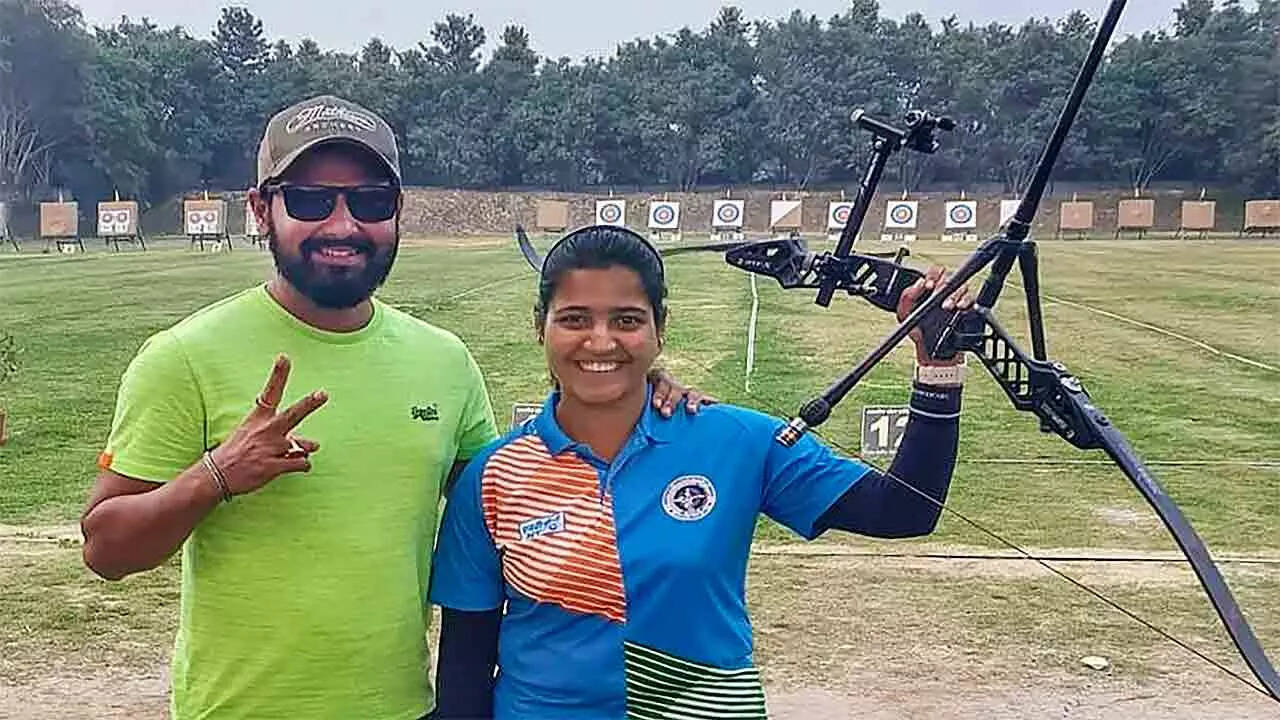 KOLKATA: Aditi Jaiswal announced her presence in Indian archery after making it to the Indian women's recurve squad for the upcoming season at the end of four days' gruelling selection trials at Sonipat. She made her debut for India last year taking part in the World Cup Stage IV competition. However, she failed to make a mark at the Medellin event in Colombia. But it has since been a steady rise for the Kolkata-based girl.
Picking up the bow at the age of 10 following in the footsteps of her elder brother at the Sports Authority of India (SAI) centre in Kolkata, Jaiswal's life took a turn during one of her most challenging periods. The Covid-induced lockdown saw SAI closing down in 2020.
"There was a time when we would be lucky to get one meal a day when my father's shop was shut for close to two years during the lockdown," Jaiswal, the daughter of scrap dealer Rajkumar, stated. To add to their woes, the severe cyclone Amphan hit their home badly. "Our house got flooded and we lost all connectivity for days with no power," she remembered.
Sitting idle at home, Jaiswal suddenly got a call from Olympian archer
Rahul Banerjee
to come and join Kolkata Police Dola & Rahul Banerjee Archery Academy in the city. "I first saw her at SAI and felt she had it in her. So, in July 2021, I offered her to join us. She comes from a poor background and we at the Dola & Rahul Banerjee Sports Foundation (DRBSF) pitched in to help her with as much help as possible," Rahul said.
It was also difficult to convince Rajkumar and his wife Uma about their daughter taking up archery seriously. "I have to keep telling them to have patience as results do not come overnight," Banerjee said.
Her school – Mahadevi Birla Sishu Vihar – sponsored her with two imported bows, costing Rs 3 lakh and Rs 6 lakh respectively. The Gameskraft Foundation backing DRBSF, came forward to provide Jaiswal with a nutritionist as she brought the first medal for Bengal after seven years at the national championship and followed it up with a bronze in Khelo India national ranking meet in April last year.
She continued her studies too and got enrolled at St Xavier's College in Kolkata with economics honours under special financial privilege.
The 20-year-old has also made the India squad for the Asia Cup Stage I scheduled to be held in Taipei from March 14-19.
"She has a cool head which is very important in archery. We are hopeful of her going the distance," Banerjee stated.