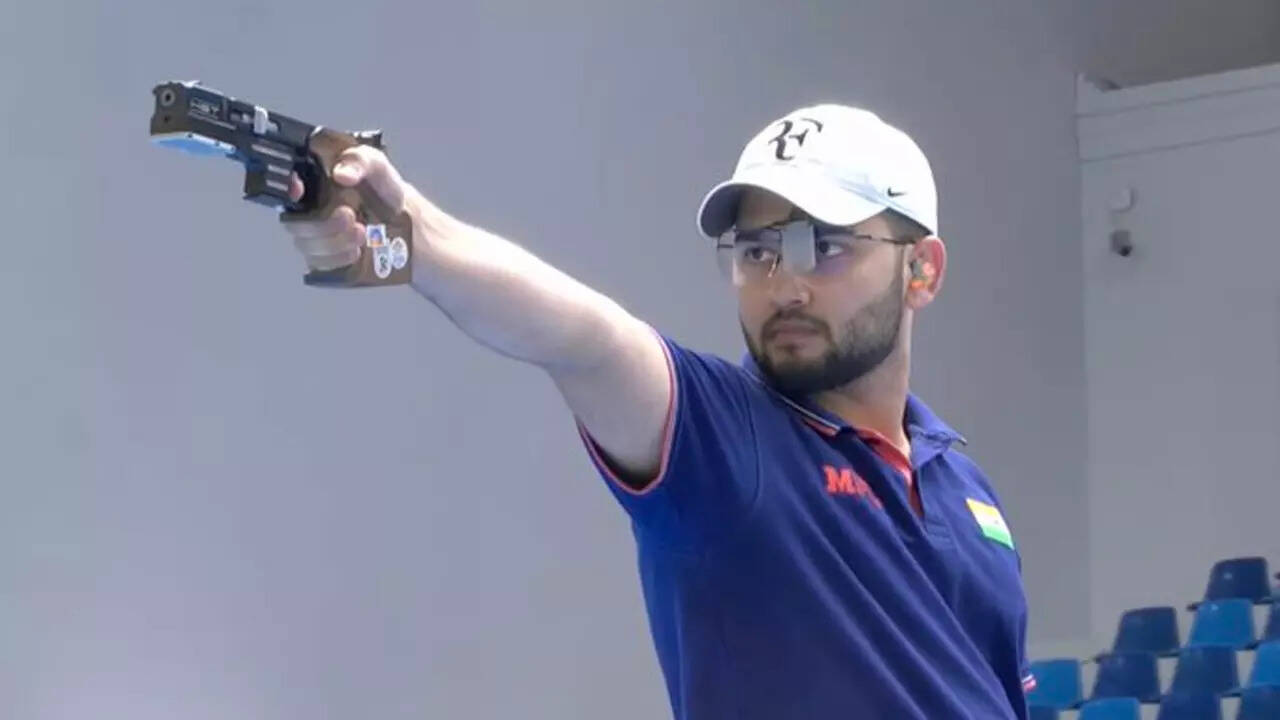 NEW DELHI: India's 12-year old jinx of not winning a 25m rapid-fire pistol medal finally came to an end with young Anish Bhanwala bagging a bronze in the event on the last day of the ISSF World Cup Rifle/Pistol in Cairo on Thursday.
The stunning effort gave the 20-year-old his first senior individual World Cup medal that came after three hard-fought shoot-offs.
Vijay Kumar
was the other India to have won medals in the event at the international. He clinched silver at the 2012 London Olympics and had two podium finishes at World Cups.
India's @anish__bhanwala wins bronze🥉 in the men's 25m rapid-fire pistol. India finish the @issf_official World Cup… https://t.co/EmgUrKTTPU

— NRAI (@OfficialNRAI) 1677161751000
Italian Massimo Spinella won gold with 32 hits in the medal match, while World Championships silver medallist Clement Bessaguet of France fell short by two hits after 40-shots to settle for silver.
Anish's effort meant that India finished the World Cup with seven medals, including four gold, to top the standings.
Bhanwala dedicated the medal to his personal coach Harpreet Singh. "He (Harpreet) also reached many finals for India but could not win a medal," said the youngster, and added that winning the medal was a "dream come true".
"I had come fifth in two finals before and was determined today to win my first world cup medal."
He can afford a smile now ⁦@anish__bhanwala⁩ 👏 https://t.co/L4xuX94cOY

— NRAI (@OfficialNRAI) 1677167186000
Giving an insight into his state of mind before the shoot-offs, Anish said, "I was focusing on keeping myself calm and it paid off. During the national camp, we have been training on how to self-regulate during pressure situations and it helped today.
"The tougher one was the fourth series in the medal match, where I had to beat the former Olympic champion (Rio Olympics gold medallist Christian Reitz of Germany).
"I told myself this is the series which will make my dream come true, visualised it and executed perfectly. That made me happy."
On whether his teammates' fine performances in Cairo played a role in motivating him on Thursday, Bhanwala said, "It is actually a positive thing. I saw two finals yesterday. When you see Aishwary and others do well you tell yourself, I can also do this."
Anish qualified for the ranking round in sixth place with a score of 581. He was in second place overnight and shot 287 in the rapid-fire round to make the cut.
He found himself alongside Frenchman Yan Chesnel, Czech Republic's Matej Rampula and Massimo, in the second of the two ranking matches.
While Christian Reitz and Clement Bessaguet went through to the medal match from the first ranking round, Massimo and Anish came through from the second. But not before going through three shoot-offs against Yan Chesnel. They tied the first two with three and four hits each. In the third, Yan finally wilted with two hits and Anish shot four to go through.
The youngest in the medal match, Anish began with a bang, getting five hits out of five in the first rapid-fire series of shots while all others opened with three hits each. He had a tough second series though but came back with a strong four hits in the third to jointly lead the match with 11 hits along with the Frenchman Bessaguet.
In the fourth, all three except Bessaguet got five hits and Anish was back in the lead and assured of a medal. Christian Reitz was knocked out at this stage with 13 hits.
Anish then had two average series of two and three hits respectively and bowed out in third, as Massimo went on to win.
In women's 50m rifle 3 positions, India finished outside the medals bracket. Sift Kaur Samra shot 585 in qualification to finish 16th while Manini Kaushik (584) and Anjum Moudgil (593) finished 22nd and 27th respectively.
(With PTI Inputs)