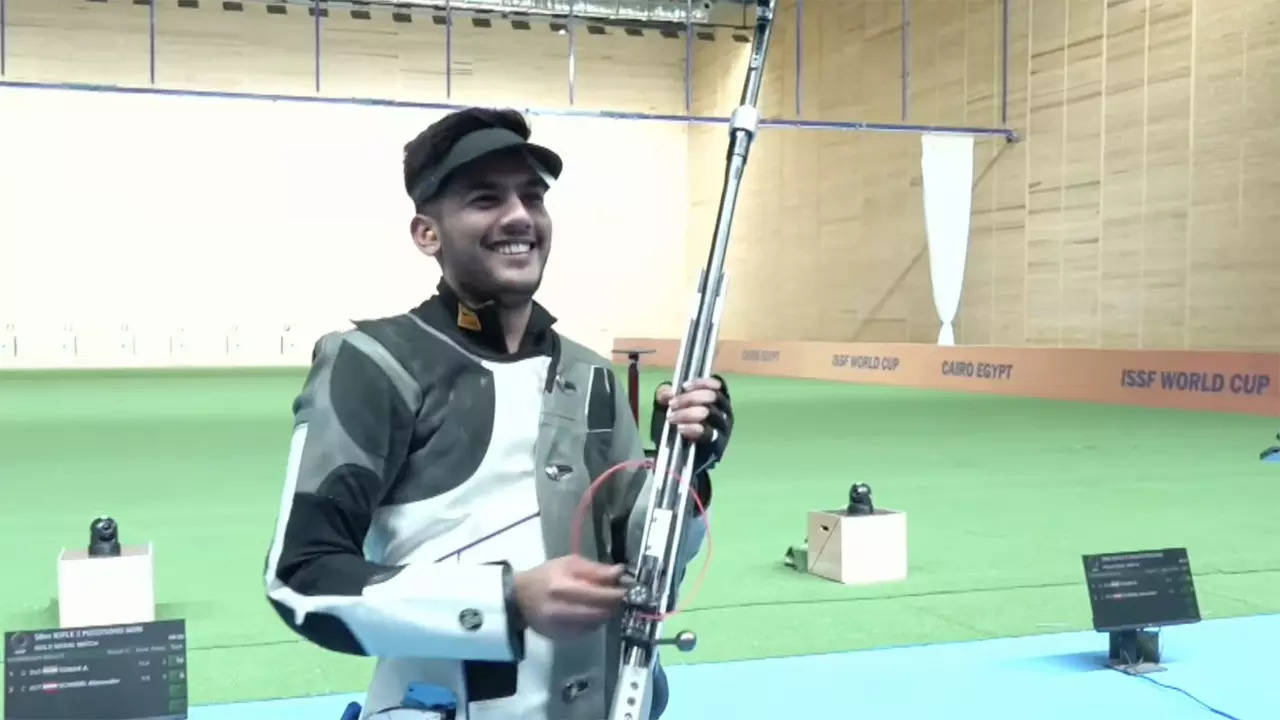 NEW DELHI: India continued their dominance at the ISSF World Cup in
Cairo
on Wednesday as Olympian Aishwary Pratap Singh Tomar clinched the gold medal in the men's individual 50m rifle 3-positions event.
This was India's sixth medal, including four gold, in the tournament as the country strengthened its position at the top of the medals tally.
Tomar got the better of Austria's Alexander Schmirl in the gold medal contest, winning it comfortably with a scoreline of 16-6.
Fourth Gold!!!! 🥇 🥇 🥇 🥇 @pratap1190 wins the men's 50m rifle 3 positions with a 16-6 victory over Austria's Alexand… https://t.co/DIOG6CPKWh

— NRAI (@OfficialNRAI) 1677074710000
The 22-year-old Tomar, who had also won a gold in the Changwon World Cup last year, was behind Schmirl after the ranking round, with a total score of 406.4 against the table topper's 407.9 points.
Earlier, the Indian had topped the qualification after aggregating 588 over the three stages of kneeling, prone and standing.
Akhil Sheoran, another Indian participating in the event, was second in the qualification with 587.
This was the Indian's second individual World Cup gold, the first coming in South Korea.
Speaking after the event, Tomar said, "I had not performed well twice earlier at this range so this time I was determined to go back with a medal."
Asked what his mindset was after a slow start in the ranking round, he said, "It did not affect me much. As I said, I was very determined and was confident that I could always come back in my favourite 'standing' position and that's what happened."
Tomar first topped the qualification round with a score of 588 after 20 shots each in the kneeling, prone and standing positions. He had teammate Sheoran for company in the ranking round.
The Indian duo began slow in the ranking round with Tomar sixth and Sheoran eighth after the first five kneeling position shots.
After the end of the allocated 10 shots in the second prone position however, both had moved up with Sheoran in second and Tomar in fifth. All the while the Austrian Schmirl was leading the match and did so till the end of the ranking round.
It changed dramatically after the first five standing position shots, as India number one Tomar got up to second, just 0.5 behind Schmirl who was still leading.
Sheoran was down to fifth and eventually bowed out in seventh place after 30 shots. After 40 shots both the Austrian and the Indian held on to the top two positions to set up a gold medal clash.
In the gold medal round, which is basically a race to 16 points with two points being awarded to the winner of each single-shot series, Tomar took the first series.
However, it remained tight with the scores reading 4-4 and then 6-6 before the Indian broke away with some sensational shooting to close out the match.
A timeout taken by the Austrian at 6-12 did nothing to break Tomar's momentum.
Rhythm finishes outside podium
In the day's first medal event, India's Rhythm Sangwan, who had qualified for the ranking rounds after shooting 589 in the women's 25m pistol, could not make the final four medal round.
She had shot 295 to lead the first precision round on Tuesday and then 294 in the rapid-fire round to qualify second behind Doreen Vennekamp of Germany.
Rhythm bowed out in the second ranking round match, finishing fourth with nine hits out of 20. Hungary's Veronika Major won gold in the event.
Manu Bhaker and Esha Singh shot 571 and 570 to finish 32nd and 34th respectively.
(With inputs from PTI)