Former England cricketer Sarah Taylor, on Wednesday, announced her partner's pregnancy to the world.
The English wicketkeeper-batter, who retired from international cricket in 2019, took to social media to announce the news. She posted a picture with her partner and revealed that the "journey was not an easy one but she's happy to be a part of it."
Being a mother has always been my partner's dream. The journey hasn't been an easy one but Diana has never given up. I know she will be the best mum and I'm so happy to be a part of it x

19 weeks to go and life will be very different ! 🤍🌈 pic.twitter.com/9bvwK1Yf1e

— Sarah Taylor (@Sarah_Taylor30) February 21, 2023
One of the best wicketkeepers and most successful cricketers in the history of women's cricket, Taylor announced retirement from international cricket in September 2019 due to anxiety issues.
Taylor had also taken an indefinite break from the game in March 2016 due to mental health problems but later returned to the game to represent her country at the World Cup.
In the 2017 World Cup, which marked her return, she amassed 396 runs at an average of 49.50. Taylor scored 147 in a group game against South Africa and posted scores of 54 in the semi-final and 45 against India in the final.
Speaking about battling mental health and what she went through, the 33-year-old told The Guardian, "You're very negative. Everything is the worst-case scenario. My panic attacks would come because I couldn't breathe properly. I'd spend the entire day focusing on breathing. I'd then think: 'What am I doing with my life? I'm just stuck in bed, can't breathe.' That would make you worse. You spend the entire day having some form of panic attack. It's awful because you don't know why.
"I saw a doctor in London. My partner didn't live far away so I was like: 'Right, I'll get up from my partner's place and walk to the doctor.' I did not even consider the fact this walk would be the hardest 15 minutes of my life. I sat on a bench outside, waiting. I was shaking, couldn't breathe, on my own. This had happened before but I didn't know what it was. All of a sudden it was more normal than a normal day," she added.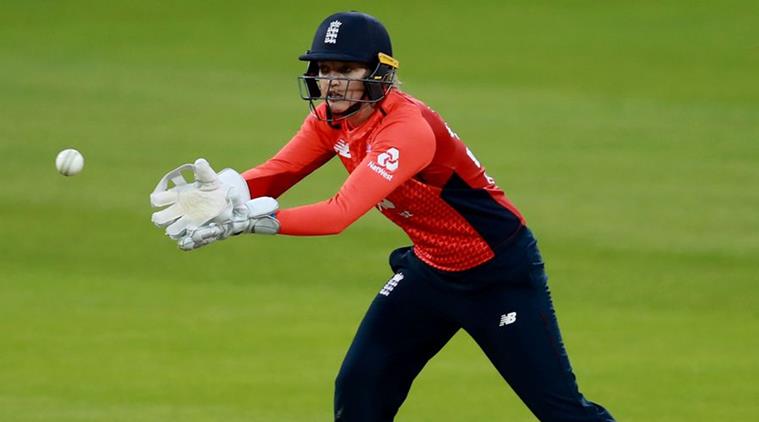 Sarah Taylor (Source: ECB Twitter)
In 2021, in a rare but welcome move, English Countryside Sussex had named Sarah in their men's team coaching staff for their next season.
The London-born cricketer is a triple World Champion (WC 2009, 2017 and T20 WC 2009) and has represented England in 226 games across formats. She has affected 232 dismissals, more than any woman cricketer. She retired as England's third-highest run-scorer in ODIs with 4,056 runs from 126 games at an average of 38.26 including 20 half-centuries and seven centuries.
Taylor is also England's second-highest run-scorer in T20I cricket and seventh overall. She scored 2,177 runs from 90 matches at an average of 29.02 including 16 half-centuries. She has also represented England in 10 Tests scoring 300 runs.