When a strong shot on the onside by
KL Rahul
bounced off forward short-leg Peter Handscomb's leg to nestle into the hands of wicketkeeper Alex Carey during India's fourth innings chase at the Kotla, you couldn't help but feel a little sad for the Bengaluru boy. At a time when everything is falling into place for the team, it's just not happening for Rahul. Even when he is starting to look good, there's a slice of bad luck here and there that is bringing about his downfall.
In a world where yesterday's result is the only benchmark, 10 scores of below 25 is absolutely unacceptable. Openers before him, like Mayank Agarwal or Shikhar Dhawan, haven't survived such lean patches and the management's decision to stick to Rahul is leading to allegations of "favouritism" by former Indian pacer Venkatesh Prasad and a few others.
The BCCI, too, is losing patience and the decision to strip Rahul of vice-captaincy duties for the third Test clearly indicates that the 30-year-old is treading thin ice. The fact that Shubman Gill has been in red-hot form leading up to the Australia series and has been still made to wait has added to the clamour for Rahul's head.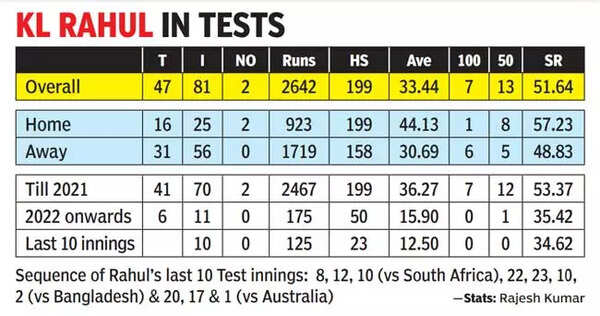 Indian batting coach Vikram Rathour defended Rahul the other day saying that he has got difficult runs in overseas conditions, but former chairman of selectors Krishnamachari Srikkanth feels it is time to give Rahul a break.
"I have tremendous admiration for the class of Rahul, in fact I call him Rolls Royce Rahul… but it is just not happening for him at the moment. If I was the chairman of selectors, I would have gone up to him and told him to take a break for a while," Srikkanth told TOI.
The former India opener says that in the cut-throat world of international cricket, it can happen to anybody, especially an opener.
"I cannot pinpoint a technical deficiency in his game at the moment. I think this is more mental and all Rahul needs to do is take a break and sort his mind out. There's no reason why he can't come back all guns blazing," Srikkanth said.
It is not the first time that Rahul had a lean patch. In 2018 in England, he was having a similar crisis, failing in the first four Test matches. At that point, he was having a problem of leaving his bat hanging away from his body and was getting played-on. But the team management was adamant that Rahul had the class to succeed and he came back with a brilliant century in the second innings at the Oval, along with Rishabh Pant.
"But you should realize that Rahul, at that stage, was a youngster…but now it's significantly different and there are players like Shubhman who are just not knocking, but banging on the door. And then there's Prithvi Shaw as well. How long can you ignore legitimate claims?" former Tamil Nadu player Sunil Subramaniam, who was India's manager and a part of Ravi Shastri's think-tank in the 2018 series, said.
By the looks of it, Rahul may just get one final chance in the third Test match in Indore. One gets the impression that Rahul has been batting well at the nets and that is the reason why the current management is persisting with him. They believe he is just one good innings away from finding form and it can happen anytime.
"But with all due respect to Rahul, it is time to play Shubman. You can't keep a player waiting when he is in the form of his life," Srikkanth said.
In a week's time we'll know if Rahul gets his final chance or is it over to Shubman.