It was on a February afternoon 24 years ago that
Anil Kumble
got his 'Perfect 10' against Pakistan at the Kotla. On Sunday, at the same venue, when
Ravindra Jadeja
was running through the Australian batting line-up to become the fastest Indian to take seven wickets in an innings (in 12.1 overs), one couldn't but go back to that legendary Kumble spell.
While Kumble was a leggie and Jadeja a left-arm spinner, there are similarities in the way they approach their games. Jadeja, just like Kumble, bowls faster through the air, giving the batsmen very less time to read him off the pitch.
"The accuracy that Jadeja has also has shades of Kumble in him. Just like my legendary colleague, Jadeja has the ability to hit the right areas through the day, not giving anything away to batsmen," former India left-arm spinner Venkatapathy Raju told TOI.
Elaborating on the point, the left-armer who had 93 Test wickets, said: "If you keep hitting the right areas at that pace, the batsmen often start to lose it in their minds. The Australian batsmen had that on Sunday and they just didn't have an answer," Raju said.
"Jadeja earlier used to mostly go wide of the wicket and his action was a little too roundarm. Now he comes closer to the wicket and is always attacking the stumps. And the pace at which he bowls, it's a mistake to bank only on the sweep which Aussies tried," Raju added.
There's another similarity between Kumble and Jadeja – they both started off as restricting options more suitable for limited-overs cricket but went on to become superstars in the longer version. Jadeja made his Test debut in 2012 at Nagpur against England, but MS Dhoni, in consequent away series, used him as the restrictive spinner who could bat.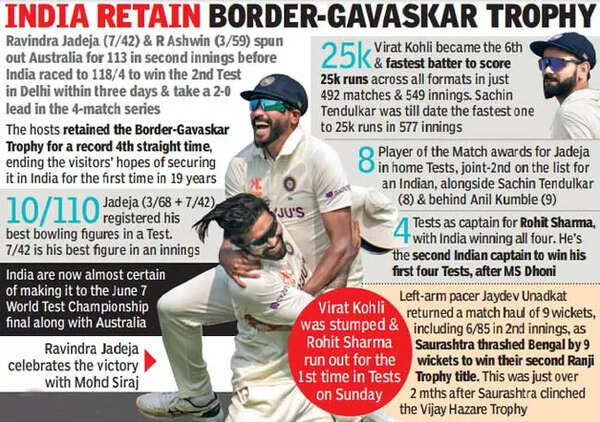 It was against England at home in 2016 when Jadeja started showing his devastating self in Test cricket. A spell that he bowled in the fifth Test to take 7-48 in Chennai after a run deluge showed the world that the Saurashtra spinner would be a force to reckon with in red-ball cricket as well.
With time, DRS has also come into play and in the last five years, pad play has gone completely out of the window.
"It has made Jadeja even more lethal…Earlier, batters could get away padding up on the front-foot, but now that's off. And it's true that batters are growing up with T20 cricket in mind and their defensive technique is sometimes not the best," Raju added.
For his magnificent all-round performance including a brilliant 7⃣-wicket haul, @imjadeja receives the Player of th… https://t.co/S6PQ6amWft

— BCCI (@BCCI) 1676796783000
Add to that Jadeja's hunger to make it count in all formats. He is super-fit, understands his body well, and has the ability to be uncomplicated. "A simple action, a great wrist position and an uncluttered mind — it's a fantastic recipe that has helped him get 259 wickets in just 62 Tests and he has a long way to go," Raju said.