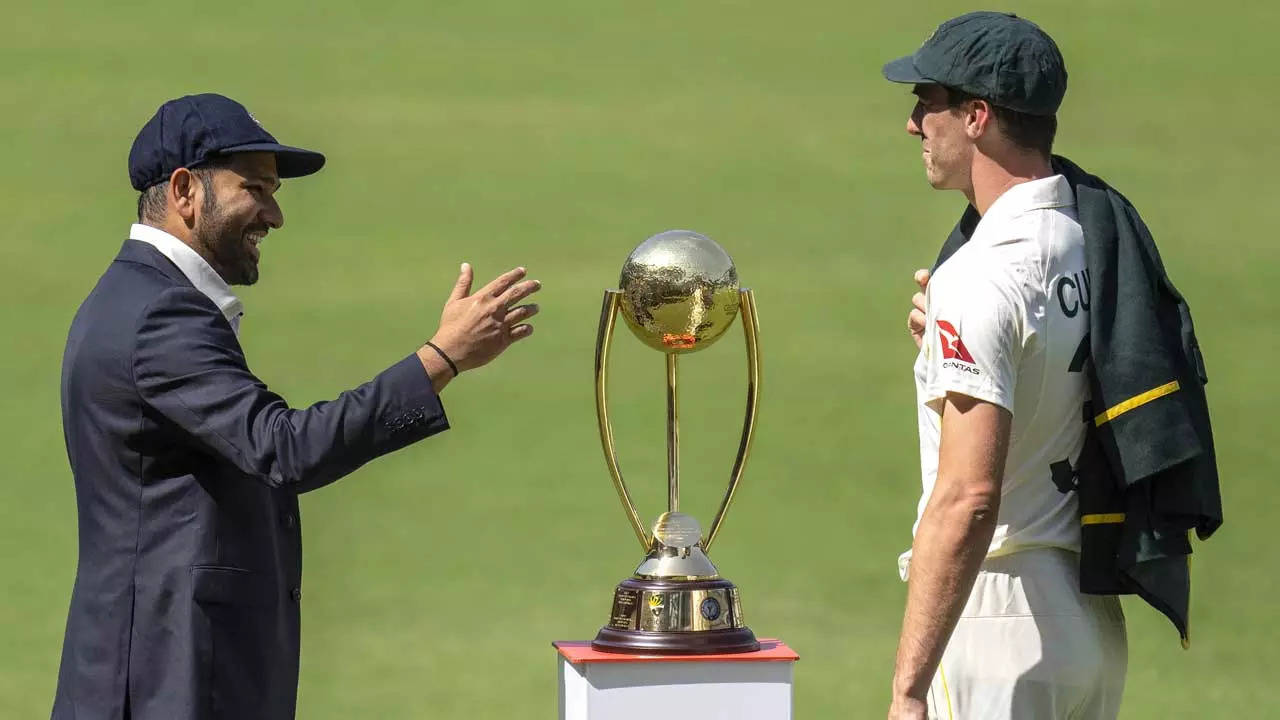 Australia have not managed to beat India in a bilateral Test series now since the 2014-15 edition of the Border-Gavaskar Trophy, which was played in Australia. The Aussies had won that 4 Test series 2-0.
Since then there have been three completed series and the ongoing one, which has had 2 Tests played so far and Team India have been on top in all.
Rohit Sharma
and co. went into the ongoing series having won a hat-trick of Border-Gavaskar Trophy series, including two back to back 2-1 series wins in Australia.
By virtue of their two emphatic wins in the ongoing series, India have not only retained the Border-Gavaskar Trophy, but also ensured that for the fourth consecutive time they will remain undefeated in a Test series against the Aussies.
There is a long gap now before the third Test starts in Indore on March 1. India of course have named an unchanged squad for the remaining two Tests, as the hosts eye a series whitewash.
As we count down to the third Test, TimesofIndia.com here takes a look at some of the big statistics in this rivalry over the last three completed series and the one that is currently on:
# With their splendid series performance by 2-1 in 2016-17 in India; by 2-1 in 2018-19 in Australia; by 2-1 in 2020-21 in Australia and by 2-0 (an unassailable lead) in the ongoing Test series at home, India have retained the Border-Gavaskar Trophy in four consecutive years – a feat even Australia could not accomplish.
# India have won eight, lost three and drawn three out of fourteen Tests played vs Australia during the course of retaining Border-Gavaskar trophy in four successive series.
# From the 2016-17 series onwards, the Indian batter with the most runs in this rivalry is Cheteshwar Pujara. He has played 14 Tests in this time period against the Aussies, scoring 1235 runs, at an average of 51.45. His highest score has been 202 so far, with 4 hundreds and 6 half centuries.
# From the 2016-17 series onwards, the Indian bowler with the most wickets in this rivalry is Ravindra Jadeja. He has played 10 Tests against the Aussies from the 2016-17 series onwards and tak4n 56 wickets, at an average of 17.14. His best figures in this time period in this rivalry have been 7/42, which he recorded in the Australian second innings in the Delhi Test of the ongoing series. He has 4 five-wicket hauls and 1 10-wicket haul in this time period against the Aussies. Jadeja took 10 wickets in the match in the second Test of the ongoing series in Delhi. In the Australian first innings he took 3/68 and in the second he took 7/42.
# During the last fifteen years, India have performed exceptionally well in Tests vs Australia on Indian soil, winning twelve out of sixteen contested (lost one and drawn three) – winning % 75.00. India's only defeat remains by 333 runs at Pune in February 2017. Slow left-arm bowler Steve O'Keeffe had produced his career-best performance (6/35 + 6/35) in a Test match.
# Of the fourteen Tests vs Australia in the aforesaid period, Virat Kohli led India in eight Tests. He won three, lost three and drew two. Ajinkya Rahane won three out of four (drawn one) while Rohit Sharma has won both the Tests under his captaincy.
# Ravindra Jadeja and Cheteshwar Pujara have been adjudged the Man of the Match three times each during the aforesaid period vs Australia. Jasprit Bumrah, Rishabh Pant, Ajinkya Rahane and Lokesh Rahul have got one MOM award each.
# Both Jadeja and Pujara have got one Player of the series award as well.
Stats Courtesy: Rajesh Kumar