Three-time Wimbledon champion Boris Becker, who spent seven months in jail in England over tax fraud, has been termed as 'A devil' by his estranged wife Sharlely Kerssenberg over the issue of neglecting his son and stopping her child support, 55-year-old Becker had spent seven months in a single-occupancy cell in Britain's Wandsworth prison last year for bankruptcy offences before returning to Germany in December.
"Boris can be charming and loving when he wants to, but also extremely hurtful with words. A devil. Prison didn't make Boris a better person. Boris lives in his world, in which everything revolves around Boris Becker," Kerssenberg told German tabloid Bild in an interview.
While Becker has been working as a tennis commentator for Eurosport post his return to Germany, 46-year-old Kerssenberg claimed that the former tennis player did not contact her and their son Amadeus for ten days post his return to Germany. The former Dutch model also claimed that Becker called his son on Christmas and spoke with him for only two minutes. Becker and Kerssenberg had married in 2009 and their son Amadeus was born in 2010. He was earlier married to Barbara Fitus before she divorced him. While it was Becker's second marriage, the couple separated in 2018 with Kerssenberg filing for divorce.
Becker, who went bankrupt in 2017, was found guilty by Southwark crown court in England over four charges under the insolvency act under charges for hiding assets and loans worth 2.5 million pounds at the time of bankruptcy. The couple still remain married but Kerssenberg has claimed that Becker has not paid maintenance for their son since April last year. Becker also has two children from the marriage with his first wife.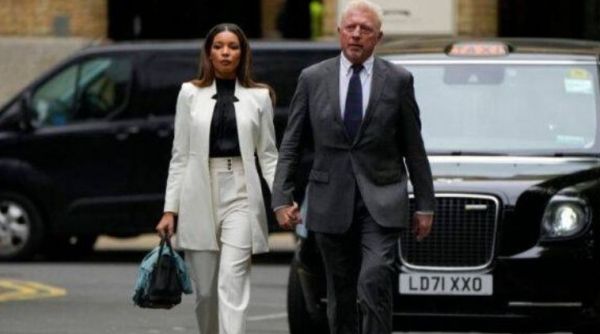 Former Tennis player Boris Becker with Lilian de Carvalho Monteiro as they arrive at Southwark Crown Court for sentencing in London, Friday, April 29, 2022. Becker was found guilty earlier of dodging his obligation to disclose financial information to settle his debts.(AP Photo/Alastair Grant)
"It is not my fault that he went to prison. He ruined his reputation all by himself. If we didn't have our son, he wouldn't play a role in my life any more. He should simply take responsibility for his child, that's all I ask. Boris doesn't care whether we're doing well or badly. We used to have an honest love. When I started to emancipate myself in marriage, there were arguments. Also because of Boris' lies about his finances. Boris loves his children and his mother. In the form in which love is possible for him," Kerssenberg said in the interview.
Becker spent more than seven months at Wandsworth prison and Huntercombe prison had to serve half of his 30-month prison sentence before being eligible for release from the prison but was freed earlier under a fast-track deportation programme for foreign citizens as per UK Law. The tennis great had recalled his time in prison in an earlier interview. "I thought I would lose my life in Wandsworth. Someone, a murderer I later found out, wanted my coat and he wanted money and he said he would kill me if he didn't get it . . . Then in Huntercombe another murderer said they wanted to kill me. My food tray was shaking." Becker had told German TV broadcaster Sat 1 in an interview.
Becker, who had reportedly earned close to 38 million pounds in his career, had become the youngest player to become the Wimbledon champion at the age of 17 years and 227 days. "Everything that motivates me is because of my children. I hope that I can spend the rest of my life happily in peace and freedom. I'm happy, I'm motivated. I have to work. I'm not too bad about it. I'm grateful that actually all my partners stayed with me and gave me a second chance. I need to win back her endorsement. I think I've learned a lot in eight months and six days and I think I've become a better man than I was before." Becker had said in the interview.