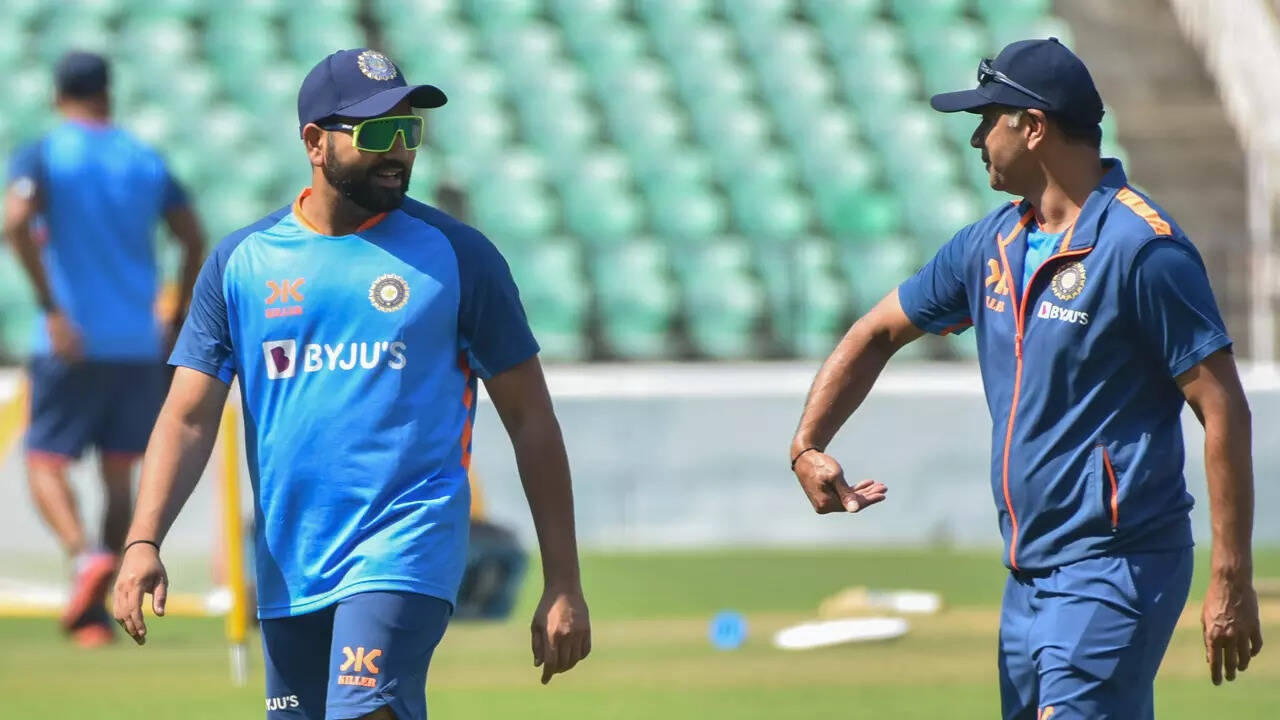 NEW DELHI: After registering a comprehensive victory against Australia in the second Test, India head coach and batting great
Rahul Dravid
on Sunday hailed
Rohit Sharma
's captaincy.
India retained the Border-Gavaskar Trophy with a six-wicket win in Delhi.
Dravid said the team was "very lucky" to have someone like Rohit taking over the captaincy from a player of the calibre of
Virat Kohli
.
Rohit took over after Kohli quit as India's Test captain following a series defeat in South Africa in January 2021.
Dravid also added that the Mumbaikar has the respect of the dressing room.
"He is one of those guys who has been there a long time. The kind of person who doesn't speak a lot, but when he does they all listen. He deeply cares a lot about the dressing room and the players. We are very lucky to have Rohit take over the leadership from someone like Virat," Dravid said after the match.
1/11
Jadeja stars as India hammer Australia to take 2-0 Test series lead
Coach Dravid disclosed that India were ready to chase 200-225 target if needed and praised the lower-order stands between Ravindra Jadeja-Kohli and Axar Patel-Ravichandran Ashwin on the second day.
Dravid said: "We wanted to chase something close to 200-225 and that partnership [Axar-Ashwin] enabled us to get back, or we'd have been trailing."
Dravid further said their bowlers leaked too many runs in the final session of day two and credited them for coming back in the first session on Sunday.
"A bit of a downer to concede too many runs in the evening, I think we bowled probably wrong and were all over the place, and they came hard at us, but we course-corrected this morning. It was just brilliant then how the game moved," Dravid added.
After the win, skipper Rohit also hailed the spin duo of Jadeja and Ashwin for "finishing" the job for India.
Jadeja returned with a career-best 7/42 and, along with Ravichandran Ashwin (3/59), accounted for all the wickets to bundle out Australia for a paltry 113 in their second innings.
"Looking at how things were yesterday, the way we came back and finished our job was great," Rohit said at the post-match presentation.
"Even if we were just one run behind, I felt we were trailing because we had to bat last. The bowlers were fantastic, to take nine wickets this morning is commendable. And then we finished the job with the bat."
From being overnight 61/1, Australia were bundled out in the first session of the third day.
"Every game you play in this type of weather, there is some moisture. What I noticed is there is a lot to offer in the first session, but as it goes on it gets slower and there isn't enough bite.
"So our focus was keeping it tight in the morning, and these guys are the masters of bowling in these conditions. On a pitch like this, people need to do something different. We were prepared for them coming out and playing shots. Our idea was to not panic and just hit the right areas, waiting for the mistake to happen and that's exactly what happened."
Rohit added that the partnerships between Jadeja-Kohli and Axar Patel-Ashwin on Saturday gave them the winning edge.
"There are a lot of moments across four innings, but I thought the partnership between Jadeja and Virat, and then Axar-Ash was brilliant. That's a big help because of the balance we have created for ourselves."
(With inputs from PTI)