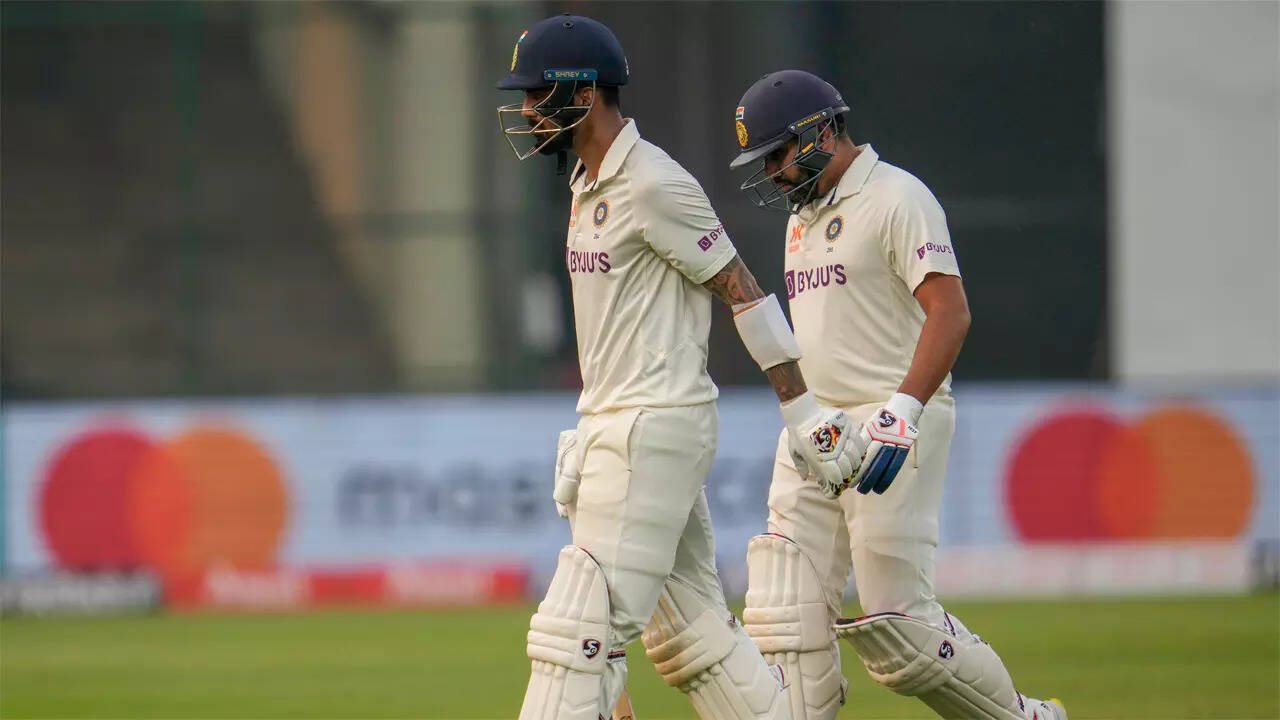 NEW DELHI: KL Rahul's woeful form continued with the Indian opener enduring yet another failure in the second innings of the
second Test against Australia
in New Delhi.
Rahul's prolonged lean patch has become a huge talking point and the clamours of dropping him from the team has been growing with each passing day.
Former Indian pacer
Venkatesh Prasad
has launched a scathing attack on Rahul saying, "No top order batsman in atleast last 20 years of Indian cricket has played these many Tests with such a low average."
India captain Rohit Sharma
broke his silence on Sunday on Rahul and said that the batter needs to devise his own methods of scoring runs on slow turners.
With the young Shubman Gill waiting in the wings despite his golden run across formats, the pressure is increasing on Rahul, who averages less than 35 after 47 Tests, which is poor by any standards.
"When you are playing on pitches like these, you need to find your methods of scoring runs," Rohit said about Rahul, whose sequence of scores in last seven innings read 22, 23, 10, 2, 20, 17 and 1.
1/11
Jadeja stars as India hammer Australia to take 2-0 Test series lead
The methods of scoring runs against spinners on turners will differ from batter to batter.
"Different individuals are part of this team and they will have different methods of scoring runs. We are not going to look too much into what one individual is doing. It is about how everyone needs to come together.
"It is a big series for us, so yeah that is my thought on KL," he said to a query at the post-match press conference.
Unlike batting coach Vikram Rathour, who had refused to comment on the opener's place after his string of low scores, the skipper admitted that there has been some "talk" around Rahul's current form.
However, Rahul's potential is something that can't be overlooked, reminded the skipper.
"Of late, there has been lot of talk on his batting. But for us as team management, we always look at the potential of any individual, not just KL. I have been asked in the past about lot of players. If a guy has potential, guys will get that extended run," Rohit said.
Like Rathour had referred to Rahul's Test hundred at Lord's nearly 18 months back, the skipper also touched upon that innings, which is probably his best knock in testing conditions.
"It is not just about KL, but anyone. If you look at couple of hundreds, he got outside India (England 2021 and SA 2022), one of the best I have seen from KL, especially the one at the Lord's.
"Batting on that damp pitch in England, (that too) after losing the toss and put in to bat is never easy. He (Rahul) put a great performance there and Centurion was another one. India won both those games. That is the potential he has," Rohit was all praise for his vice-captain.
He also said that the team management (captain and coach Rahul Dravid) has advised him to play his natural game.
"Of late there have been talks… it was clear from our side that we want him to go out and play his game."
(With PTI Inputs)