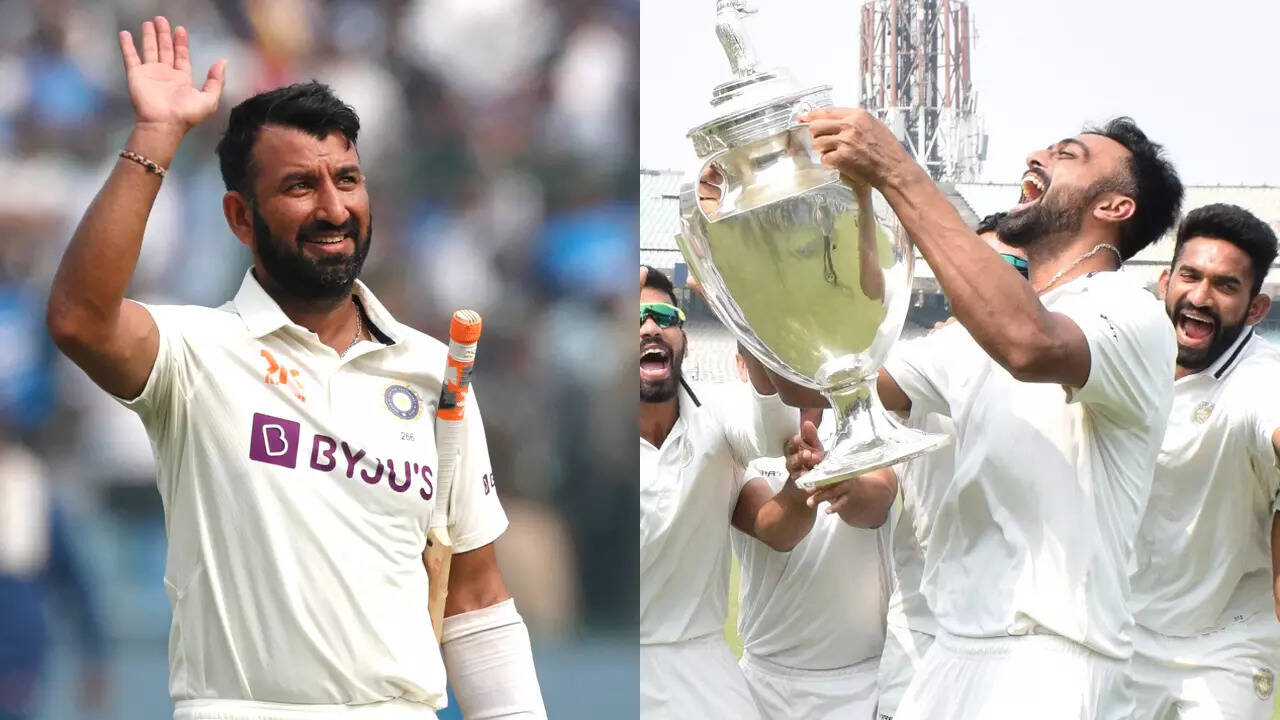 NEW DELHI: Saurashtra skipper and India pacer Jaydev Unadkat on Sunday dedicated the team's Ranji Trophy triumph to India batter
Cheteshwar Pujara
, calling him one of the region's favourite sons.
Saurashtra defeated Bengal by nine wickets
at Eden Gardens in Kolkata earlier today to win the premier domestic first-class title.
On the other hand, Pujara hit the winning runs against Australia in his milestone 100th Test in Delhi.
"Like I'd said before, it's a fitting tribute to one of Saurashtra's favourite sons, Chintu (Pujara's nickname). He played his 100th Test for India against Australia in Delhi, but he was equally eager, wishing us all throughout," Unadkat said after the win.
Pujara is the 13th Indian cricketer to play 100 Tests or more. He made his debut in 2010 and has scored over 7000 runs in his 13-year-long Test career.
On the latest triumph, Unadkat, who led the team to three premier domestic titles across formats in as many years, said "this decade and era belongs" to Saurashtra.
Saurashtra defeated Bengal in a replay of the 2020 final to win the Ranji Trophy for the second time. This was also their second title this season, having stamped their authority in the one-day format by claiming the Vijay Hazare Trophy in December.
"It was important to win this one to prove the dominance and to show everyone that this era, the decade belongs to Saurashtra," Unadkat told reporters after their triumph.
"Three trophies in three years proves that we have been doing a lot of things right. We have set a tone, I'm really proud of what this team has achieved."
The 31-year-old, who made a dream Test comeback after 12 years in Bangladesh last year, was busy with India's series against Australia. But Unadkat was "granted" permission to play the Ranji final.
"At the moment, I feel that my body is in good shape. The ball is coming out nicely off the hand. I'm able to bowl long spells which is crucial," Unadkat said.
Unadkat wants to create a legacy for Saurashtra with the current squad.
"It's not just about winning trophies, but creating a legacy for our team which will leave a bigger impact on cricket in the region. Our goal will be to carry forward this legacy for at least 3-4 years till the core of our team is intact," Unadkat said.
Saurashtra won their maiden Ranji title three years back on the basis of a first-innings lead over Bengal on their home turf of Rajkot.
"A lot of guys said the wickets suited us better, but that wasn't the case. All the credit to the guys for showing such dominance in a crucial game like the final. It's not easy. There's always pressure on everyone to win the final."
With their pace-heavy attack on an Eden greentop, it was the home side that started as favourites. No team could surpass 350 against Bengal this season but, in the summit clash, Saurashtra got past the 400-mark as the Bengal pacers failed to make use of a lively pitch.
Bengal's batters, too, were a big letdown as their first-innings ended at 174 after Unadkat won a good toss.
"With all talk about the bowling lineup that they have not given more than 348 in the tournament, it's a great statement (by our batters) to achieve that in a game like final. We bowled in the right areas to start with, better than their bowlers a lot of times. Batters showed more composure and resilience. We won a lot more sessions than them, that's why we came out on top."
Unadkat further said Bengal were under pressure and the visitors handled the situation more calmly.
"There was more calmness in our dressing room. They wanted to win it very eagerly, as it was at Eden. It happened to us as well while playing in Rajkot. So the calmness and composure was the difference both in batting and bowling. We had that little bit of five per cent advantage," he said.
(With inputs from PTI)