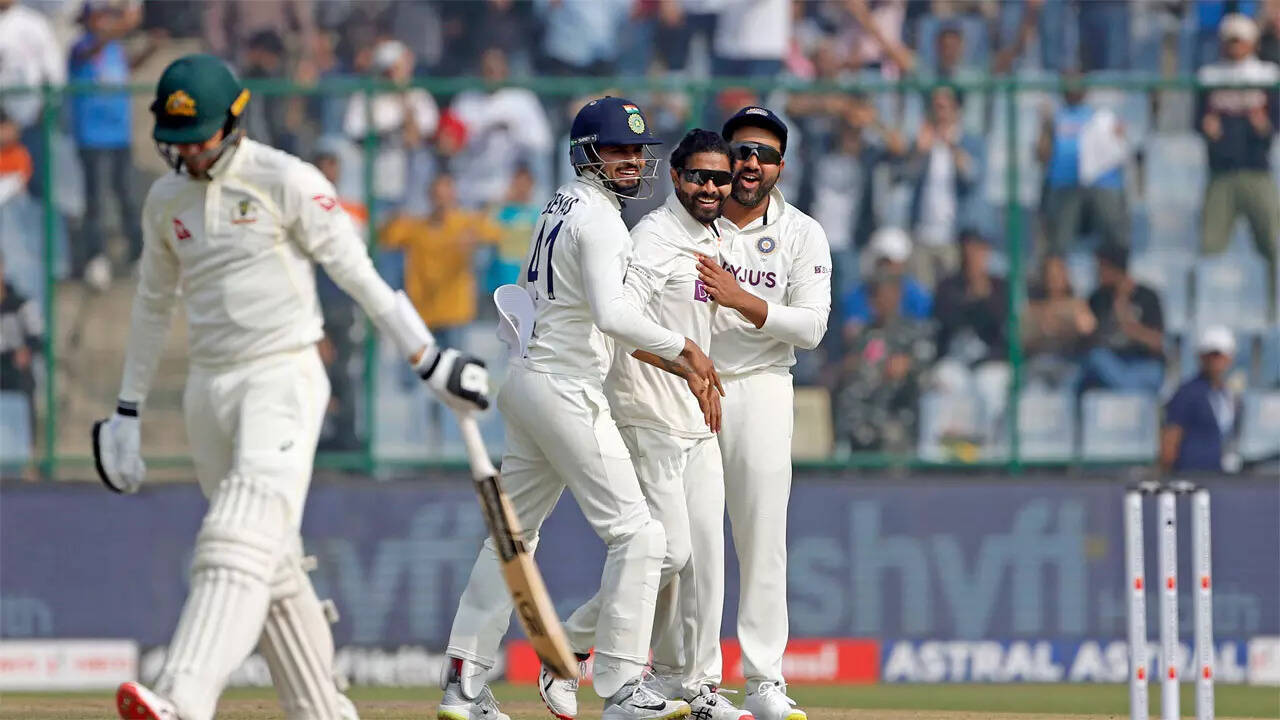 NEW DELHI: Given the manner of their dismissals, it would be fair to say that the Australians 'swept' their way to self-destruction in the face of the Indian spinners' guile in the second Test here.
Going into the morning session of the third day, Australia had a slight upper hand with a 62-run lead and nine wickets in hand, promising an exciting finish in front of a 20,000 plus Test loving crowd.
The visitors were expected to continue their aggressive approach they showed on Saturday evening but overemphasis on the sweep shot brought about their dramatic downfall as they lost nine wickets for 52 runs in 19.1 overs on a balmy Sunday morning.
The collapse ensured another day three finish after the series opener in Nagpur.
Half of the side including Steve Smith, Matt Renshaw, Alex Carey, Pat Cummins and number 11 Matthew Kuhnemann fell to either the conventional or the reverse sweep.
The cross-batted shot can be an attacking option against the rampaging Indian spinners in their own conditions but it can't be the only option, especially on a low track like the Kotla.
"In India, at a very early age you are told not to sweep on low bounce pitches. It doesn't work. The biggest example was Steve Smith's dismissal. The difference between bat and ball was at least six inches (as he went for the sweep off R Ashwin).
"It is so difficult to play horizontal shots on low bounce. It was disappointing. It seemed nobody was talking to the Australian batters. It is not a high percentage shot," former India wicketkeeper Deep Dasgupta told PTI.
Playing in his 100th Test, Cheteshwar Pujara too said it was not ideal to employ the sweep shots so frequently.
"It's not a pitch to play the sweep shot due to low bounce," Pujara said.
Coming down the track is a safer option than the sweep but the Australians did not do that enough. Perhaps, lack of confidence in their defense also pushed them to try sweeping regularly.
"There was no one at silly point or short leg for most of the first session. The first thing you do on low bounce pitches, you stretch your front foot as much as possible and defend. You know with lack of bounce, inside edges will not carry to the close-in fielders and there was nobody at silly point and short leg.
"Just because Usman Khawaja got 80 odd sweeping on day one, it doesn't mean it will work for you on day three," added Dasgupta, who is part of the commentary panel for the series.
Dinesh Karthik, who was on air when the Australian wickets fell in a heap, said the visitors' tactics were decided in the dressing room and they did not assess the conditions well.
"Couple of others didn't trust their defense. They came out swinging and swinging hard. When you try to do that – when you have already planned in the dressing room, this is how I am going to bat, that can get you in trouble.
"You come in, you assess the conditions as you deem fit on that day, you have a batting plan and then you adjust according to what's been presented to you. If you have decided it yesterday, that's going to get you in trouble," said the India wicketkeeper-batter who played in the T20 World Cup last year.
Ahead of the series, Australia chose not play a warm-up game in Indian conditions, and instead, simulated similar conditions back home. Upon their arrival in India, they got hold of a R Ashwin duplicate who helped them in the nets for the bigger battles in the four-Test series.
Former India captain Dilip Vengsarkar, a brilliant player of spin, feels the Australians are simply not equipped enough to deal with high-quality spinners like Ashwin and Ravindra Jadeja.
"The unfortunate part is, batting against spinners is an art, and Australians are not used to playing good quality spin. Sweep could be an important part of your game plan but also the margin of error is very small," Vengsarkar told PTI.
"It is tough to have control over sweep, like the hook shot off pacers. Shockingly the foot work has been poor. The skill level is not there. I don't see a lot of them stepping out and driving.
"They want to reverse sweep these days. Sometimes you have to grind for runs, that aspect of batting you don't see that much. DRS has also made it tougher for the batters. They are given out lbw even with a full stride on. Everyone wants to play with the ball all the time (and not use the pad)," he said.
Among all the sweeps attempted, the worst of the lot came off Cummins who came in the middle with a premeditated mindset and went for a needless slog sweep off Jadeja on the very first ball he faced.