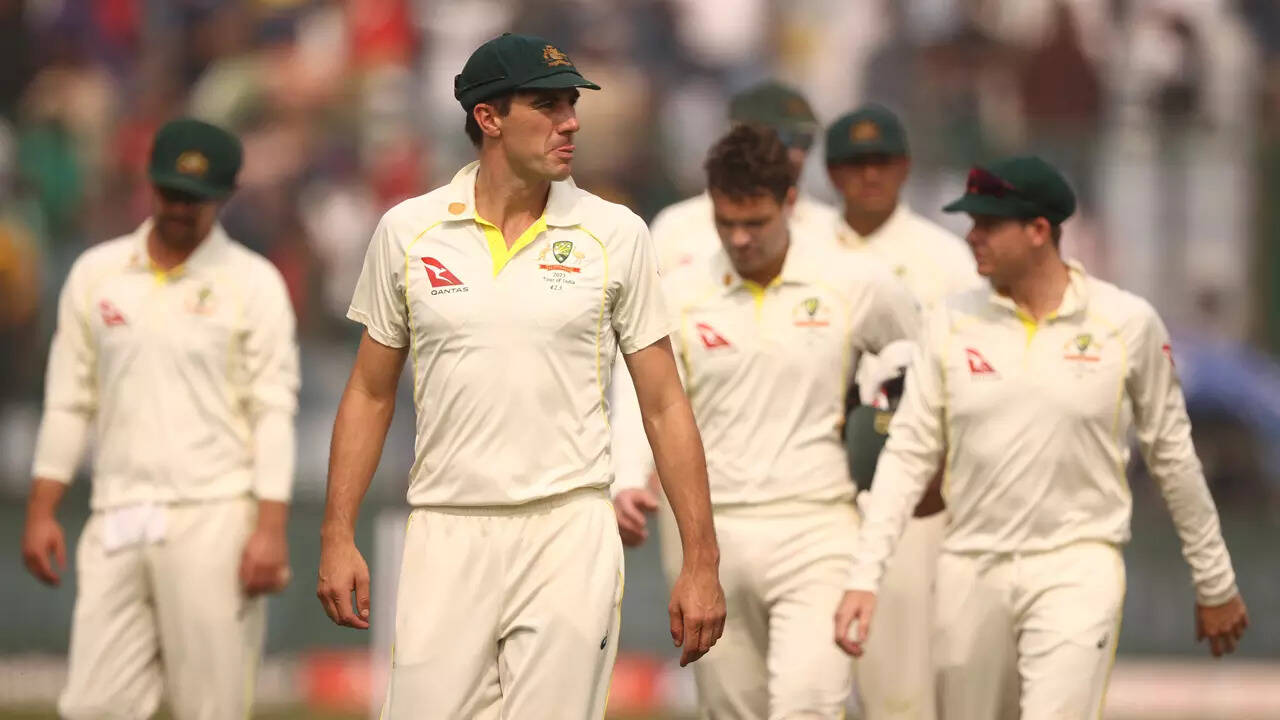 NEW DELHI: Shell-shocked, Australian legends
Allan Border
and
Matthew Hayden
have lambasted Pat Cummins and Co. for their second innings collapse in the Delhi Test against India, where
pre-determined sweep shots led to their downfall
.
Leading by 62 runs, Australia started the morning session of day three with a slight advantage.
However, the visitors were blown away by spin bowling in the first session. They lost six batters, including Steve Smith, Matthew Renshaw, Alex Carey, Pat Cummins and Matthew Kuhnemann, to sweep and reverse-sweep shots.
In 90 minutes, Australia went from 65/1 to 113 all out.
Former captain Border felt Australia panicked and none of the batters tried to defend.
"I'm disappointed, I'm shell-shocked, I'm angry about the way we went about our work today," Border said on Fox Cricket.
"It was panicky, frenetic batting. No one tried to get in there and stem the flow with some good defensive cricket. They were just getting out playing sweep shots, reverse sweeps to just about every ball.
"You just can't get away with that on this sort of track. You've got to have a method where you play within your limitations. You're not playing on a flat belter where you can expand your game.
"When playing on a difficult surface, you've got to work out where your scoring options are and bat some time at the crease."
1/11
Jadeja stars as India hammer Australia to take 2-0 Test series lead
Former opener Hayden couldn't believe what he was seeing.
"I can't believe what I've just witnessed … they're world class players, and they've got everything to win in this session, and everything to lose," Hayden said during commentary on Fox Cricket.
"They did it so well last (night) in those few overs, strong scoring rate, good defence, proactive batting, but what we've seen here is a disaster for Australia.
"It's a disaster because they've gone way over the edge in terms of their aggressive play."
Hayden was particularly furious over Cummins, who despite seeing wickets tumbling like ninepins went for a big sweep only to get out on the first ball. Hayden felt the skipper should have read the game better.
"You've got to think on your feet plus read the game.
"You've got about 13 people in that dugout that aren't playing the game, all having their say on it, and what they would have said knowing the trend of this venue is that first session is tricky – it's not like the last session of day two, where the conditions slide on, ball is hard, drier wicket."
"It's a little tacky this morning, so think! And then plan in the middle accordingly as a partnership," Hayden said.
Former batter Mike Hussey felt the current squad just blew the chance of keeping the series alive as India won the match by six wickets to retain the Border Gavaskar Trophy.
"They will be bitterly disappointed. Coming into today, they were in front of this Test match – nine wickets in hand with a 60 odd run lead," he said.
"Unfortunately they just gave it away … a lot of them gave their wickets away to the Indians.
"Yep they bowled well, but I feel as though they gave them their wickets."