The wind was up at the Kotla, blowing under the hazy sun when Steve Smith crunched Ravindra Jadeja through covers, in the seventh over of the day. Jadeja stood puzzled, puffing his cheeks. From mid-on, his partner in Australia ship-wreck Ashwin gestured something. Jadeja just kept nodding his head and altered his field, stationing a man in short cover. The moment captured the essence of their equation—they don't talk too often on the field, they are rarely spotted together, they are seldom seen cheering each other and they don't feature in each other's celebration reels either. The warmest of relations might not always express their feelings outwardly.
There's always been that competitive streak to them, too, but you cannot imagine Ashwin without Jadeja, or Jadeja without Ashwin. You feel the void, you miss the soulful duet they strum together. The pair cannot be unhyphenated, and it's high time they are bracketed among the finest bowling tag-teams in history, like Waqar Younis and Wasim Akram, James Anderson and Stuart Broad, Dennis Lillee and Jeff Thomson. Some of Ashwin's greatest spells have resulted in Jadeja cleaning up at the other end, and vice versa. Theirs is an organic bond that has seldom jarred.
For his magnificent all-round performance including a brilliant 7⃣-wicket haul, @imjadeja receives the Player of the Match award 🏆#TeamIndia win the second #INDvAUS Test by six wickets 👌🏻👌🏻

Scorecard ▶️ https://t.co/hQpFkyZGW8@mastercardindia pic.twitter.com/rFhCZZDZTg

— BCCI (@BCCI) February 19, 2023
In the 45 games that Ashwin has teamed up with Jadeja, he has grabbed 248 wickets in 86 innings, both his strike rate (50.5) and average (22.25) better than when he bowls in the company of others. So is it with Jadeja, 214 of his 259 wickets coming in the company of Ashwin, with considerably better average (20.33) and strike rate (51.9). In collusion, they have partnered to collect 462 wickets at an average of 21 in 45 Tests. "Massive help is an understatement. I'm so thankful for the fact that I've got a partner like him to be bowling alongside me," Ashwin had once said.
They are equally adept at producing solo acts, but they are the sweetest when they sing a duet. The unchanged shift of 19.1 overs on Sunday morning illustrated their binding bond, how they support and complement each other, how they provide, protect and preserve each other, how they set the stage for each other. Ashwin started from the Pavilion End, from where he could harness a crack that had begun to fall apart at the Stadium End, from where Jadeja bowled all his overs. In the second innings in Nagpur, Jadeja bowled from the end from where spinners haggled help, while Ashwin bowled from the other. Ironically, in both games the guy bowling from the unhelpful end bagged more wickets. It's sometimes how it works, one bowler piles up the pressure and the other benefits.
Here, Ashwin was the aggressor, removing Travis Head, who had torn Jadeja apart on Saturday evening, in the first over of the morning. He then consumed Steve Smith, thus inflicting thrustful blows, laying the path for Jadeja who had seemed rattled on Saturday, after Head's calculated assault. But Ashwin's strike allowed him to locate his riffs, to drum his deathly tunes. His first two overs were a struggle, striving to locate the perfect length. He was too full first; then a fraction too short. But from nowhere, he kicked into life. He made Renshaw top-edge a reverse sweep, and suddenly he reconquered his snap and bite. This was the ball that filled him with a sense of destiny—like batsman say how one good shot gives them belief.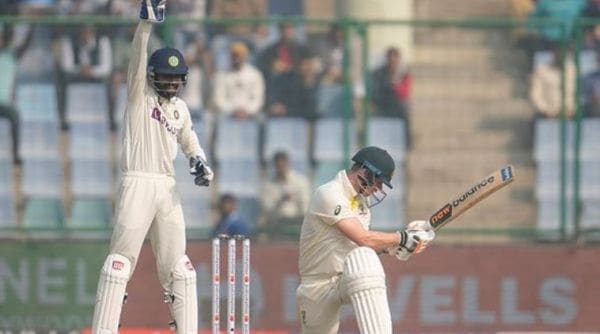 India's wicketkeeper Srikar Bharat, left, successfully appeals for LBW against Australia's Steve Smith during the third day of the second cricket test match between India and Australia in New Delhi, India, Sunday, Feb. 19, 2023. (AP Photo/Altaf Qadri)
The hitherto benign end from where he bowled seemed to explode. Two balls later, his slider, allied by low bounce, ricocheted off Marnus Labuschagne's bat, the toe end of it, onto the stumps. He punched the air in joy. Ashwin was not anywhere near him in frame, but you could see him spread a warm smile and rejoice. In the next over, Ashwin gobbled up Matthew Renshaw, deceiving him in length.
At that point, Ashwin had three wickets and Jadeja two. The distribution would soon change, as Jadeja collected the remaining five wickets to finish with his best figures in Test cricket. Ashwin would quietly settle into a support cast role, drawing the outlines for Jadeja to complete the portrait. It does not imply that Ashwin suddenly pounded defensive lines, but he sustained the strangle, intensified the pressure. On another day, it could have been Ashwin who would have held the ball aloft after his five-wicket haul. Both bowled aggressively, both bowled delightfully.
The soul of their understanding is that they consider themselves as equals—no one is more equal, no one is less equal, though they are fiercely individualistic cricketers. Though Jadeja established himself in the Test team several years after Ashwin had, there is no master-understudy strain in them. Of the pair, Ashwin is the mystique, with an endless oeuvre of skills, but still fuelled by his quest for perfection. Jadeja is more the craftsman. But this has always been a touch unfair on him, whose exhaustive search for self-improvement has also equipped him with an enviable array of tricks and tactics: a product of the constant tinkering, endless toiling and immense self-belief.
Ashwin strikes again as Steve Smith is given out LBW.

Australia 85/3 in the second innings.

Live – https://t.co/hQpFkyZGW8 #INDvAUS @mastercardindia pic.twitter.com/RBS9tN1QPt

— BCCI (@BCCI) February 19, 2023
Therein perhaps lies the secret of their continuous reinvention—a subconscious and non-toxic desire to out-perform the other, add more layers into the game, improve their batting, both competitors and collaborators. Stuart Broad had once said of James Anderson: "If he had retired, I too would long ago. It's he who keeps me going." A few years down the line, Jadeja and Ashwin could be churning out similar lines. Perhaps not, as they don't wear their mutual affection on their sleeves.
On the outside, they seem a study in contrasts. Ashwin is a spin alchemist, on a perennial experimenting streak. There are few variations he does not possess—maybe he cannot bowl left-arm spin. Jadeja's skillset and perceptions are different. He is something of a spin-bowling enforcer.
Ashwin is the boy-next-door type, who interviews players on his Youtube channels while he could also take you on intellectual trips. Jadeja is more flamboyant, horses, swords and car, seldom comes on Youtube or does interviews. But there are common streaks too, apart from still honing and perfecting an immaculate act. Both have a dry sense of humour, both could do sarcasm, both have had their value and relevance of art questioned, both have had to make countless comebacks. Both thus have more in common than imagined. Perhaps, it is a classical case of contrasts unlike poles of a magnet attracting each other, yin and yang, ac and dc.
Whatever be, it's working, as it had on numerous instances and as it did on Sunday morning. A pair of contrasts and similarities, and a pair of devastating skills. And one without the other cannot be imagined.