Seasoned campaigners captain Manoj Tiwary and Anustup Majumdar defied immense pressure and scored fighting half-centuries to keep Bengal afloat in the Ranji Trophy final at the Eden Gardens here on Saturday.
Resuming at 317 for five, Saurashtra gathered 87 runs in a little over two hours to aggregate 404, the maximum runs conceded by Bengal in an innings this season, and secure a 230-run lead.
Responding to the challenge, Bengal scored 169 for four in its second innings to trail by 61 runs at stumps on the third day.
Another bad start
Bengal had another disappointing start as opener Sumanta Gupta was again out to Chetan Sakariya before lunch in an uncannily similar fashion — caught at the second slip in the second over — to his first-innings dismissal.
In the less-testing second period, the visiting pacers bowled good lines to reduce Bengal to 47 for three. Abhimanyu Easwaran, who escaped a run-out attempt, was caught behind off Sakariya and Sudip Gharami was held at first slip off Jaydev Unadkat.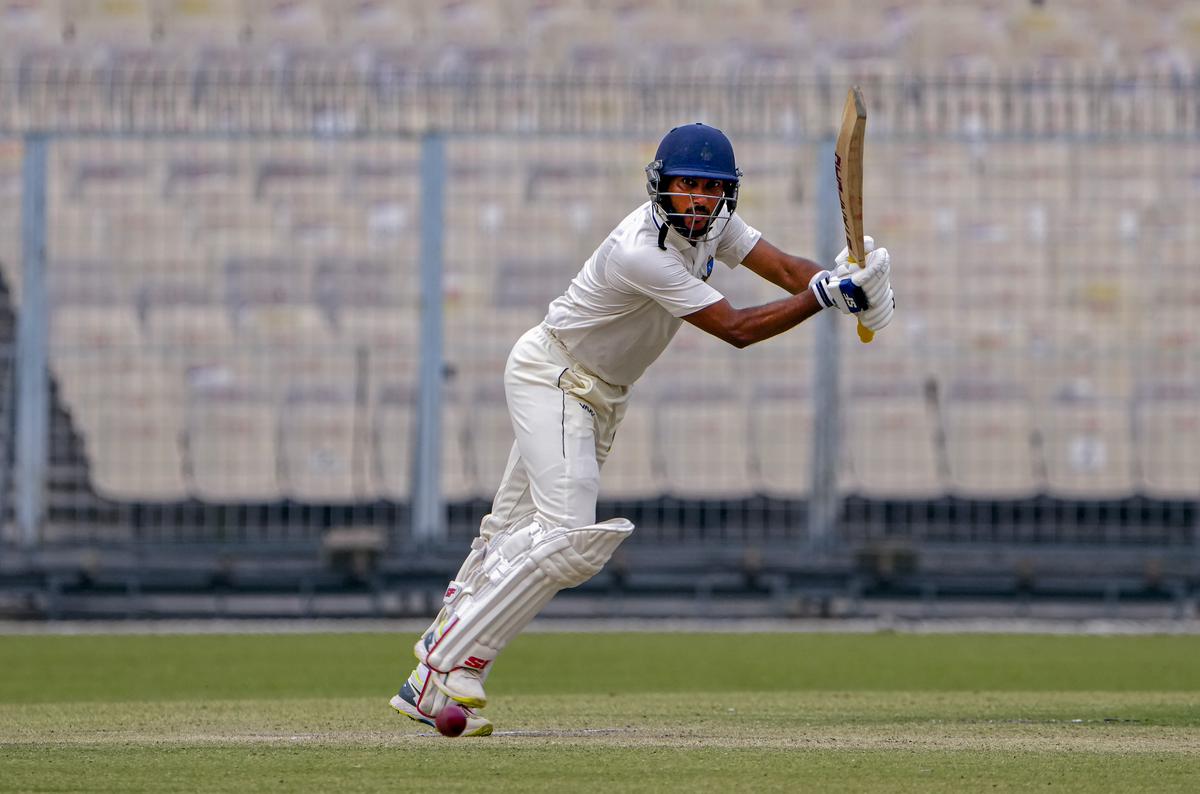 However, Majumdar and Tiwary refused to give up. Anustup worked the ball around, while Tiwary took 10 balls to score his first run. Even as they looked to spend time in the middle, Majumdar and Tiwary dispatched the loose deliveries to the boundary.
Majumdar (61, 101b, 8×4) shared a valuable 99-run partnership with Tiwary before playing Unadkat to gully. A determined Tiwary (57 n.o., 129b, 9×4) did not lose focus though. He stayed with Shahbaz Ahmed to fight another day.
Rare lapse
Earlier, Bengal began on an encouraging note with Mukesh Kumar scalping Arpit Vasavada, who, in a rare lapse, connected an away-going delivery to the 'keeper, in the first over.
Mukesh struck again, finding the other overnight batter Chirag Jani's outside edge and securing a four-wicket haul. Akash Deep produced two beauties to dismiss Unadkat and Prerak Mankad.
But, Saurashtra's last pair — Parth Bhut, who was dropped twice off Akash Deep, and Dharmendra Jadeja — frustrated the host by adding 35 runs.
Ishan Porel took Dharmendra as his third victim to end Saurashtra's innings.
The scores:
Bengal —1st innings: 174.
Saurashtra — 1st innings: Harvik Desai lbw b Mukesh 50, Jay Gohil b Akash Deep 6, Vishvaraj Jadeja c Abishek b Mukesh 25, Chetan Sakariya b Ishan 8, Sheldon Jackson c sub b Ishan 59, Arpit Vasavada c Abishek b Mukesh 81, Chirag Jani c Abishek b Mukesh 60, Prerak Mankad c Abishek b Akash Deep 33, Jaydev Unadkat c Abishek b Akash Deep 4, Parth Bhut (not out) 14, Dharmendra Jadeja c sub b Ishan 29; Extras (b-18, lb-9, nb-8): 35; Total (in 110 overs): 404.
Fall of wickets: 1-38, 2-73, 3-101, 4-109, 5-204, 6-318, 7-343, 8-358, 9-369.
Bengal bowling: Mukesh 37-9-111-4, Akash Deep 36-6-111-3, Ghatak 7-1-29-0, Ishan 21-3-86-3, Shahbaz 8-0-35-0, Tiwary 1-0-5-0.
Bengal — 2nd innings: Sumanta Gupta c Mankad b Sakariya 1, Abhimanyu Easwaran c Harvik b Sakariya 16, Sudip Gharami c Mankad b Unadkat 14, Anustup Majumdar c Vishvaraj b Unadkat 61, Manoj Tiwary (batting) 57, Shahbaz Ahmed (batting) 13; Extras (b-4, lb-2, nb-1): 7; Total (for four wkts. in 53 overs): 169.
Fall of wickets: 1-1, 2-22, 3-47, 4-146.
Saurashtra bowling: Unadkat 14-1-47-2, Sakariya 13-2-50-2, Jani 5-0-12-0, Dharmendra 8-2-21-0, Mankad 9-1-21-0, Bhut 4-0-12-0.