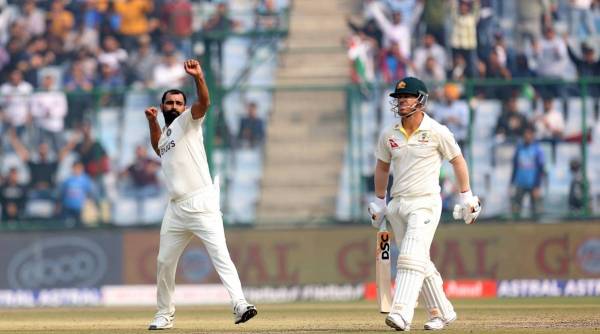 Indian bowler Mohd Shami reacts after taking the wicket of Australian batsman David Warner during the India-Australia 2nd Test match in New Delhi on Friday. (EXPRESS PHOTO BY PRAVEEN KHANNA )
Veteran India spinner Ravichandran Ashwin scripted another record as he became the second bowler to breach the 100-wicket mark in India vs Australia Tests. With his dismissal of Alex Carey in the 2nd Test against Australia in Delhi, Ashwin reached 100 wickets against the Aussies, only behind legendary spinner Anil Kumble who has 111 wickets. For Australia, their spinner Nathan Lyon is the only one who is close to the magic 100-wicket mark with 95 wickets in his kitty against India.
His spin twin, Ravindra Jadeja, meanwhile, got to his own personal milestone when he sent back Usman Khawaja and scalped his 250th Test wicket. With this, Jadeja went past the likes of Kapil Dev, Richard Hadlee and Shaun Pollock.
Meanwhile, India will start Day 2 of the second Test with renewed vigour with skipper Rohit Sharma and under-fire KL Rahul looking to give the hosts a solid foundation to build on against a very game Australian side.
Read more India vs Australia stories from Day 1 below:
IND vs AUS: In your craft, you should know what you are doing, how you are doing it, says Mohammed Shami
Australia's inverted V: Score 128 of 263 runs 'behind and square' of wickets
IND vs AUS: Khawaja mere Khawaja rings around Kotla
IND vs AUS: David Warner unwell after blows to body, might get replaced by Matthew Renshaw in 2nd innings
Watch: KL Rahul's one-handed stunner to dismiss Usman Khawaja
In IND vs AUS 2nd Test, Mohammed Shami comes to rescue of fan who jumped over barricades