When 302 runs are scored in a day's play — notably 144 in the post-tea session — the playing surface ceases to be part of any discussion on sub-standard pitches.
Taking the cue from the way Axar Patel and R. Ashwin lifted India from 139 for seven with a 114-run stand to keep India alive in the contest and Travis Head produced some blistering strokeplay, the more accomplished batters in both camps could go beyond the pitch-talk and bat better in the second innings.
Better batting is key
As things stand following two days of intense battle in the second Test, Australia stood a run ahead of India in the first innings and then raced away to 61 for the loss of Usman Khawaja's wicket. With three days to go, Australia leads by 62 runs with nine wickets in hand.
With an evenly-fought first innings out of the way, the match is set to be decided on superior batting performance in the second innings. At one stage, Australia looked well in sight of a 100+ lead but the counter-attack launched by Axar and Ashwin turned the script on its head.
Axar dominated this left-right hammering of the Aussies. The left-hander hit three sixes and nine fours to Ashwin's five boundaries after only 11 fours and a six were hit before they joined hands.
However, the new ball brought a sudden end to the Indian innings. Just on the threshold of pulling India ahead, both fell to spectacular catches. Matt Renshaw latched on to Ashwin's glance before Cummins plucked a firmly-hit stroke at mid-on to end Axar's innings.
Concussion sub
On Saturday morning, after Matt Renshaw came in as a concussion substitute for David Warner for the remainder of the Test, Nathan Lyon (five for 67) busted India's top-order with a four-wicket haul spread over 22 deliveries to pull down the home team from 46 for no loss to 66 for four.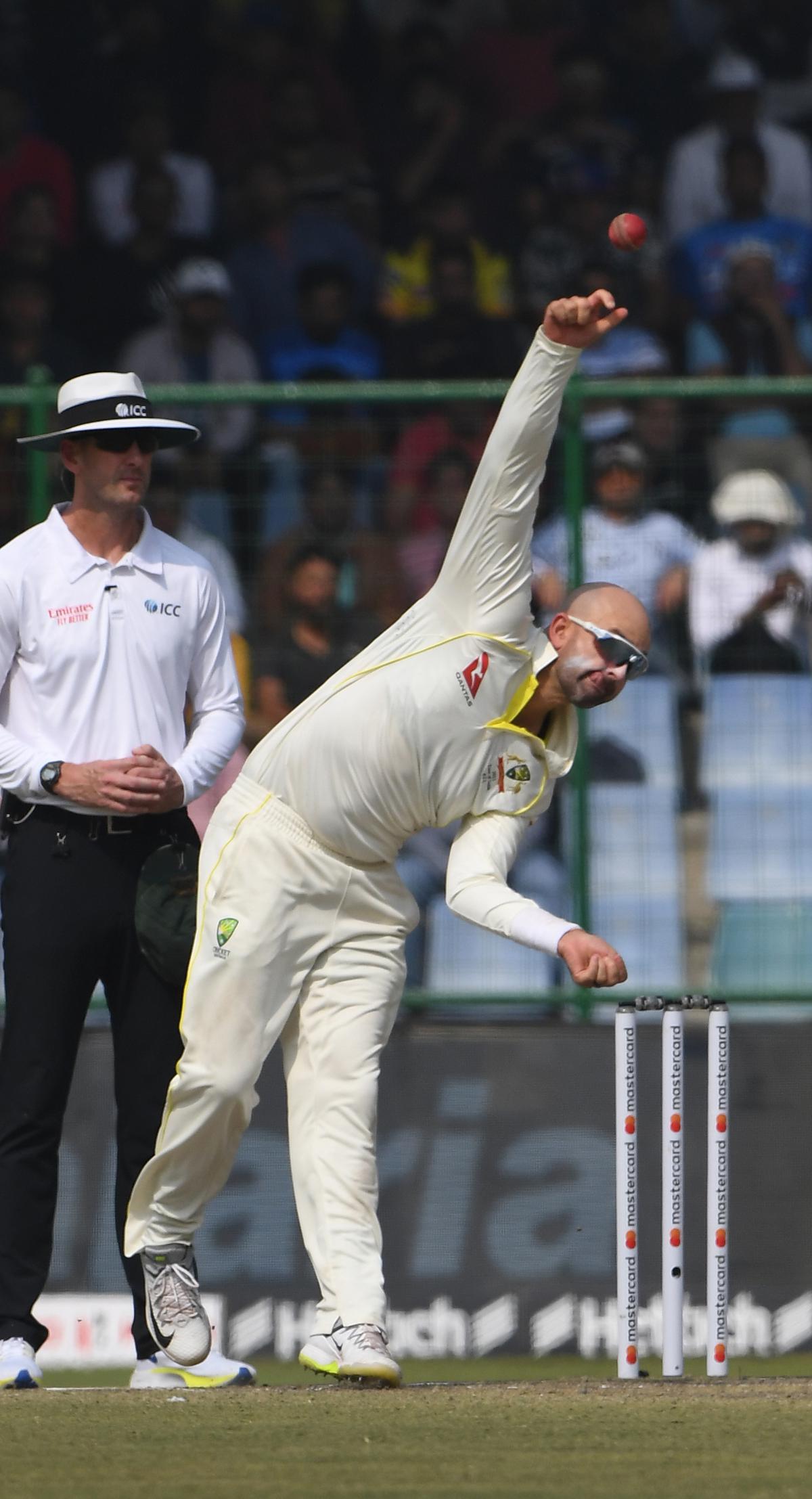 Following a sensational 22-ball phase, Lyon had flattering figures of four for 12 and joined James Anderson and Mutthiah Muralidharan as bowlers with 100 Test wickets against India. A struggling Rahul was leg-before playing defensively forward. Rohit played back and lost his middle-stump. Pujara's charmed stay of seven deliveries ended after a review confirmed the ball had struck the pad first. Shreyas Iyer's firm flick went to short-leg where it struck Peter Handscomb's left-wrist, midriff, rebounded off the forearm to his right before ending up in an unfortunate dismissal.
Repair job
The repair job began with a 59-run fifth-wicket stand, involving Virat Kohli and Jadeja, but ended by triggering off a mini-collapse. The ball beat the defensive bat of Jadeja to catch him leg-before. Soon, a long-reviewed decision went with the "umpire's call" to send back Kohli.
Lyon got his fifth when S. Bharat's sweep saw the ball balloon off the glove for a simple catch for Steve Smith, behind the wicketkeeper.
Thereafter, for almost 30 overs, the Axar-Ashwin show kept Australia at bay.