Saurashtra's trusted middle-order trio, Sheldon Jackson, Arpit Vasavada and Chirag Jani, and opener Harvik Desai struck magnificent half-centuries to put the visitors in command against Bengal in the Ranji Trophy final at the Eden Gardens here on Friday.
Resuming at 81 for two, Saurashtra seemed to be more at home at the Eden than Bengal to score 317 for five in the first innings and secure a substantial 143-run lead on the second day.
Overnight batters Harvik and Chetan Sakariya carried on resolutely even as the Bengal pacers found good areas to get some purchase. Harvik (50, 79b, 8×4, 1×6) got his fifty before being trapped in front by Mukesh Kumar.
Nightwatchman Sakariya hung on despite receiving several blows and saw off the crucial first hour. Ishan Porel bowled a special delivery to get rid of the left-hander.
Jackson (59, 105b, 10×4) had scored a hundred and Vasavada (81 n.o., 155b, 11×4) a double hundred in the semifinals against Karnataka. When Saurashtra needed their services again, the experienced duo rose to the occasion to add 95 important runs.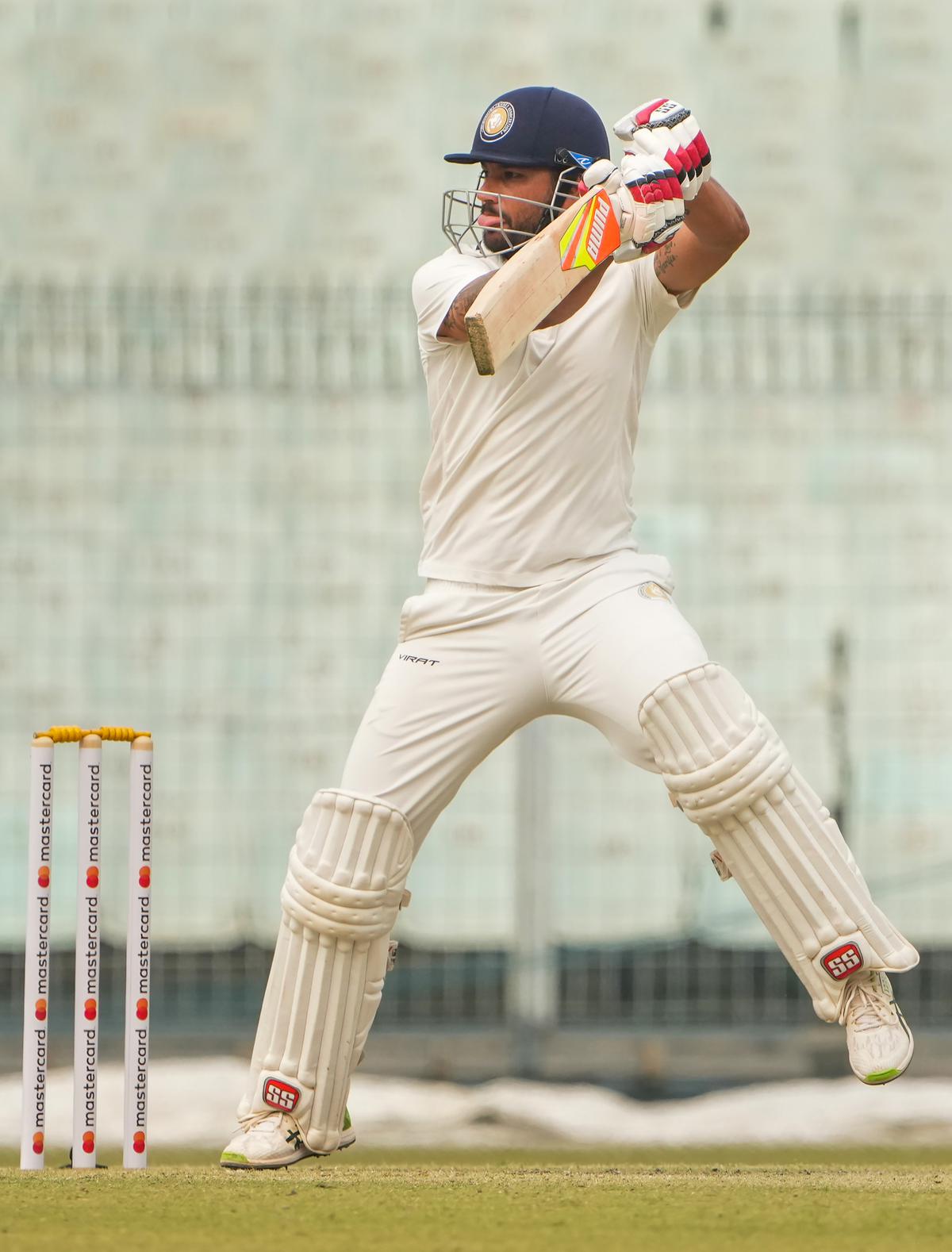 Jackson and Vasavada employed solid defence, left the good deliveries to the 'keeper and punished the loose ones to exhibit their game awareness despite a low scoring rate in the opening session. As the conditions improved, the two took their team past Bengal's first innings aggregate of 174. Jackson, who played some lovely drives on the offside, scored his half-century before pulling Ishan Porel to deep square-leg.
The left-handed Vasavada, who primarily cut and drove on the offside, concentrated hard to join hands with Jani (57 n.o., 100b, 10×4) to put Saurashtra in a position of strength.
While Jani — who was dropped on 25 by Shahbaz Ahmed at deep fine-leg while hooking Mukesh — middled the ball and found the gaps, driving straight and flicking off his legs.
The Vasavada-Jani combination formed an unbroken 113-run partnership as Saurashtra inflated its lead to three figures.
Jani deservedly reached his half-century and got a round of applause from the spectators in the final session, which started 20 minutes late due to bad light owing to overcast conditions.
The pressure of losing ground reflected in the drained Bengal bowlers' wobbling performance. Sloppy fielding, 31 extras and imprudent use of DRS added to the host's woes.
The scores:
Bengal — 1st innings: 174.
Saurashtra — 1st innings: Harvik Desai lbw b Mukesh 50, Jay Gohil b Akash Deep 6, Vishvaraj Jadeja c Abishek b Mukesh 25, Chetan Sakariya b Ishan 8, Sheldon Jackson c sub b Ishan 59, Arpit Vasavada (batting) 81, Chirag Jani (batting) 57; Extras (b-18, lb-5, nb-8): 31; Total (for five wkts. in 87 overs): 317.
Fall of wickets: 1-38, 2-73, 3-101, 4-109, 5-204.
Bengal bowling: Mukesh 27-5-83-2, Akash Deep 27-5-78-1, Ghatak 7-1-29-0, Ishan 18-2-72-2, Shahbaz 7-0-27-0, Tiwary 1-0-5-0.