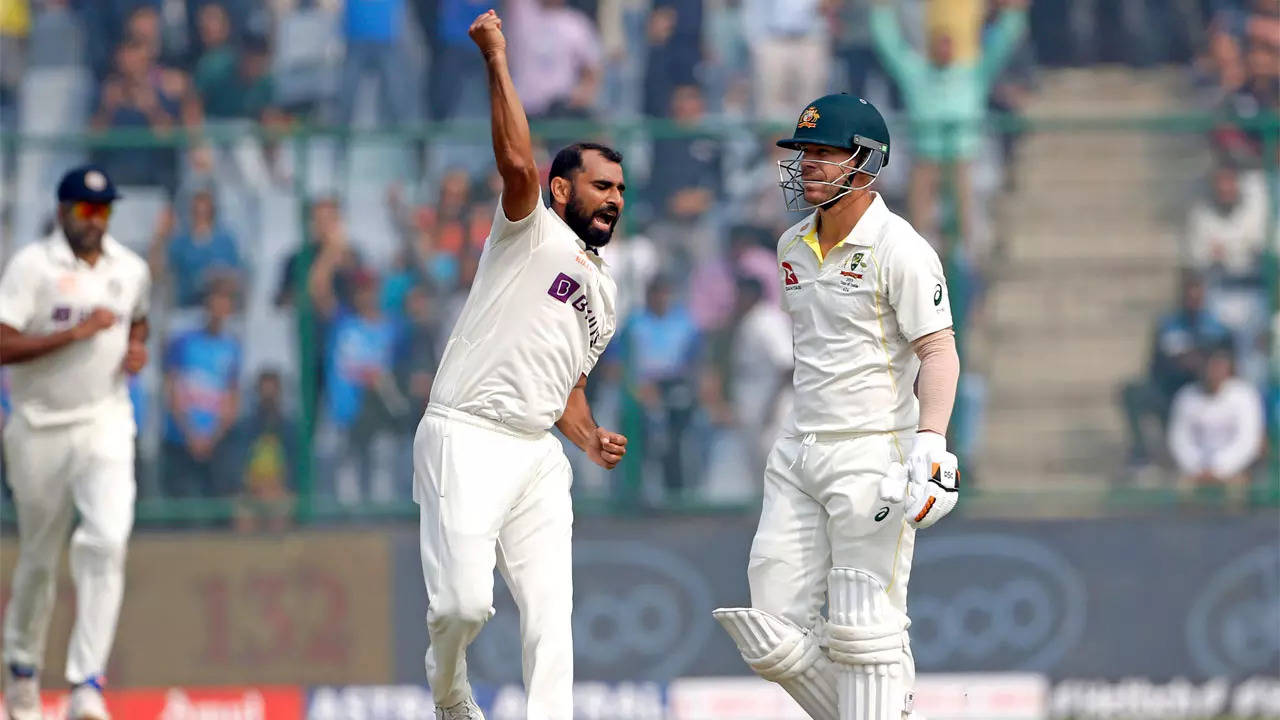 NEW DELHI: Spinners
Ravindra Jadeja
and
R Ashwin
shared six wickets between them but pacer Mohammed Shami's four-for was the highlight on Day 1 of the second Test in the national capital as India bowled out Australia for 263.
Shami, who relentlessly targetted the good length area at the start of the innings got rid of Aussie opener
David Warner
. He then dismissed middle-order batter Travis Head before cleaning up the tail with reverse swinging deliveries.
At the close of play, Shami pointed out that the Indian conditions — which are expected to be dominated by the spinners — offer enough help to the pacers as well, provided they bowl in right areas.
"There is not a lot of difference you see with wickets in India. If you can get help with the new ball and can get the old ball to reverse… As a fast bowler, the main thing in Indian conditions is the area you bowl in and you have to maintain pace all along.
"The pitch here is not much different from Nagpur though runs were coming for Australia (in the morning session). But I tried to bowl in the right areas," said Shami in a media interaction.
The likes of Shami and Mohammad Siraj have been equally lethal in home conditions. The 32-year-old from Amroha put the pacers' success in India down to their toil in domestic cricket.
"We all have come from domestic cricket. All the fast bowlers have done well and they know how to exploit the home conditions. It won't be right to say the Indian conditions are more suited to spinners or pacers.
"Even recently in domestic cricket, pacers have done well. Focus should be on line and length and maintaining pace. With that you can succeed in all conditions. Even on Indian wickets there is enough. Kuch nai toh reverse milega (if not anything else, you will get reverse swing)," he said with a hearty laugh.
Asked how the pitch is behaving from both ends, he said: "There is not a lot of difference. Indian wickets are on the slower side side but there is still enough for the pacers."
The pacers, especially Siraj, used the short ball on day one. Shami said it doesn't always have to be a lively wicket for the bowlers to use the bouncers.
"We have been told since the early days that Indian pitches don't help the pacers. But short ball is always a good weapon in India. If it beats the batter it is good, and if the player has to play at it, it's even better, with the short leg on," said Shami.
He also highlighted the importance of pairings in fast bowling. With Jasprit Bumrah out of action due to injury, Shami has forged a potent partnership with Siraj.
"Comparison is not fair, bowlers come and go. We will also go. Bowling in pairs is very important. We have seen its benefits in Indian cricket over the past six-seven years. We enjoy each other's success and that is the main reason for the collective performance."
How much would India like to post in response to Australia's 263?
"The opponent has only one fast bowler. We just need to be careful with bounce and turn. If we can get a small lead it will be very good for us," he said.
(With inputs from PTI)