India vs Australia: For someone who likes pineapple on pizza, Marnus Labuschagne sure comes across as a highly articulate individual. Hush now. There's no debate on the matter. A certainty that those who do prefer fruit over the Italian delicacy are outnumbered by those who don't.
In his latest newsletter, titled 'an update from India', the world number one Test batter makes it clear, 'I love being the underdog' and that he's 'optimistic of a strong fightback' from the Australian team in a Test match starting Friday.
Underdog's the tag those who shrug their shoulders at hearing 'world number one Test batter' for Marnus Labuschagne would've given him. 'So what he's scored 3150 runs across in 33 Tests, he's yet to face India at home', they'd go. But even they in the aftermath of Nagpur would agree, the number three was, alongside Steve Smith, Australia's best in a lost cause.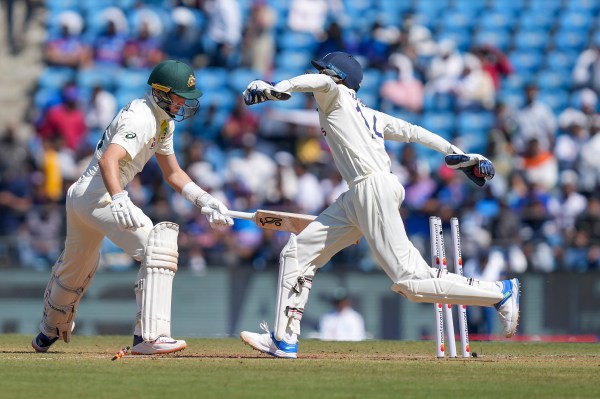 India's Srikar Bharat stumps out Australian batter Marnus Labuschagne during the 1st test cricket match between India and Australia, at Vidharba Cricket Association Stadium in Nagpur, Thursday, Feb. 9, 2023. (PTI Photo/Vijay Verma)
"Playing in India is so different to anywhere else and it is always a great challenge for any team that comes here. The conditions are unique, and the Indian bowlers are very skilful at getting the best out of these conditions," Labuschagne conceded in his public diary. "When I reflect on the first test, I felt like I was seeing the ball well and making good decisions."
What of his duel with Ravindra Jadeja across his first two innings in India? The player of the match in Nagpur had got the better of him in both the innings. Enticing him with a slower one that turned away in the first and trapping him plumb on the back foot with a one that turned from the middle and leg line.
"In the first innings, it seemed as though Jadeja in particular was getting about one in every six to turn, with the rest sliding on," Labuschagne noted, quickly adding a comparison. "In the second innings, it felt like every second delivery was spinning sharply followed by one that slid on."
For 122 deliveries of his innings however, Labuschagne survived Jadeja's and the rest of Indian barrage thrown at him. Axar and Jadeja deployed from the two ends in the first session tested Smith and his apprentice, given the different stock and odd deliveries of the two left-armers. For most of his innings, Labuschagne resisted the temptation of lunging, striding too far down the wicket before eventually giving away his wicket while doing so.
Axar (left) and Jadeja (right) from the two ends. Here's their stock ball (red) and odd one (blue) trajectories🔁. Given the speed at which they round up overs, it's a quick test of adjustment for the two right handers.

Illustration: Suvajit Dey@IExpressSports #INDvsAUS pic.twitter.com/O1D7rk28oY

— Rahul Pandey (@sportstoryguy) February 9, 2023
Given how much he'd invested in his wicket since his debut in 2019, the dismissals would've hurt. Especially after he teethed himself up to resources to counter spin in the subcontinent a year ago ahead of the tour to Pakistan.
"We train for this – if you look back to the mat I was working on back in early 2022, this training was focused on replicating a combination of deliveries that slide on and spin."
At his home balcony in Brisbane, the 28-year-old had set up a rubber mat laden with pieces of taped aluminium and metal sheeting to try to emulate the bounce and turn of subcontinental wickets.
"I tried to create a wicket and a ball that nipped around a lot but didn't bounce," Labuschagne had revealed then. "Because one of the big factors when you go to England is it (the ball) nips and swings and it seams, but the ball sort of hits the stumps from a shorter length."
"So [it's] a little bit of a similar thing going to Pakistan. I thought, 'Well, what's the best way I can recreate spin?' … you can't really predict what it's doing so you have to come up with a plan and a method."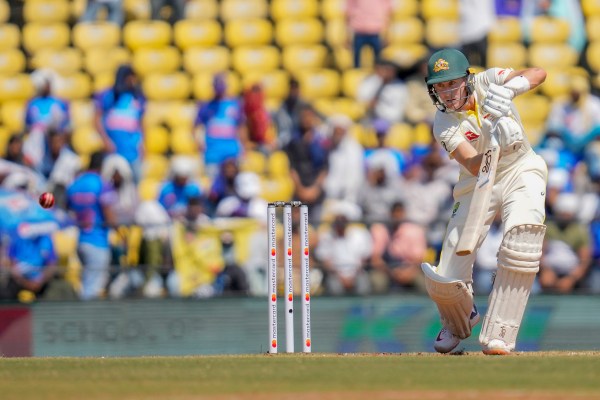 Australia's Marnus Labuschagne plays a shot during the third day of the first cricket test match between India and Australia in Nagpur, India, Saturday, Feb. 11, 2023. (AP Photo/Rafiq Maqbool)
While it didn't so much so help him avert his batting average dwindle down to 34 in Pakistan, in the subsequent tour of Sri Lanka in summer 2022, Labuschagne did manage to score his first hundred in the subcontinent. But as he puts it, against a quality Indian spin troika that knows how to juice the maximum help out of the surface at foot, the challenge remains 'different to anywhere else'.
Not so much about eyes
Even for someone who spends hours working at his batting and then a few more, talking about it, Labuschagne doesn't hesitate to break one of the biggest myths around professional batters.
"There is so little time between when the ball leaves the bowler's hand and hits the bat that you are working off a lot of instinct, rather than actively making decisions," he writes. Instinct. A word those who quantify the numbers friendly game of cricket roll their eyes over.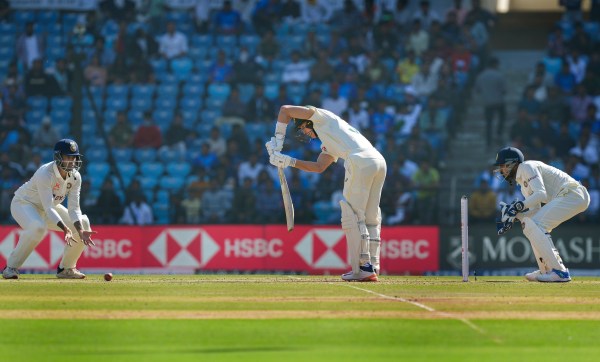 Australian batsman Marnus Labuschagne plays a shot during the 1st test cricket match between India and Australia, at Vidharba Cricket Association Stadium in Nagpur, Thursday, Feb. 9, 2023. (PTI Photo/Vijay Verma)
On being asked what he looks at on the laptops in the dressing room, Marnus explains, "Often when you get dismissed, it's because of a decision-making error. After I've gotten out, I'll often look at the balls that led up to my dismissal."
"I'm trying to work out what happened to cause me to make that split-second decision and where I might have been deceived or decided to trust the wicket too much. Especially at the start of the series when I have a lot more batting to do, this information shapes the next few days of training, essentially trying to override the muscle memory and form new instinctual patterns to then be better prepared for the conditions."
Instinctual. All those shadow batting plus real batting sessions amount to the aforementioned instinctive batting in matches that happens more often than not. More so against bowlers such as Jadeja, who a) bowl and round up their overs quickly and b) give very little of their arm/finger position during the release for the batter to comprehend their next move.
One has to revisit the foodie within Labuschagne. His Indian answer to a lunch snack before going out to bat in the next session is 'just a piece of naan bread'. "But if we're fielding, I'll absolutely sit down and have a big meal," he clears. Whether you watch him eat a naan or two, the shoulder shruggers cannot yet count out the underdog.