An allowance of a mere one rupee, 25 paise was all it took to give birth to one of India's all-time great footballers.
It was a world that was far removed from the multi-million dollar pay cheques splashed these days but for Tulsidas Balaram, that small sum was no less life-changing. For, it allowed the then 18-year-old to hire a bicycle and travel from Secunderabad to Hyderabad, where he appeared for the selection trials for the state's Santosh Trophy team in what turned out to be the first step of his storied career.
From those humble beginnings, the man who became arguably the greatest Indian forward of all time died on Thursday aged 86 in Kolkata after a prolonged illness.
Compared to many players from his generation as well as the ones that have followed, Balaram's stats may not look flattering. Since making his debut for India in 1956, he made just 36 international appearances and scored 10 goals. But numbers do not do justice to his abilities, which, according to those who have seen him, were otherworldly.
Thousands would cram the stands to watch the 'holy trinity' of Indian football – PK Banerjee, Chuni Goswami and Balaram – in action. Balaram would tear apart opponents with his pacy runs and split open the defences with his ball control and distribution. But more than anything, they'd flock to watch him score important goals.
It was the reason he went on to become the first-choice player for any side he played for: the national team, where he was the fulcrum during the golden period when India finished fourth at the Melbourne Olympics, won the gold medal at the 1962 Asian Games and reached the final of the Merdeka tournament in 1959; or his first club, the City College Old Boys in Hyderabad; or East Bengal, where he attained a cult status.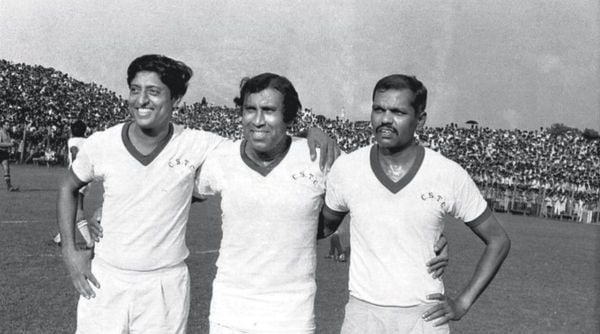 Chuni Goswami, PK Banerjee and Tulsidas Balaram, Indian football's fabled troika. (Twitter)
As the late Novy Kapadia, the Indian football historian, reminisced, 'as a token of gratitude, some (East Bengal) fans would take turns to accompany him when he went for the national camps and wash his clothes and run daily errands for him.'
It wasn't as if he was always destined for these things.
Humble beginnings
Born in Ammuguda, a small village in Secunderabad, Balaram came from a humble background and his family struggled for two proper meals a day. Football – which was a staple for people in these parts back then – became his refuge. Balaram began by playing for his village team, even if it meant going against the wishes of his family, who wanted him to focus on education instead.
Nothing exemplifies his early struggles more than how he got his first pair of boots. The story goes something like this: a teenaged Balaram walked up to a cobbler, who said he'd carve out a pair from old army or police boots. Balaram then found a traffic police officer and hounded him for his old boots. "He kept abusing and shooing me away but eventually gave me a torn pair of boots after seeing my perseverance," he once recalled.
His struggle didn't end there. He took the boots to the cobbler, who asked for Rs 2 to turn them into football shoes. So, he went up to his mother and told her that he needed money to buy textbooks. "She didn't hesitate," Balaram said. His mother borrowed a couple of bucks, which Balaram used to get his first pair of shoes.
It was while playing in one of the local tournaments that the legendary SA Rahim encountered him. An astute coach with an unerring eye for talent, Rahim was quick to notice Balaram's potential and invited the then 18-year-old to take part in the selection trials for the Santosh Trophy, which was to be held in Ernakulam.
Balaram was hesitant, fearing he won't be able to cover the costs that would be incurred to travel. Rahim sensed his predicament and gave him one rupee and 25 paise daily so that he could rent a bicycle and attend the trials. The rest, as they say, is history.
A couple of years later, he made his India debut – with Rahim as coach – against Yugoslavia at the Melbourne Olympics in 1956. But his finest hour in India colours came against a star-studded Hungary at the Rome Olympics four years later. Hungary were at the time one of the most-feared European sides (they'd go on to make the quarterfinals of the 1962 World Cup) but Balaram reportedly made the team's defence look pedestrian with his speed and abilities on the ball. He also scored off an assist from Goswami but India narrowly lost the match 2-1.
The moment of crowning glory came at the Jakarta Asian Games, where Balaram played in every match and scored two goals as India won the gold medal – the only time the country has finished on top of the podium at the Asiad.
The following year, he was diagnosed with pleurisy, a condition where the thin layer of tissues that separate the lungs and chest cavity get inflamed. It caused sharp chest pain and made it difficult for him to breathe, especially while running and for someone whose game depended on speed, playing football became a life risk.
After his playing days were done, Balaram continued to stay in Kolkata and became a recluse, unhappy with the way he was treated by the football authorities who undermined him as a national selector and never pushed his case for the Padma Shri award, which Goswami and Banerjee were both bestowed with.
The coveted trophy might have eluded him but for his peers, there was never a doubt that Balaram was among the finest Indian players ever to grace the game.