Southpaws Shahbaz Ahmed and Abishek Porel, with brilliant half-centuries in a seventh-wicket 100-run partnership, saved Bengal the blushes following a disastrous start on the opening day of the Ranji Trophy final against Saurashtra at the Eden Gardens here on Thursday.
Saurashtra captain Jaydev Unadkat elected to bowl and made life difficult for the batters on a greenish surface. Unadkat and company bundled Bengal out for 174 in the first innings and posted 81 for two.
Striking in tandem
Left-arm pacers Unadkat and Chetan Sakariya operated in tandem to wreak havoc. They hit the right line and length and extracted impressive bounce and movement to remove five batters in a little over an hour.
Unadkat drew first blood in the opening over as Abhimanyu Easwaran was caught at forward short-leg for a duck. Sakariya landed a double blow in the second over. Thirty-two-year-old debutant Sumanta Gupta was caught at second slip and Sudip Gharami was bowled shouldering arms.
Skipper Manoj Tiwary stretched out against Unadkat to be held at gully and Anustup Majumdar edged Chirag Jani behind. Akash Ghatak became Sakariya's third victim as Bengal tottered at 65 for six.
The experienced Shahbaz (69, 112b, 11×4) and the young Abishek (50, 98b, 8×4) then batted with determination, playing each delivery on merit.
With the pitch easing out, the duo gathered runs at a faster pace in the middle session — during which they reached their fifties and completed a superb 101-run stand.
Confident strokeplay
The two played some confident shots to the ropes. While Shahbaz primarily relied on cuts and flicks, Abishek chose drives and cuts. They also rotated the strike amidst encouraging support from the nearly 3,000 partisan spectators.
The defiant stand ended with spinner Dharmendra Jadeja having Shahbaz, who had a reprieve as a catch off Prerak Mankad was disallowed prior to lunch, caught at short-leg at the stroke of tea.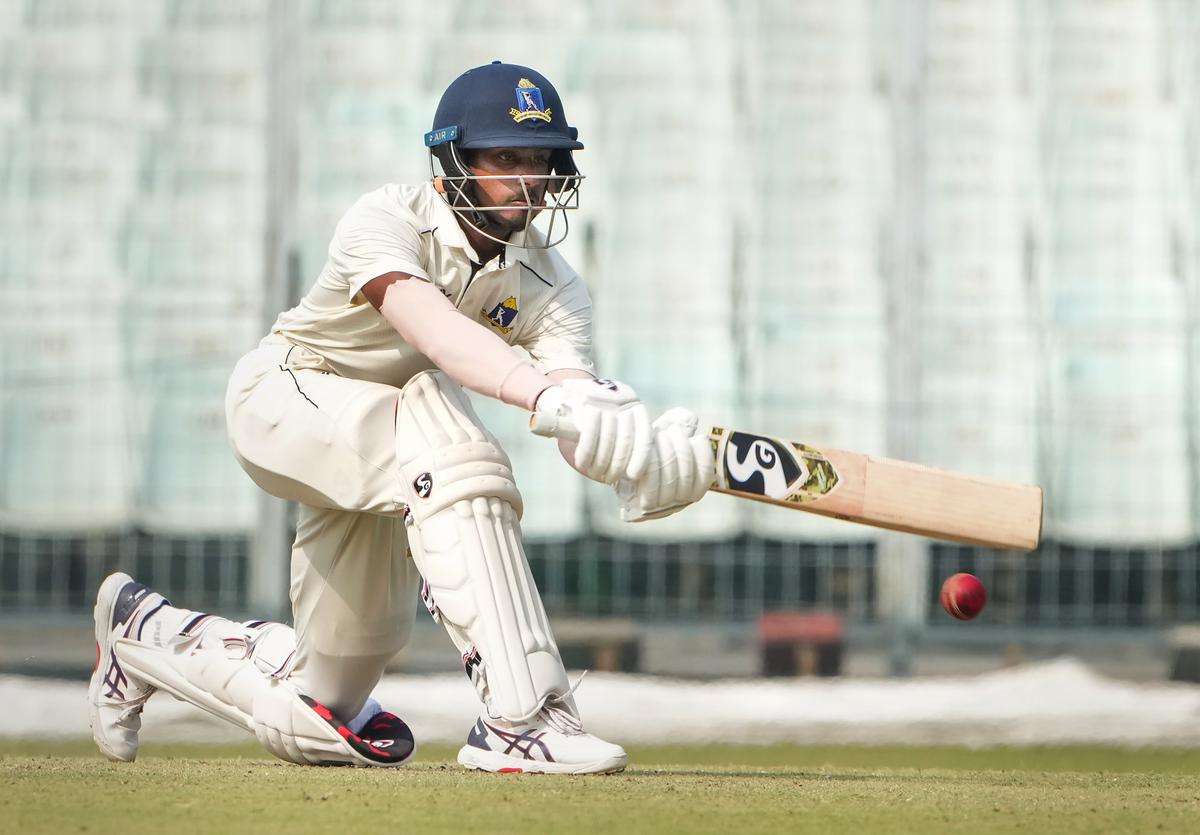 At 42, Abishek resorted to the DRS to survive an lbw decision and get his second consecutive half-century. He departed soon, playing Jani to first slip.
Dharmendra and Unadkat, who secured three wickets to claim 300 Ranji wickets, closed the Bengal innings early in the final session.
Saurashtra had a flying start as Harvik Desai hammered the wayward Bengal pacers. Akash Deep and Mukesh Kumar got a wicket apiece to limit the damage.
The scores:
Bengal — 1st innings: Sumanta Gupta c Jackson b Sakariya 1, Abhimanyu Easwaran c Gohil b Unadkat 0, Sudip Gharami b Sakariya 0, Anustup Majumdar c Desai b Jani 16, Manoj Tiwary c Vishvaraj b Unadkat 7, Akash Ghatak c Unadkat b Sakariya 17, Shahbaz Ahmed c Vishvaraj b Dharmendra 69, Abishek Porel c Mankad b Jani 50, Akash Deep c Unadkat b Dharmendra 4, Mukesh Kumar c&b Unadkat 1, Ishan Porel (not out) 0; Extras (lb-7, nb-2): 9; Total (in 54.1 overs): 174.
Fall of wickets: 1-1, 2-1, 3-2, 4-17, 5-34, 6-65, 7-166, 8-172, 9-174.
Saurashtra bowling: Unadkat 13.1-3-44-3, Sakariya 13-4-33-3, Jani 11-2-33-2, Mankad 11-4-38-0, Dharmendra 6-1-19-2.
Saurashtra — 1st innings: Harvik Desai (batting) 38, Jay Gohil b Deep 6, Vishvaraj Jadeja c Abishek b Mukesh 25, Chetan Sakariya (batting) 2; Extras (b-5, lb-1, nb-4): 10; Total (for two wkts. in 17 overs): 81.
Fall of wickets: 1-38, 2-73.
Bengal bowling: Mukesh 6-1-23-1, Deep 8-1-28-1, Ghatak 1-0-10-0, Ishan 1-0-12-0, Shahbaz 1-0-2-0.
Toss: Bengal.