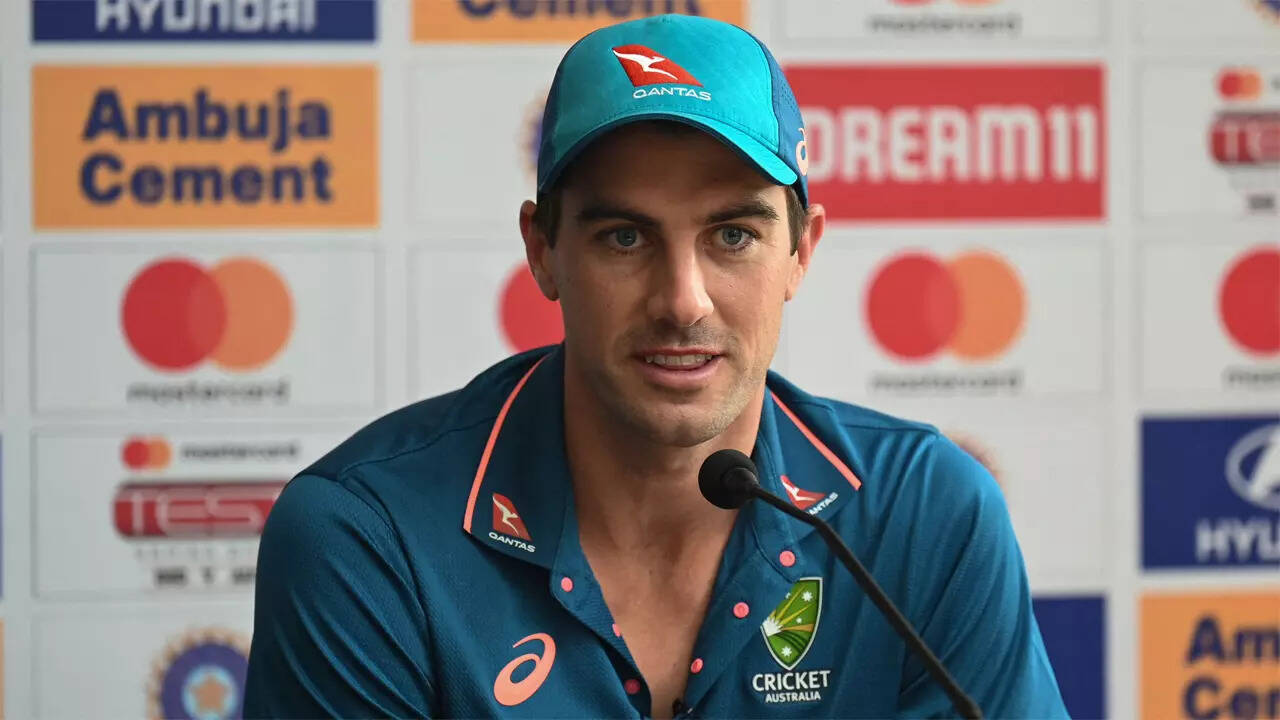 NEW DELHI: Spinner Todd Murphy might have taken seven wickets on debut in the first Test against India but Australian skipper Pat Cummins revealed why his spinners do not enjoy the same success as compared to Indian counterparts.
Australia's main spinner Nathan Lyon had a mediocre outing in the first Test and Cummins opined that the low bounce on Indian tracks has been the reason behind the ineffectiveness as they are used to bowling on bouncy Australian pitches.
Whereas
Ravichandran Ashwin
and
Ravindra Jadeja
ran riot with their spin bowling to help India win the Nagpur Test by an innings and 132 runs.
Cummins said that his spin unit is still adjusting to the changes.
"It's an adjustment. Even the last game we saw a lot of around the wicket bowling, whereas in Australia it's mainly over-the-wicket bowling. The close catchers don't feel like the ball is going to pop up as much when there isn't much bounce. It is bit of an adjustment," Cummins said on the eve of the second Test here.
"Using side-spinners, just changing up your angles a bit more. All those things come into a bit more. I think the bowlers did a really good job, both spinners (in the) last game (in Nagpur). It's a bit of an adjustment but in some ways it doesn't get any better."
Tracks in western India are predominantly made with red soil, while up north it is black soil. While the colour of the soil had changed, Cummins feels the nature of the pitch will not change a lot.
"Not too sure, really. It's different soil here (Delhi), the black soil, but it looks pretty similar. I think it's going to spin. That's our expectation and the wicket matches that. We will see," the skipper said.
Ashton Agar or Matt Kuhnemann
The skipper said that both rookie left-arm spinner Matt Kuhnemann and the tried and tested Ashton Agar were an option for the second Test.
"We are open to both (Kuhnemann and Agar) options. Both, we are really confident will do a fantastic job out there. They both had long sessions the last couple of days and looked awesome. If we wanted a third spinner variety we'd be comfortable with either of those two."
Cummins wants Warner to counter-attack
The best version of David Warner is when he counter attacks and Cummins wants the talismanic opener to employ that approach in the upcoming Test, if he gets a chance.
So, will Warner be in the scheme of things for the second Test?
"I'm not a selector. I don't think they've had a meeting but I'm sure Davey (Warner) will be there. You saw this year at the Boxing Day Test when he puts pressure back on the opposition he's pretty hard to bowl to. I'm sure that'd be part of his plan," said Cummins.
"He has been batting really well here. Even in the lead up, I thought he was fantastic. I know there's a lot of talk about spin bowling through the middle but with that new ball, it's sometimes the hardest time to bat as well," said Cummins, sounding confident.
Two-pacer theory has worked well
Mitchell Starc has been recovering well from a finger injury and he will be in the scheme of things if Australia go with two fast bowlers in the playing XI.
"I think there's a conversation. We will work that out by the end of today. He (Starc) is one of the world's premier bowlers in these type of conditions. We'll see.
"As I said, the wicket looks like it might turn a little bit. I thought last week with two pacers that attack functioned quite well but I think whether it's Starcy (Starc), another spinner, Scotty (Scott Boland), variety in the attack does help."
(With PTI Inputs)