Rohit Sharma's batting traps us inside an awed headspace. Watching him watch the bowler run in is a minimalistic marvel. A stillness has descended in recent years. Almost Jacques Kallis-ish compact serenity in the wait. The classicism in Rohit Sharma the Test opener seems so effortlessly natural and the aural and visual aesthetic of his timing and stroke play suffuses the senses so much that the sweat behind it is under-appreciated.
He has had at least two visible overhauls to his game to get here.
In his earlier days in international cricket, the compactness that seems so self-evident these days was missing. Even his stance was different. He would have his bat grounded, tapping away. The hands would come in from the gully. The front leg would press across at the first instance. Resultantly, the head wasn't as still. The balance wasn't as smooth. A ball that straightens around off-stump line could open him up, square-him up. An incoming ball could upset that head position even further as he had to withdraw his trespassing front leg, and try holding his balance. The hands glided into the shots as gracefully as now, the illusion of possessing extra time on his hands too was unmistakable, but the little imbalances would jar.
At the highest level, against pace, all these little things were carping away at the essence he owns now: stillness and compactness. It's not as if he was a frequent lbw victim but was a potential lbw candidate. It wasn't as if he was regularly edging outside-off balls, but he would keep the men behind him interested. Add to it the youthful impatience; his shot selections would often go awry.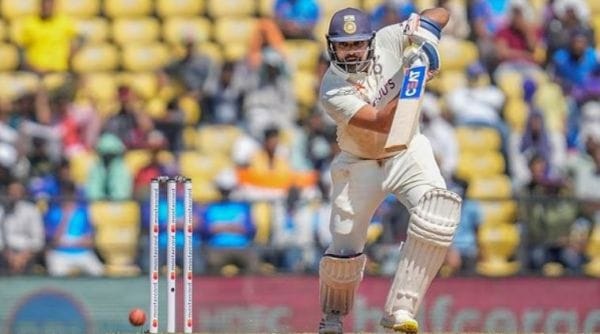 India's captain Rohit Sharma, plays a shot during the second day of the first cricket test match between India and Australia in Nagpur, India, Friday, Feb. 10, 2023. (AP Photo/Rafiq Maqbool)

He then changed his stance. Began picking up his bat while waiting. Cradling it in the air, wrists cocked in place. Suddenly he found himself more upright in his stance. The front foot stopped wandering out of control. Better balanced. More stable.
It seems he still wasn't too happy with his wandering hands. As he mentioned a couple of years ago about the changes he made for a tour of England. "I changed certain aspects of my stance, keeping the hands closer to my body, and while doing that, my wrists were hurting so much because I was not used to doing something like that," he told Revsports. "And to suddenly change, obviously your muscles are not used to that. It's going to hurt, but I was prepared for it."
The hands came closer to the body. The wandering angle of the bat vanished. The head stayed still-er and within line of the stumps; it wasn't falling outside off, dragging him out of balance. As they say, the feet follow the head. Now, they were all syncing up.
The front foot and the front shoulder opened up a touch; a natural inhibitor to the wandering foot. Compactness set in. No longer was he playing straight balls too square. No longer was he opening up to outside-off balls.
He does other tweaks of course. Within a series, against the same bowler, he would take different guards. To England's Ollie Robinson he has moved from middle-stump to leg-stump. To someone like James Anderson from the other end, he would move to middle. With Virat Kohli, the world notices those movements, the effort. With Rohit, his beatific batting blinds us.
Shane Warne gasps. "Oh!". Still can't believe it. "Jesus". When acceptance kicks in, Warne begins to cackle. Still incredulous: "Six!". Finally, the enjoyment of full-throated laughter arrives: 'ha ha ha!".
It's a six off Pat Cummins in a Test match. Watch it to re-experience Warne's emotions. It's difficult to imagine Cummins caressed for a six over extra cover in a Test match in this fashion. It wasn't as if quick runs were being hunted. Not that it was a great ball – on a hittable length and width outside off without much deviation, but the response was sweetly ballsy, non-violently violent – quite outrageous really, for its conception and execution.
Where is Rohit Sharma's game from? Nothing quite stands out in the Mumbai lineage of batsmen. Even the rest of India for that matter. If anybody comes close, perhaps it's the Australian Mark Waugh. The sight of junior Waugh, a refreshing presence in the commentary panel in this series thus far, waiting at the crease was something else. It was as if he was standing on a beach front, all casual and cool; no unnecessary tensed muscle twitch, a bewitching elegance as if he were leaning on a bar counter, waiting for his drink. Rohit is inching towards that.
His nonchalant front-foot pulls and his lofted straight drives to length deliveries as if he were hitting stationary balls are rightfully celebrated but it's his non-fussy defence that distills the essence of Rohit the Test opener. Rarely has a ball been anaesthetised so gracefully. Another graceful Indian Test opener in recent years was Murali Vijay, who would conjure up an elegant waft; a mere defensive push that would send the ball plummeting past the bewildered bowlers and mid-off. Sharma's defence is more compact.
Mark Waugh had a similar effect on the watcher, right from his first shot to getting off the mark in Test cricket – a gorgeous on drive of Phil Defrietas for three runs. Waugh was more wristy of course, and his shots had a different timbre to them but the soul is comparable. Sharma the Test batsman woke up rather late in his career but it's been worth the wait; in the years to come, it would be something to say we have seen him bat.