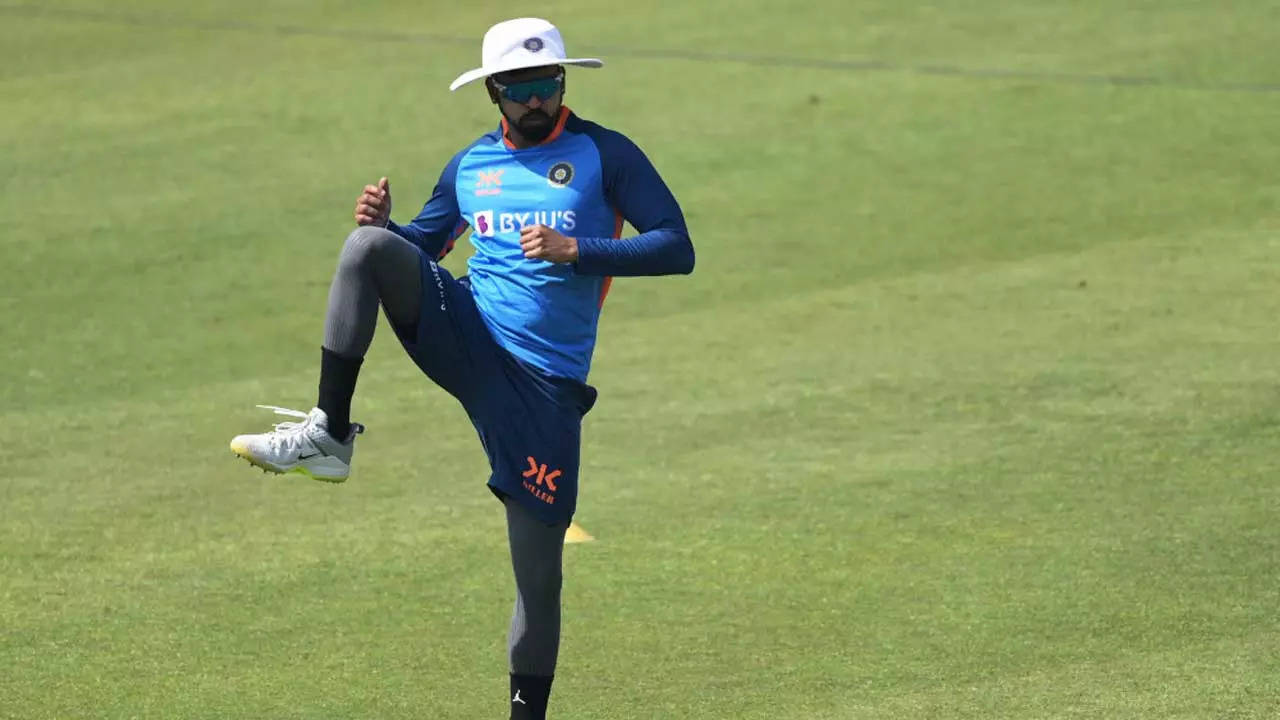 NEW DELHI:
Team India
head coach
Rahul Dravid
has no second thoughts about Shreyas Iyer's inclusion in the playing XI of the second Australia Test but only if he can take the load of a five-day match.
Iyer, who had sustained a lower back injury during the white-ball series against Sri Lanka, has been drafted into the squad for the second Test against Australia starting Friday, after getting clearance by the BCCI medical team.
Injured Iyer, who had to undergo a one-month rehabilitation programme at the National Cricket Academy, also missed the first Test against Australia where Suryakumar Yadav made his debut.
Dravid didn't reveal his cards on whether Iyer is ready to take the toll but made it clear about team management's philosophy on any performing player, if he comes back after injury would automatically get his place back.
"It is always good to have somebody back from injury. We never like to lose people to injuries and it is never nice for a team, nice for that individual and glad that he (Iyer) is fit. We will take a call after a couple of training sessions," Dravid said at the media interaction ahead of the second Test at the Feroz Shah Kotla Stadium in Delhi.
"Today, he has done some training. We will again assess it tomorrow as well when he comes in for a light hit and see how he feels," Dravid said.
"But certainly, if he is ready to take the load of a five-day Test match, then without doubt, with his performances in the past, he will walk straight into the side."
Iyer has not played any competitive game for 32 days and getting into a Test match without any tangible game time could also be a stretch on the body.
However, Dravid has no hesitation in stating that a replacement player, even if he scores a hundred or takes five wickets, will have to sit out once the first choice player is back from injury.
"Yeah, without being written in stone or written in rule, certainly, we value contributions of people who have been there and missed out due to injury. They really deserve the right to come back irrespective of what has happened in the time they have been injured."
Dravid said that it is not a "rule" but a convention or practice followed in his regime.
"I can't answer for everyone but that is certainly the outlook of team management," he added.
He then explained why he feels that Iyer is deserving.
"Shreyas has played well but what has stood out is his temperament, in quite a few pressure situations since he has been around. Right through his debut game in Kanpur and in last year and half, every time, he has been in tough situations, he, Rishabh and Jadeja are the ones who have been bailing us out and playing those critical knocks.
"In Bangladesh, we were under pressure and he bailed us out with Ashwin and that's a good sign. Along with his skill of playing spin really well, he has spent a lot of time in domestic cricket before getting in, obviously he understands how to get runs.
"But at this level what also counts is your ability to deal with pressure situations, that temperament and ability to find solutions when you are under pressure. From little small sample size we have, he has been very very good at that. He has been one of the better players and he deserves it," Dravid added.
But, Dravid also did not forget to mention that the same rule will be applicable for the replacement player if he gets injured.
"The team understands it well that if someone is replacing someone injured and if the person comes back, he will probably be back (in playing XI). And it will be followed for him as well when he gets injured and he will get the same treatment as well."
"On these tracks, counter-attacking is important."
On these slowish Indian tracks, Dravid wants a fine balance between counter-attack and defence just like skipper Rohit Sharma showed during his splendid innings of 120 in Nagpur in the first Test against Australia.
"We were very lucky to get week in Nagpur. The five sessions there was a lot of quality and specific work, and all the boys felt that we went into the series with good preparation and lot of volume behind us," the coach stated.
Asked about the importance of counter-attack on these tracks, Dravid said: "Sometimes on tricky wickets, different conditions, you need to play slightly differently. You have to strike a fine balance between defence and being able to put the attack back on the opposition bowlers.
"Sometimes on wickets like these, if you sit back and are not able to put that pressure back, it can build up to a point where you can lose two to three quick wickets. Ability to put pressure back on bowlers made the difference and that's what Rohit did.
"He (Rohit) soaked in pressure on opposition for some time and whenever he got an opportunity, he put the pressure back on opposition. That's what Axar and Jadeja did very well during that partnership. It is not the only way you can play but in these conditions, being able to put pressure back is important," Dravid explained elaborately.
(With inputs from PTI)